One of the hardest things to think about for me is a child going hungry.  Food uncertainty.  Child hunger.  Call it what you want, but call it something, give it a name, and give it some air time.  There are so, so many kids going hungry all the time- like 22 million school-aged children alone.  That's NOT OKAY.  At all.  During the school year, programs offer free and/or reduced breakfast and lunch programs for those children, so at least on school days, those kids know they have some food coming. But right now, it's summer.  Most kids aren't in school.  Take that 22 million number and realize that about 80% of those kids are living with even MORE uncertainty about where their next meal may come from.  Makes you feel kind of ill, right?  Food banks are very busy places with a whole lot of demand on their supplies and resources with those extra kiddos needing food, especially during summer months when schools aren't necessarily able to provide breakfast, lunch, or a combination thereof.
But what can we do, we average families, who maybe don't have a ton of extra money to send to our local food banks?  It's all well and good to be all "give them money!!" but not everyone HAS extra money.  Times are hard for many. But even with very little, you can make a difference. We live in a pretty small town. Our little school has 29 families in a 500?? student school with PreK-8th grade that we run a backpack program for during school- those backpacks are filled on Fridays and sent home with kids so they have some definite foods to eat over the weekend. Our town is pretty middle class- it was both surprising and scary to me how many of our own immediate neighbors need our help and support.  The idea that kids go hungry makes me so upset.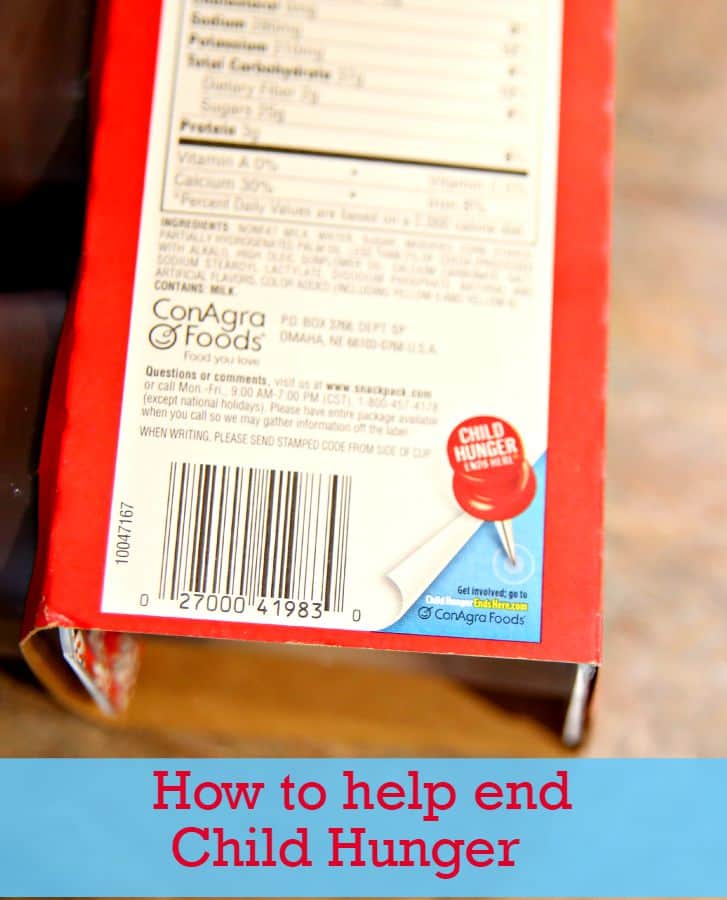 Here are some ideas for how to help end child hunger- in summer, but also beyond.
Take advantage of big sales at the store.
We have a store chain here that frequently does a buy one, get 2 free sale.  Now, we don't need 3 of most things.  Granted, we can often add it to the shelving in the basement, or the freezer, but when these sales hit, I buy 1, get 2 free, and donate at least 1.  It's not costing me an extra cent, I'm helping my neighbors, and modeling to my children how important it is to help others.
Lend a helping hand.
Just because you don't have a lot of financial resources to share doesn't mean you cannot help support local food banks.  Give them a call and ask what you can do to help.  Maybe they need some help sorting donations.  Maybe they need help picking up big boxes of food that were collected at a local grocery store.  A quick phone call might just surprise you with how easy it is to give a little.
Start your own food drive.
The last time we did a drop off from one of my Girl Scout troop's food drive, my kids and I were invited inside to see the store room, and not only were we able to see where our donations were going to be going, but it was also a big eye opener of what the food bank NEEDS.  When we went, peanut butter, canned veggies and soups were very low in supply.  That was something important for my kids to see, the fully stocked shelves of one item, but near empty of another… and it recharged our desire to help, and to share with friends and neighbors about what our local bank was in need of.
Donate your own items.
Talk to your kids- see what things they would like to donate! Mine have been full of surprises when we have conversations about helping others.  I wasn't expecting them to talk about doing soups- because those often have meat and beans and veggies so there's lots of good for you ingredients, I kind of thought they'd pick their favorite "junky" foods. Or  maybe you stocked up on one kind of soup your daughter insisted she loved and then decided she couldn't stand…or just realized that you have 8 cans of refried beans in the cabinet and you eat them like twice a year.  Pop those in a box and donate them to the food bank.  Someone will benefit.
Purchase items that give back.
Look for  specially marked ConAgra Foods  items labeled with a red push pin and "Child Hunger Ends Here" codes. These codes are on participating ConAgra Foods products. One of these codes  equals one meal for a Feeding America food bank. If you enter those same codes on  Double Code Entry Fridays. that 1 code= 1 meal PLUS 1 bonus meal.  Double Code Entry Fridays will be happening through July 31, 2015, so if you have codes, enter them on a Friday!! Your support will go even further!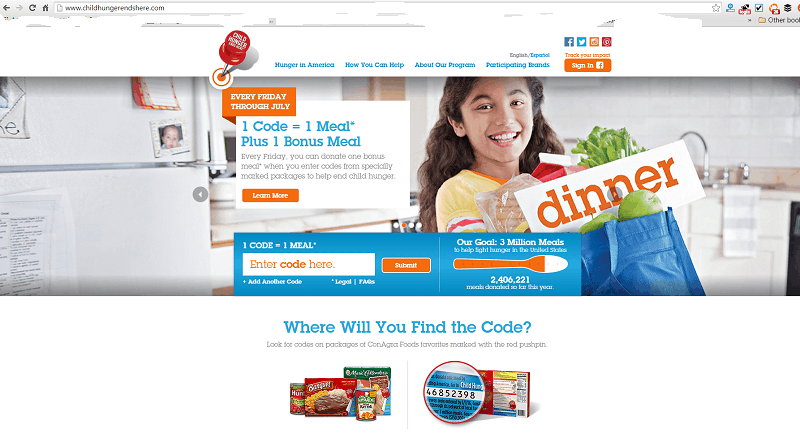 ConAgra Foods is working hard to make sure more children have a hunger free summer. They are funding 23 food banks across 15 states with their Hunger Free Summer grants, from $20,000 to $40,000 each, enabling those banks to start new or expand existing  programs. That's a lot of meals for hungry children.
New this year, the ConAgra Foods Foundation is also investing in a new initiative for child hunger and funding Hunger Free Summer Grants for three additional food banks- giving each of these banks $225,000 over a 3-year period to look at, evaluate and create programs to help increase access to meals for children and their families during the summer months.  These 3 banks receiving the Hunger Free Summer Hub Grants include: Lowcountry Food Bank of Charleston, S.C., Freestore Foodbank of Cincinnati, Ohio, and St. Mary's Food Bank of Phoenix,Ariz.
There's this video that some fabulous bloggers created, from across the country, including yours truly, addressing the importance of helping to end child hunger.

How do you help to end child hunger in your community? 
Thank you to ConAgra Foods and ChildHungerEndsHere.com for sponsoring today's child hunger awareness post.  Opinions are my own.