Depending on where you are in the world, you might already be feeling quite warm, and for many, as the year goes on, things will only get hotter. Although winter is always just around the corner and things will cool down just as quickly as they heat up, that knowledge doesn't make the heat in the here and now easier to cope with, so it's useful to know how to keep cool in hot weather to ensure you're as comfortable – and safe – as possible. Read on for some useful tips as sent in by a contributor. 
Keeping your window shades down and curtains closed can help to keep the heat at bay inside of your living space. Minimizing the use of electronics and kitchen appliances can also help to keep the temperature at bay indoors. If you have a basement space- that's generally cooler than the upper levels of a home or building, try to spend time down there if possible.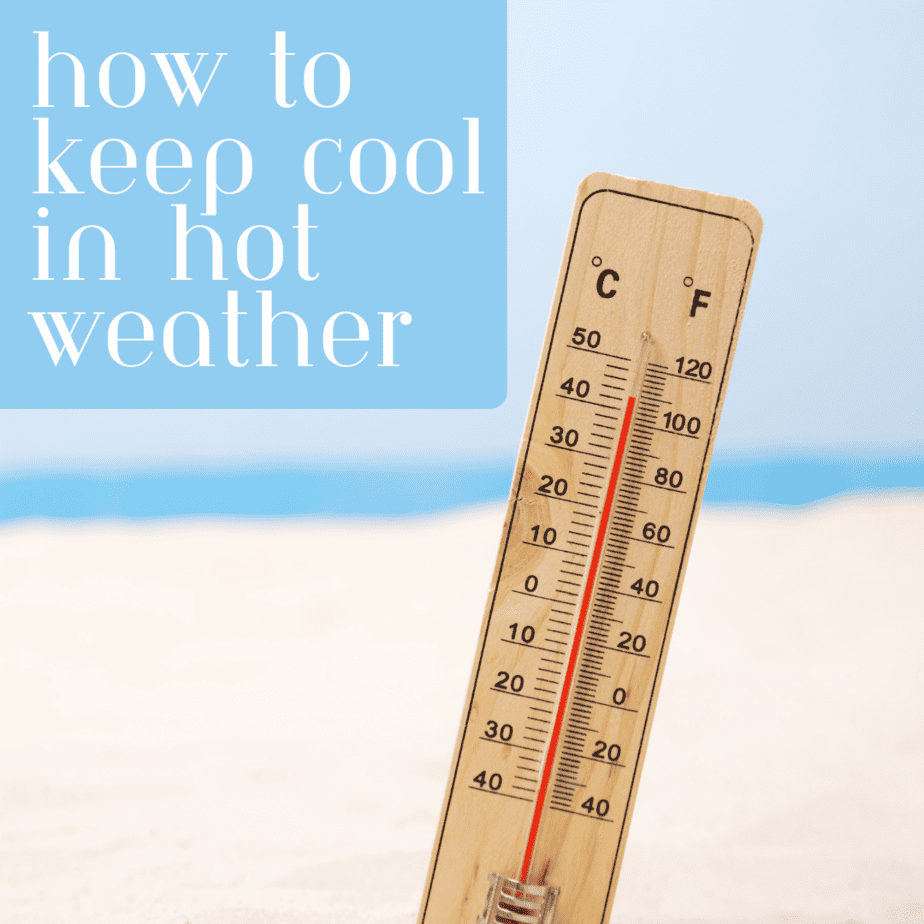 Dress For Comfort
Choosing the right clothing is a simple but highly effective way to stay cool in even the hottest temperatures (assuming you have to be outside at all, that is). If you make good clothing choices, a day that might have been unbearable becomes much easier to handle, and you can generally go about your business however you need to. 
Always remember that darker colors absorb the heat and lighter colors reflect it, so if you want to stay cool, comfort overrides fashion, and picking light colors is always the right choice. Loose-fitting clothes are also ideal, especially if they're made of breathable materials like cotton, linen, bamboo, etc. These natural materials aren't just comfortable and take sweat away from your skin, keeping you dryer and much cooler. 
Don't forget to wear a wide-brimmed hat to protect your face, neck, and head from the sun and sunglasses to protect your eyes. Just remember that the sun's rays are highly dangerous, and doing whatever you can to keep your body and skin safe has to be a priority. 
Hydration 
Staying hydrated by drinking enough water is a vital way to help stay cool in hot water as it helps to regulate your body temperature and prevents heat-induced illnesses. You should always drink plenty no matter the weather, but the hotter it gets, the more you should drink, especially when you're outdoors. If you're going somewhere, take a reusable water bottle and keep it filled. 
To ensure you stay hydrated, avoid too much caffeine and alcohol, as these can make you more dehydrated, even if they can be tempting. 
Also, if you find drinking a lot of water hard, remember that some foods can be hydrating and help you even if you don't drink so much. Watermelon, cucumber, oranges, celery, and strawberries are prime examples of foods containing water. 
Use Air Conditioning 
Air conditioning can be a literal lifesaver when it gets hot, as it can ensure your home is a cool and comfortable sanctuary. You'll be able to work better, relax more, and sleep properly when your air conditioning is installed and running well. Of course, if you want it to do the job you've installed it to do, it's wise to keep it maintained and to have experts carry out air conditioner repair as soon as you notice there is an issue – the last thing you want is for your AC to break down when it's boiling outside. 
You'll also need to set the right temperature – around 22 to 26 Celsius or 72 to 78 Fahrenheit. It can be tempting to set the temperature much lower, but this can lead to wasted energy, and it can also make it harder to go from inside to outside, as the difference in temperature is so extreme. 
If you don't have air conditioning where you live- many towns and cities offer cooling stations where you can go to get some respite from the heat. Libraries, stores, and other places are also typically air-conditioned and can give you some much-needed time in a cooler space. 
Cool Showers And Baths 
Cool showers and baths can quickly lower your body temperature and give you instant relief from the heat. After a day spent outside (or even in a hot home), a refreshing cool shower or bath can just make you feel better and stop you from overheating. 
You don't have to limit yourself to one or two showers a day if you don't want to – you're heating the water less, so you'll be using less energy all around, which means you can have a cool shower or bath whenever needed. 
If you don't have the time for a shower or bath, wetting a cloth with cold water and applying it to your neck, inner wrists, or forehead can also definitely help, as can soaking your feet in a bowl of cold water – this will relax you too, making it an even better choice, especially as you can do it while you work or watch TV, for example. 
Swimming
Swimming is a great way to cool down, so if you can head to a pool, lake, river, or ocean, do it! Just be mindful of the heat and stay hydrated- people often forget that swimming is still exerting energy and drinking water is still important. Don't forget the sunscreen!