Here's something I bet you didn't know – we have had a fridge for a long time (too long) that worked fine unless you tried to put a fair amount of food in it.  When I say a fair amount, I'm talking like maybe 2 grocery bags full of items that may go into the refrigerator.I'm not talking about cramming every single inch of the fridge full of food for a party.  For a little over a year, when our fridge was 'filled' with a full load of groceries– milk, juices, fruit, veggies, yogurts, lunch meat, cheese, bagels, breads, etc. within a few hours, the fridge would be "warmish" and the temp rising.  The freezer would be frosting over.  The time I heard my husband actually say to me "You can't put so much food in the fridge, it can't handle it" I knew we had a problem.  I mean, the basic idea of a refrigerator is to actually keep food cold, right?  So having one that I can't put food into…well, I had a lot of thoughts to share about that. It got to the point of us having to thaw the freezing unit -thingy almost every time I went shopping with the freezer disassembled and me blowdrying the frost away….we'd lived like this for months. Frustrating, annoying, and expensive (I err on the side of caution in case foods spoil).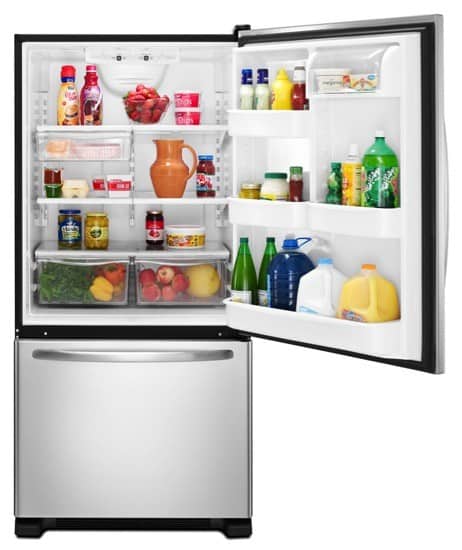 Fast forward to now, and we have a brand new Amana 21.9 -cubic foot bottom-freezer refrigerator, and guess what?  I can fill the fridge!  It's like the most beautiful thing in the world!  It's also stainless- brushed, so the kids can still cover every single bit of the front with magnets….but it's sleek and modern looking.  And it works.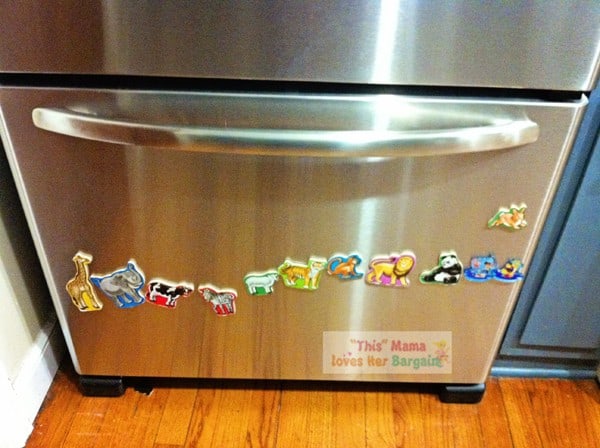 Did I mention it works?  The guys came to install the fridge, they plugged it in, turned the settings to 3 and voila. It turned on, and that's it.  We haven't had to adjust things or thaw things. I have gone to BJ's and stocked up on all kinds of things and no matter how much food there is, the fridge keeps working! It's quite amazing. I am in love with my Amana bottom-freezer refrigerator. I won't lie.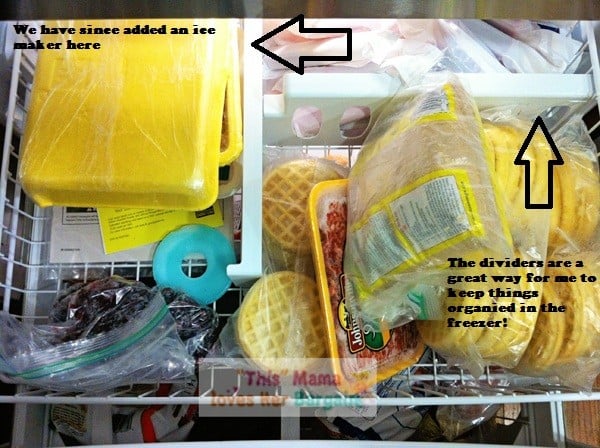 On a more serious note, I'm really happywith this refrigerator.  It's energy-star efficient, which is super important to us.  It's estimated to cost about $43/year to run.  That's HUGE to us. We pride ourselves in not having high utility bills.  We are diligent about turning lights off, unplugging  appliances and electronics when not in use- but the refrigerator has always been a tough one- it's not like you can unplug it half the day!
The 21.9 cubic foot refrigerator is the perfect size for our kitchen.  Do I dream of a larger fridge? Yes. I won't lie. But it won't happen. Our house is too small.  The 21.9 cubic feet really is enough to comfortably keep groceries for a family of 5 who go through a lot of produce and beverages well stocked. Nicely sized drawers mean I can put the makings of our salads in the vegetable crisper, and a good amount of fruit in the fruit drawer.  The drawers are spill-catchers- which to me is a must-have with small children or clumsy adults (me) in the house.   The drawers are also half-width so you can move them to whatever heights work best for your refrigeration needs.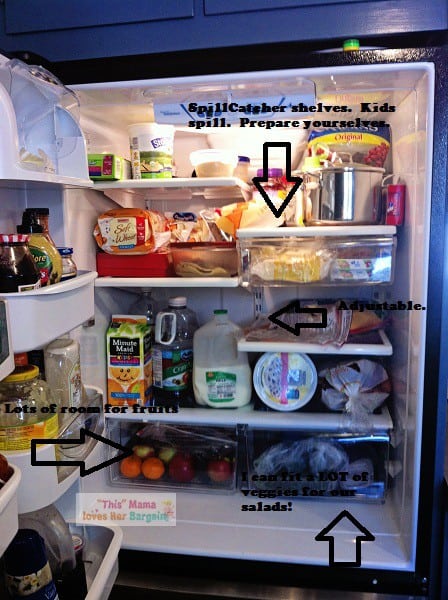 I love my fridge. It's really attractive, functions well, and fits my kitchen.  It's got what I need and does the job it needs to do. It's fairly priced at $1449.00.
The only "thing" is that with stainless (and I mean ALL stainless), everything shows. I have 3 little kids who like to help themselves to things in the fridge and/or freezer.  That means I have a constant display of a variety of sizes of hand and fingerprints all over my refrigerator.  It's not something that bothers me.  If it bothers you, I'd still recommend this fridge- but I'd maybe get it in black or white and not stainless. If the fingerprints bug you before you buy it, think how much they'll bug you when they are in your sight all day long!
I received a refrigerator for review.  Opinions are my own.