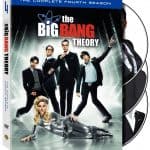 The guys on 'The Big Bang Theory' have a very fun and playful work dynamic, often joking around with each other and playing games. Because they work at CalTech, most of their jokes revolve around astrophysics and Wolowitz's lack of a PhD!
I don't even need to work with people like the guys on Big Bang Theory- I just want to sit at lunch with them.  The lunch scenes are my favorites- and I think I'd just spend my lunch hour laughing at their antics and jokes (even when I don't understand them) instead of eating (great diet plan?!)
I've never worked in an environment anything like the one at Cal-Tech on Big Bang Theory- I imagine it would be a lot of fun and never lonely.  Playing jokes and teasing one another would sure make the days pass quicker!
Order Season Four of The Big Bang Theory here: http://bit.ly/nLQp8o!
"I have been hired by Warner Bros. WBWord division to promote The Big Bang Theory Season 4 on DVD."
0