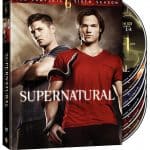 Dean suprises Sam early in on during Supernatural Season Six with a sudden paternal side that emerges when the two brothers investigate a case of missing babies.
I think Sam was surprised- and really impressed by Dean's paternal side- and I think that was the beginning of an entirely new side of Dean that we see- and perhaps, some new traits evolving from Sam as well.  It's always fun to find out what our loved ones have for skills and talents that we don't know about until something happens to bring those talents to the surface- sometimes in a funny way and sometimes in a heroic way!  I think we all have hidden talents and skills that we maybe don't showcase or maybe don't even realize ourselves quite yet that we have (as I think Dean did).
Order Supernatural Season 6 on DVD and Blu-Ray https://bitly.com/r2CsjG.
"I have been hired by Warner Bros. WBWord division to promote Supernatural Season 6 on DVD."
0