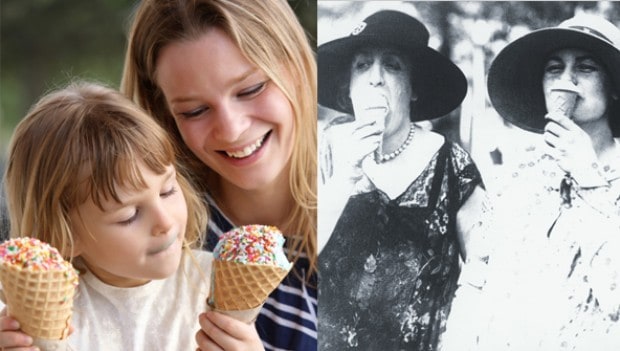 Hey! Did you know that July is Ice Cream Month?  I did not either, until recently. It sure seems like a good idea to celebrate, what with it being a whole month of ice cream awesome and all, doesn't it?  So…here's your formal invitation to the party.
When: Wednesday, July 25, 2-3 p.m. ET
Where: The party will take place on Twitter, using the #IceCreamMonth hashtag.
Who: IDFA (@dairyidfa) and The Motherhood (@theMotherhood) will be hosting.
Prizes: Five prize packs will be given away throughout the hour, based on responses to trivia questions. Each prize pack will contain all of the fixings for your own ice cream party – bowls, scoops and coupons for lots of free ice cream.
RSVP: Let us know if you'll be there! Click this link and press the orange "count me in" button on the right-hand side –
My  co-hosts:
@mommyhastowork – Anne, Mommy Has to Work http://www.mommyhastowork.com
@KerrificOnline – Aubrey, Kerrific http://kerrificonline.blogspot.com
@brettbmartin – Brett, This Mama Loves Her Bargains https://www.thismamaloves.com/
@CarrieWChildren – Carrie, Carrie with Children http://www.CarrieWithChildren.com
@ shibleysmiles – Colleen, Shibley Smiles http://www.shibleysmiles.com
@loveandcents – Heather, Living on Love and Cents http://www.livingonloveandcents.com
@TaterTwins – Jayme, Tater Twins http://www.tatertwins.com
@EightyMPHMom – Jennifer, Eighty MPH Mom http://eightymphmom.com
@mommysfabfinds – Kari, Mommy's Fabulous Finds http://www.mommysfabulousfinds.com
@waystosave – Kasandria, Southern Bella's Ways To Save http://www.southernbellaswaystosave.com
@2kidsandacoupon – Kim, 2 Kids and a Coupon http://www.twokidsandacoupon.com
@Hinessightblog – Leigh, Hines-Sight Blog http://hinessightblog.com/
@MeganDunham – Megan, Halfpint House http://www.halfpinthouse.com
@SarahWCaron – Sarah, Sarah's Cucina Bella http://sarahscucinabella.com
@SusieBHomemaker – Susan, Susie B. Homemaker http://www.susiebhomemaker.com
I will receive a promotional item to thank me for taking the time to help at the Twitter party.  Opinions are my own.