A few weeks ago, I was invited to attend Target's Feed the Family event in New York City.Target showcased all different ways to feed your family- all with Target products- from the recipes, to ingredients, to cooking utensils, accessories, and even what to eat it with!  It was a really fun event and I have to tell you, I am a die-hard Target shopper, and apparently hadn't ever realized just how much Target has to offer to Feed our Families.  From elaborate breakfast spreads to fantastic dessert ideas…and everything in between (and including wine, in some states…not CT!), Target really does offer just about everything you need.
Early in the morning the day of our trip, the dog woke up.  Trying to be quiet and sneak down the stairs so I didn't wake the kids, I went down the stairs backwards…and missed the last 2 steps.  I landed on my right upper arm onto an outer corner of the wall…and was unable to move my arm with out a LOT of pain for a very long time…but I wasn't about to miss a chance to hang out at the Target studios in NYC nor was I going to miss meeting Soleil Moon Frye…so I took some Alleve, tucked extras in my bag, and pushed onward through the pain.
Breakfast: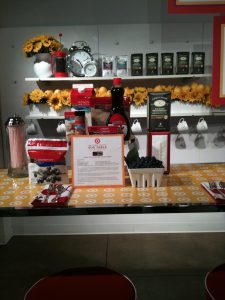 Lunch:
This may be my new favorite way to serve lunch (not sandwiches!)
and Dinner: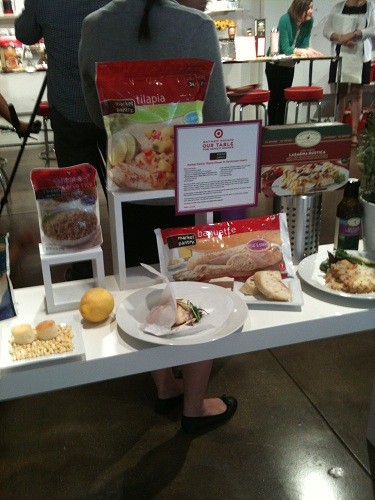 We played and we crafted.  Or the kids did.  I was having so much fun browsing all the booths!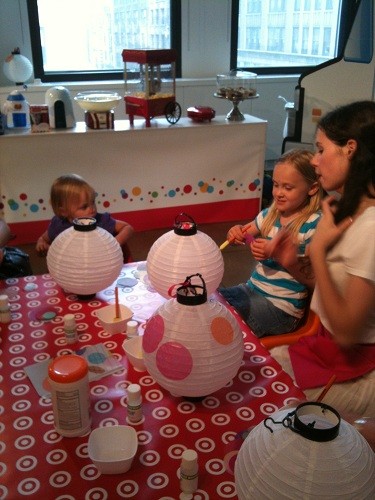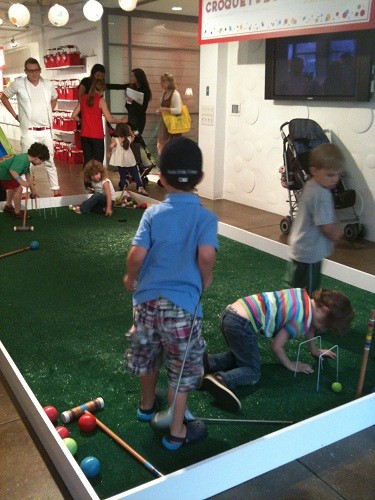 Target® created the expanded food layout in response to research and feedback from guests who requested more fresh food selection in the convenience of their local Target store. The new and enhanced store redesign allows Target stores to further serve as a one-stop shopping destination for busy guests who can now complete their grocery list or pick up tonight's dinner during their regular Target shopping trip.

Nearly 1,000 Target stores currently offer an expanded food layout. At these Target stores, approximately 10,000 square-feet is dedicated to a vast array of fresh food choices, including a curated assortment of fresh produce (e.g. bananas, seasonal fruit, berries, baby carrots and bagged lettuce), fresh meat (e.g. ground beef, chicken and pork) and pre-packaged baked goods (e.g. dinner rolls and pies), in addition to dry and frozen offerings. By the end 2012, approximately 1,100 Target stores will offer the expanded fresh food layout.

The expanded food layout provides guests with nearly 90 percent of the food categories available in a SuperTarget store. Target's stores with an expanded assortment of food offer a selection of national food brands, as well as award-winning Target owned brands including Archer Farms® premium foods, Market Pantry® value staples and meal options and Sutton & Dodge™ premium quality USDA Choice beef.

With the expanded fresh food layout, Target guests are greeted with a bright, colorful and inviting open-market feel that clearly defines a carefully selected food assortment. Guests will find open-case refrigerators with fresh packaged meat and low tables featuring fruit, vegetables and baked goods.
I got so many great ideas from attending this event- I kind of despise cooking sometimes because I feel like it's the same thing over and over- especially lunches!  I have some FUN new ideas that will keep the kids happy and that they'll want to eat this year!
I attended this event as a guest of Target.  I wasn't required to write a post or share but I had so much fun I wanted to!  Plus, I met Punky Brewster! 
0