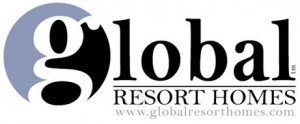 Last month I went to Florida for the#DisneyGlobalEvent.  We did so many wonderful activities on this trip- which you can check out in these posts: Boggy Creek Airboat Rides and Florida EcoSafaris but I think the best part of the trip for me was coming home at the end of fun, long, exhausting days to a home.  Between the 20 mom bloggers and our 2 PR reps we had the full use of  3 spacious Global Resort Homes houses, with every amenity you could want and then some.  4, 5, 6 bedrooms, some with twin beds, some with queen, some with king…bathrooms galore (no fighting for shower time!),  fully applianced kitchens, a pool, a hot tub, a living room and even a game room.  One thing that drains me without fail during vacations we go on is the hotel room.  There's nowhere to go, not much to do IN the rooms, and its kind of like "ok we can sleep, shower, or leave the room" — not very relaxing.  We tend to go, go go on vacation (especially in Florida) and having a place to hang out and chill without having to stare at our bed was, quite simply, marvelous.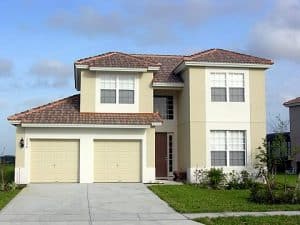 We stayed in beautiful, gorgeous Global Resort Homes' HOUSES just a few minutes' drive from Disney World…I think I timed 9 minutes to the door from when I turned on the car to leave the parking lot at EPCOT until I pulled into the driveaway at  2578 Archfeld Blvd in Kissimmee, Florida.  Until this trip I didn't really know that there were options like these that were so close to the parks.  9 minutes? I can deal, especially if it means when my 3 kids are beyond exhausted at the end a busy vacation day, we can head back to a house and make a home cooked meal (or have Chef Linda come and cook FOR us!! That would be my first choice…)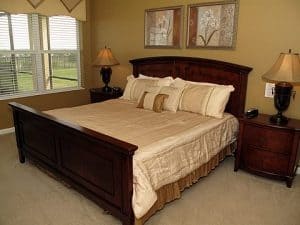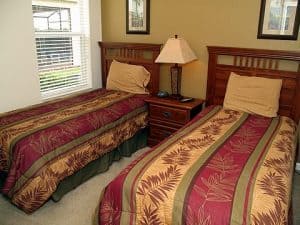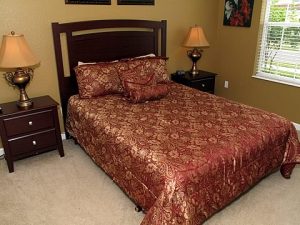 With Global, you have bedrooms to choose from.  We've talked many times with close friends of ours about doing a vacation together, to rent a house, and save some money- plus, with 2 sets of parents, we could each have a date night while the others stayed back with the kids.  Some shared events, some separate, but money saving for each family.  There was only one "master" bedroom in our house, but there were 2 rooms that most definitely could be considered a master, both with gorgeous en suite bathrooms…a luxury we do not have in our home.  But with 2 masters and 2-3 other bedrooms for the kids to sleep in, we can spread out, be comfortable AND have privacy!
Check out the living areas that were in our home.  All of the luxury amenities and upgrades so you can relax at the end of busy vacation day!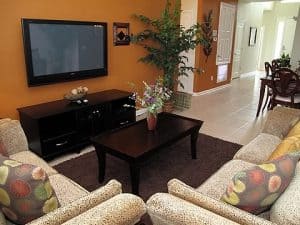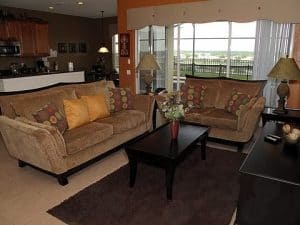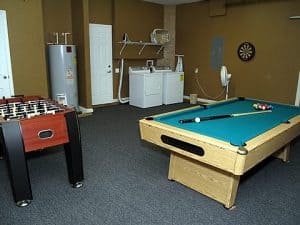 You will notice in the game room that there is a full sized washer and dryer.  Yes, folks. You can pack less.  We all know what a pain it is to return home from vacation and have to unpack and then do laundry.  You may not have to! Especially with small children, this is a really nice feature to have.  The game room is actually the converted 2 car garage, but offers a lot of fun for just about anyone in the family.
Each of these homes has a pool and hot tub, in an enclosure, with a patio, table and chairs.  The pools have the "kid fencing" around them, so no safety concerns.  That hot tub was on my to-do list each night when we got back to the house!!  THAT is how to relax!!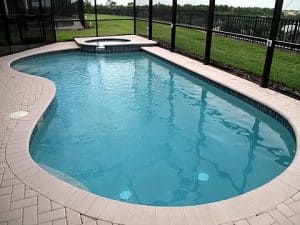 I cannot wait to go back to Global Resort Homes.  We're in the beginning stages of planning our first family trip to Disney and Global Resort Homes will be one of the first things I cross of the to-do list!  Having a house to come home to, tuck the kids in bed after a home cooked meal, and then relaxing by the pool or in the hot tub…my idea of heaven!  My favorite thing about Global Resort Homes is that the  pricing is comparable to a hotel stay in the resort areas- only you are getting more than a bed, and a shower.  You get a house, with living spaces, a washer/dryer, separate bedrooms, bathrooms, a clubhouse, fitness room, huge pool, kids playground, a gated community to stay in…and so much more.  I absolutely encourage you to look into staying her next time you are heading to Florida!
I also want to apologize for the lack of my own photos.  In our excitement of hanging out and arriving at this house, most of us in my house forgot to take photos before…well, before 6 women who were on a crazy busy schedule unpacked…and moved in.  So by the time we were remembering to grab some photos, things were a bit in disarray and not photo worthy.  You can see what Lolli thought of being in one of the other houses here and Jeana's experience in another of the homes here!
Global Resort Homes was kind enough to open some of their homes so we could have a place to stay while we were on this press trip.  Opinions are, as always, my own.