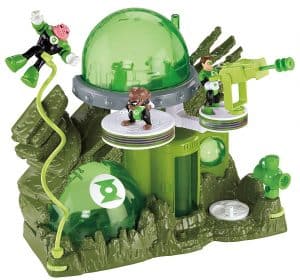 My little guy is all about superheroes. We spend a lot of time discussing them, playing them, being them…and since we already have the Imaginext Batcave, we figured it was time to add on to enhance the imaginative play in my son's room. Fisher Price makes the Imaginext DC Super Friends Green Lantern Planet OA playset- a perfect addition to our superhero world, but also, a perfectly age- and developmentally appropriate toy for the littler crowd who may be Green Lantern fans. As a mom, I get frustrated when characters or themes that my children love are geared for older children, but marketed to younger ones, which is one of the reasons I love the Imaginext line- kids can feel like they are playing with "big kid" stuff, but it's made for their size, their developmental skills and abilities, and built to withstand the play of a younger child. Kids have a lot more success- and FUN- when they are able to play with things how they want to, you know?
The Imaginext Green Lantern playset comes with a Green Lantern figure, a Kilowog figure, B'DG the squirrel figure, a projectile launcher, a projectile and a lantern that really lights up! Turn an activation disk to open the doors and explore the Planet OA! Boys will love recreating their favorite Green Lantern moments with this new playset!
Product Measures: 5.25x125x11
Recommended Ages: 3 Years – 8 Years
We JUST got this in the mail so I haven't had a chance to play a ton with it- it looks absolutely FUN, although I've read reviews that mention the dome scratching easily and I can see that happening- but really, that's not a big deal. We like toys for longevity, they don't have to look perfect- they just have to work well!  We already know and love the Imaginext line for its attention to detail, quality of craftsmanship, and all around awesome line of toys!
I have seen the Green Lantern Planet OA in most stores that carry the Imaginext Line and it's available on many websites. It retails for about $25-$30 and looks to be a great add-on to those of us who already have some Imaginext. I like that it comes with THREE figures!!
0