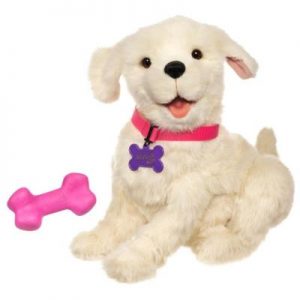 Oh, how my six year old longs for a pet, of her very own, that she can keep in her room at all times. She is forever asking us for a pet dog, a pup, a fish of her own, a bird…the actual pet changes daily, but the request is the same. We have a dog, a cat and fish, and aren't going to be adding any more creatures to our mix at the moment, but when my girl and I came across Cookie My Playful Pup from Furreal Friends in an advertising circular one day, we knew this was going to be a great compromise. Sure, it isn't quite the same as a real, live pet, but Cookie also won't have any "business" that may end up on the floor, or scratch furniture or floors with her nails. She doesn't eat much (except probably batteries over time…haha) at all and sits nice and still when you pet her or want to put her hair into "pony" tails. Yes, we've tried it.  It isn't pretty but my kid is semi-obsessed with putting pony tails with teeny tiny elastics into anything remotely resembling hair!!Its kind of like the perfect compromise for parents of young children who are begging for a pet of their own and are not able to have one for whatever reason!!
Another bonus? No allergies!!
Cookie interacts with your child (or you. Its very likely that you yourself will enjoy playing with Cookie), and that makes her even more appealing at least to the 6 year olds I know…especially my daughter!  I find the entire Furreal Friends line to be so much fun, and so engaging for little ones- last year, we got to meet Lulu, over the summer by oldest brought a Bunny into the house, and now we have Cookie. The lifelike resemblance of the animals' movements and sounds is simply awesome.  I can't even imagine how much I'd have screamed in delight had someone gotten me Cookie for Christmas!! 
Parents be warned, Cookie comes with batteries (YAY!) and any time the box is moved or bumped, Cookie will make sounds.  Kind of makes it hard to be secretive.  Not a drawback, but you may want to keep that in mind if you are trying to sneak presents in anyplace and are assuming nothing will make a sound!!
Speaking of the sounds- one thing I LOVE about the FurReal line is that while audible, none of these furry friends is overly loud.  I have, if you haven't noticed, a preference for toys that aren't SUPER LOUD.
With real-as-can-be movements, sounds and actions, COOKIE MY PLAYFUL PUP lets you experience the joy of having a puppy of your very own! When you pet her on her head or back, she barks, moves her head and wags her tail. Give her cheek a little scratch and she'll turn toward your hand to ask for more! When you tell her just how sweet she is, she'll respond with puppy babble that sounds just like she's talking to you! She loves her squeaky toy — when you make it squeak, she'll turn her head toward the sound! When you put her toy bone in her mouth, she'll make crunching sounds like she's chewing it. This soft, adorable pup is about 14 inches tall and you can either sit her up or pose her front legs so she's lying down. The very best thing about COOKIE MY PLAYFUL PUP is that she'll always be puppy-cute! Puppy comes with squeaky toy bone. Requires 4 "C" batteries (temporary batteries included). Ages 4 and up.
Cookie retails for $59.99 although I've seen at BJ's for under $40 recently and really is a cool toy for any little kid!!
I received a sample of this product in exchange for my post.  Opinions are my own.
0