This is the first  sponsored post written by me on behalf of The Home Depot as part of a series about outdoor DIY projects  in the yard.  We have composted for almost 8 years now, since moving to our current home.  For years, we've just used pallets to kind of frame an area  for the compost bin, which is not aesthetically pleasing but quite functional.  Having the open front means we can easy access the compost to turn it with the pitchfork or to grab shovels full for whatever we are planting.   Having the front open means also that the kids can bring worms they find around the yard to the compost and help the process along- and hey, whatever it takes to keep them from bringing worms inside my house and putting them on the table! But, the pallets aren't made for this and are falling apart.  Part of the compost bin was also hit by falling trees and branches a few times during the nasty storms we've had here in Connecticut.  It's time to replace and get something more substantial.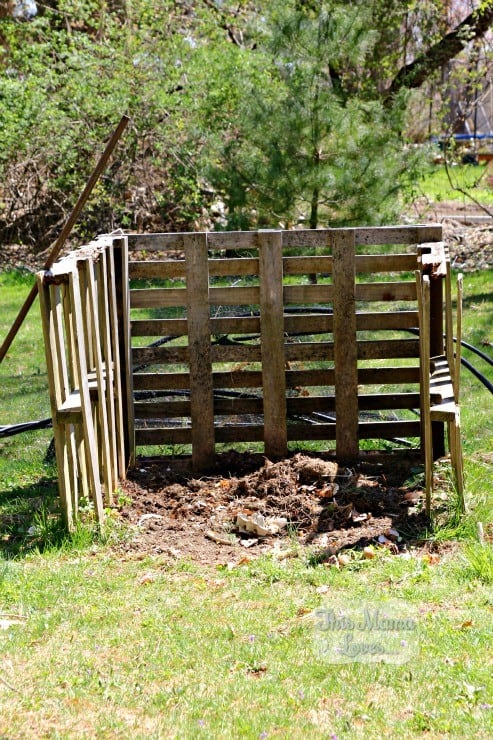 I have seen many different kinds of compost bins that you can purchase in stores and online.  I've seen fancy compost crocks that you keep in your kitchen and use to tote the food waste back and forth to the compost bins.  For us, it seems kind of strange to buy a container to tote our food scraps to the compost- we have a bowl we use and run through the dishwasher.  The kids take turns bringing the bowl down to the compost bin.  I'm sure the store bought composters are great but we're DIY folks and I don't think my husband would want a purchased bin.  He likes to make things and repurpose them (like the pallets). So we'll be going with the DIY compost bin this time around.
I found really simple, clear instructions and a shopping list for supplies for how to make a compost bin over at The Home Depot website and was able to go to the store sans husband, get the items I needed and return home with a van full of wood.  The only thing I wasn't able to do from the instructions was to purchase cedar posts or boards- apparently, these are special orders and not available for purchase off the shelves in most stores.  We will find a safe product to seal what I did purchase and I think we'll find it to be a great alternative.  (If you really want to do the cedar, which I wasn't able to wait, plan ahead and place the order ahead of time).
With my list in hand, my littlest one and I headed to The Home Depot on a Friday morning.  We were greeted with friendly smiles and Jamie was quite willing to offer his assistance so that I could find what I needed without pushing the humongous carts around the store in circles.  If you are ever shopping in Manchester, Connecticut,  ask for Jamie!! He was really helpful and more importantly, knowledgeable about both his department and where to direct me for assistance in other departments.  He's also clearly a good sport, letting me take his photo for a blog post!!
Now that we have all of the supplies we need and plans for how to build a compost bin, we'll be sharing the results of that project  after it's complete.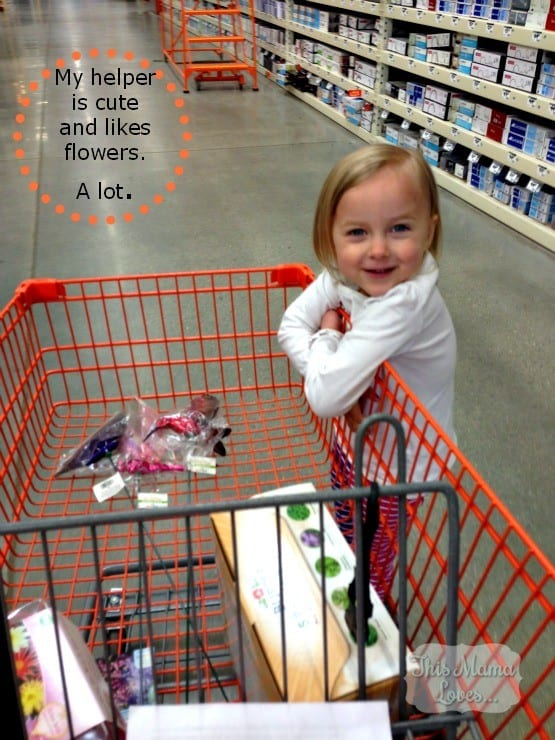 Maybe I'll even show you pictures of the plants and flowers my shopping assistant convinced me to buy before we even met up with Jamie.  It's hard to say no when she wants to help garden!
It's home improvement time, and The Home Depot has everything you need to #DigIn for Spring. No matter what projects you want to tackle, they have great values on all you need. They're ready to help you with renovation ideas and expert advice, too.
Get over $300 in email exclusive savings each year, sneak peeks on new products, monthly lawn & garden ideas for your region and access to The Home Depot's gardening experts. Click here to join the world's largest garden community today! Or go to homedepot.com/gardenclub to see some of the many benefits of membership.
This is a sponsored post written by me on behalf of The Home Depot.