Sometimes having kids help in the kitchen is more work than it is helpful.  Well these July 4th fruit wands are not only adorable but they are simple enough for kids any age to help with!  So give the kids the next task of making something for the annual family Fourth of July barbeque! Not only will the treat be delicious but the presentation is sure to impress.  What is better than your kids getting tons of compliments on their hard work and you feeling a little less stressed as you got everything else ready for the big event!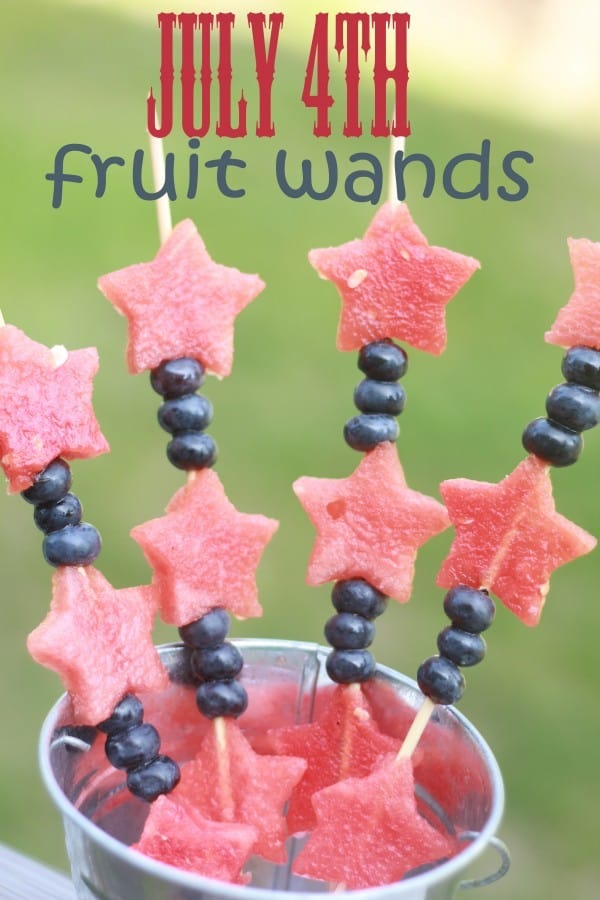 July 4th Fruit Wands
Supplies:
Watermelon
Blueberries
Knife
Kebob Skewers
Small star cookie cutter (plastic works great so don't worry about searching for a metal one if you don't have it!)
Directions:
Step 1:  
Wash all your fruit- I like to wash the outside of the watermelon just to get any dirt off-even though we won't be eating that part! (Now sneak a blueberry or two-you know you want to!)
Step 2:
Cut the watermelon in half- The short way so that the pieces are mostly round not oblong.  Then cut large circular slices about 1 inch thick. Now you have a bunch of Frisbee looking pieces of watermelon. (Hows that for a visual!?)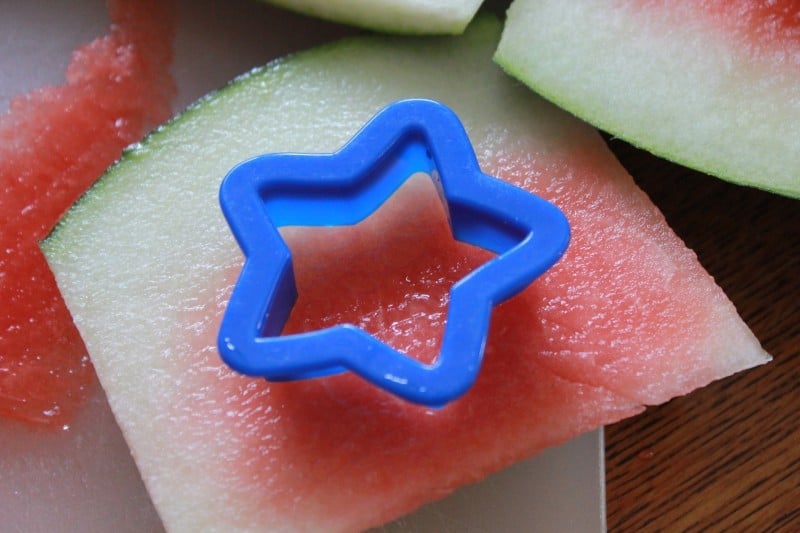 Cut as many stars as you can our of each watermelon slice (one slice at a time)- depends on the size of your cookie cutter and your watermelon but if you can get 6-10 out of each you are on the right track with size-not too small and not too heavy!
Step 4:
Fill each kabob skewer with 3 watermelon stars and 3 blueberries in between.  You only want the skewers to be about half full so they can be held easily and eaten!  Make sure when you put the stars on that you go right through the middle – this will make them the most secure.
Step 5:
Display and Eat Up!
Bonus step:
When you have made all your wands each watermelon slice will have lots of extra pieces to just cut up and throw in a bowl for more snacking!  So use it all  up- if you or someone you know has chickens, give them the scraps.  It's one of our chickens' favorite snacks- and they will make sure nothing goes to waste.
The great thing about these easy yet yummy treats is that although I have instructions they are pretty easy for someone to just figure out and get going on.  So let your kids help out in the kitchen by making this healthy Fourth of July crowd pleaser!