It's not too often that you find a book that appeals to everyone in a family. The Harry Potter books were multigenerational sensations, but aside from that? There hasn't been a book series that's had my family literally come to blows up until we discovered Shannon Messenger's Keeper of the Lost Cities books. Simon & Schuster is partnering with me for this #KeeperReadAlong post. Our love of the series is 100% our own!
Before I tell you about the books – from my perspective and all three of my kids, I want to tell you to be sure to mark your calendars, because Shannon Messenger is hosting a summer series read-along from June 10th – July 29th with the designated hashtag #KeeperReadAlong. Each of the 7 weeks will be dedicated to a book (in series order) with a kickoff from Shannon on Mondays plus a post answering a fan's question about that book the following Sunday. Additional activations will come throughout the week. Check out the Reading Guides for teachers and librarians.
Keeper of the Lost Cities is the best series for kids of all ages
On a recommendation from a friend, I ordered books 1-7 in a box set from Amazon this winter. The 9 year old was the first to dive in, and her brother picked the first book up as she set it down after finishing. Within days, big sister was asking when she could read and was it her turn yet, because clearly she was missing out since the younger 2 kids were constantly losing themselves in the books. Well, as she finished book 1, the kids were kind of all about to be ready for another book- and fighting ensued. Who could read the next book first, who deserved it most, who had the most time to read it quickly in order to pass it along to the next kid impatiently waiting?
Honestly, you guys, after the second near- brawl over these books, I knew I needed to see what the fuss was about. My kids all enjoy reading, but they've never been like this over a series. They may all love one but when they were a certain age. Not 9, 11 and 13!? So I grabbed book one. A few hours later, when the kids were sleeping, I stole book 2. Stayed up way too late reading and had to replace it in the kid room I smagged it from.
Suffice to say, I binge read books 1 thru 7 in about 3 days. I had those books open every spare second I foumd, and stayed up late reading into the wee hours. They are awesome. Each book pulls you in and I will warn you, leaves you on a cliffhanger. That's the good part about discovering a well established series- a cliffhanger means you grab the next book.
Except that book 8 isnt due out until November of 2019. Yes, we have it preordered. No, we don't get it early. It's sad. All of us are anxious to read it. I'm hoping it comes in the morning when the kids are at school so I can selfishly read it before they get home.
Visit KeeperOfTheLostCities.com
Follow Shannon Messenger on Instagram
Follow Simon & Schuster on Instagram | Twitter | Facebook
Keeper of the Lost Cities from the Kids' Point of View
In light of all three kids and me loving these books so much, and falling so very in love with Sophie, Fritz, Keefe and their friends- I asked my own kids to share with you what it is that keeps THEM interested, and why they think you might like to read it yourself!
From an 11 year old boy's perspective:
What I loved about The Keeper of The Lost Cities was all of the changes with the characters. Not a single character stayed the same throughout the entire book,and some hidden feelings emerged from most, like Keefe, whose hatred and guilt led to his mind almost breaking in various parts of the story.

Even Sophie Foster, the narrator and main character of the story changed, changing from a shy, peace-loving girl who was afraid of a lot of things to a violent, arrogant girl who fears nothing, and always wants to know the answer and will threaten people to give her the answer.
From a 13 year old girl's perspective:
The Keeper of the Lost Cities series is a really good choice for people who love reading books with adventure, with a little bit of fiction and just a touch of romance. These books are perfect for thrillseekers! I can't wait for the 8th book to be released…there is so much going on in the plot right now and I just want to know what comes next!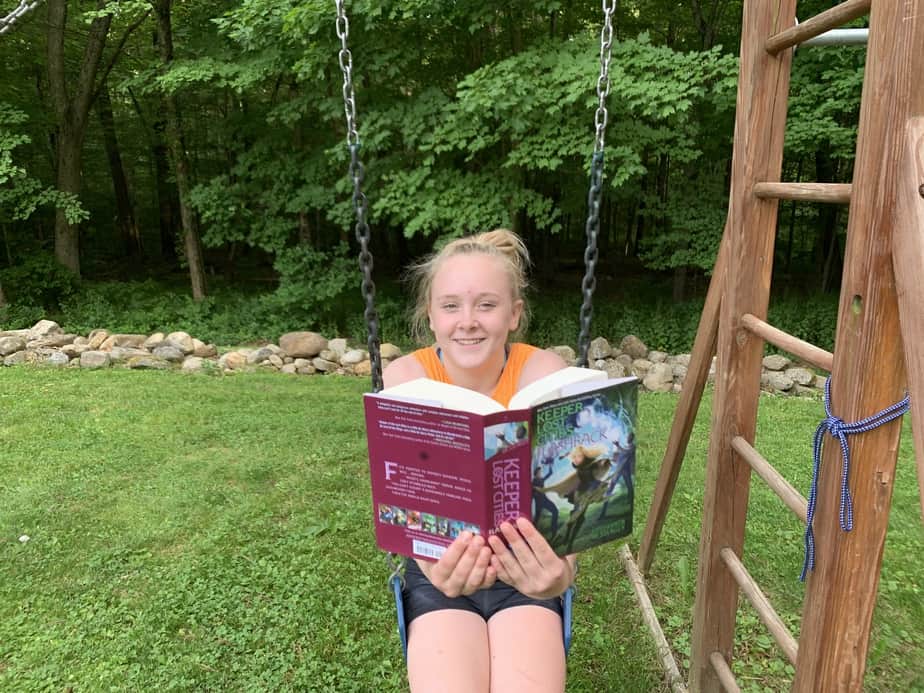 From a 9 year old girl's perspective:
Now, I love reading, but these books… WOW! I liked Keeper Of The Lost Cities for many reasons, but I will name only a few in this paper. One, is that the books (book 8 comes out in November) are mysterious. My favorite kind of book is a mystery, though Keeper Of The Lost Cities is much more than that. In these amazing books, Sophie, the main character, tries to solve clues. When I read the books, in the parts where she was trying to figure the clues out, the author, Shannon Messenger, made it so I could do my best to figure the clues out myself as well as Sophie.
Two, I said I love reading at the beginning of the other paragraph, right? Yep. Well that is another reason why these books are fantastic. They are super thick and get thicker as you go farther into the series. Just the first one of these books lasted me a least a day! Imagine how long it took me to read the 7th book! At least 3 days I bet. I think these books are great for my family because we love to read (well, except dad). There are five of us!
What makes this the best series for kids?
It's universally appealing to girls and boys. There's excitement, drama, adventure, problem solving, comedy, and even a little romance with a side of love triangle sprinkled in. Sophie Foster's the heroine of this series, and has a similar vibe to Hermione Grainger from the Harry Potter series.What I love about Sophie is that she's not super popular, or viewed as perfect. Her life is sort of mundane and normal, and that draws you in from the start.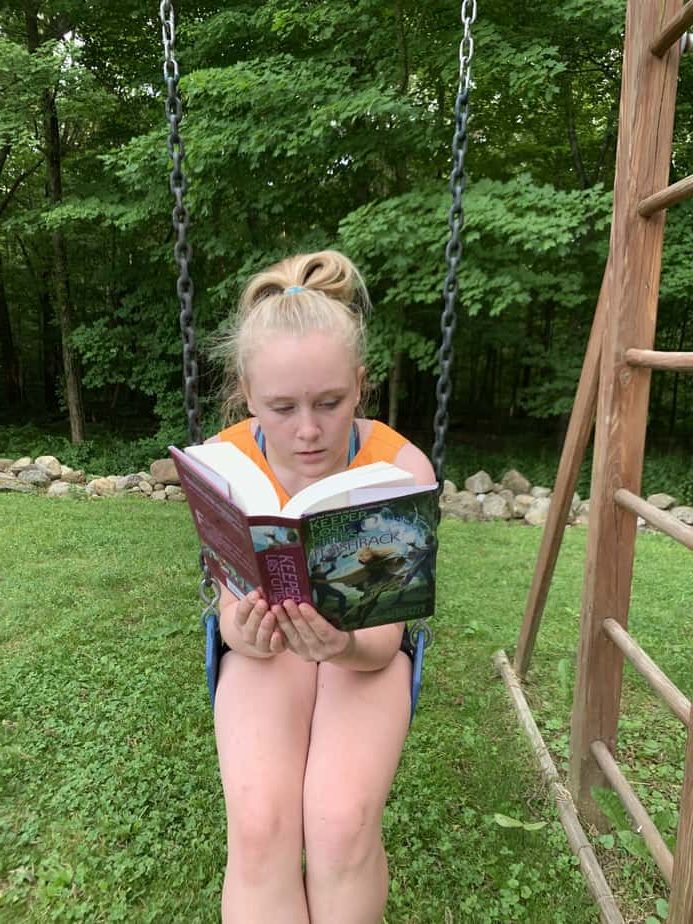 But Sophie's not just learning to hone her magic in the books, she's spent the first 12 years of her life unaware that she had any talents or powers. She quickly makes many friends (male, female, and everyone in between), allies and enemies as she embarks on her journey to discover just who she is, and what the Lost Cities will come to mean to her. The friendships she makes, the choices she faces, the talents she discovers as she explores the Lost Cities- paired with the normal 'stuff' that 12 year olds go through, makes this series relatable and appealing to just about anyone.
Kids who love fantasy series like The School of Good and Evil, The Unwanteds, and The Land of Stories will devour Keeper of the Lost Cities. I can vouch for this, because my kids all plowed through The Land of Stories books just like these, but years apart, so no one fought over them. They've reread often as well!
Keeper of the Lost Cities
Series by Shannon Messenger
Published by Simon & Schuster
Recommended for ages 8 – 12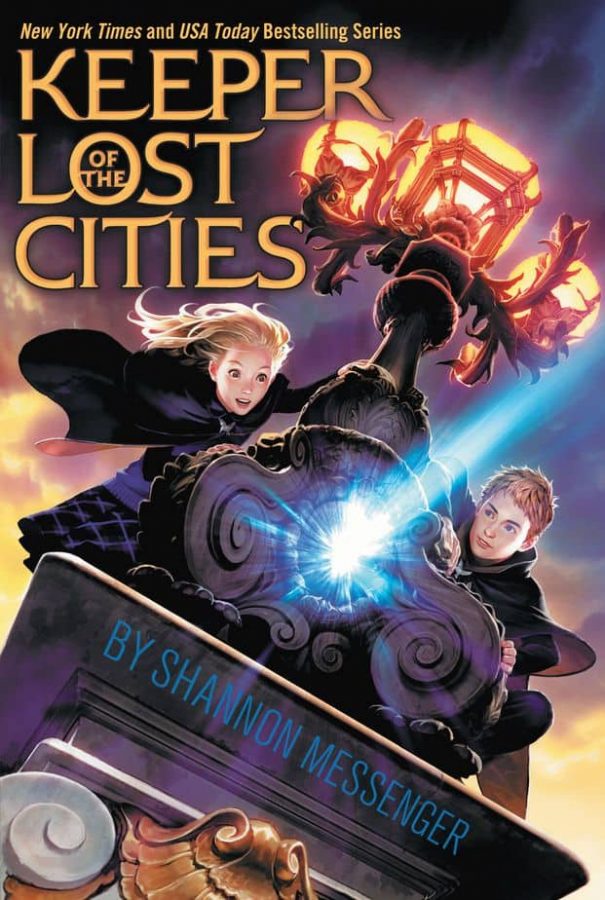 In Stores Now
Book 1: Keeper of the Lost Cities
Book 2: Exile
Book 3: Everblaze
Book 4: Neverseen
Book 5: Lodestar
Book 6: Nightfall
Book 7: Flashback (also out in paperback, October 8, 2019)
Coming This Fall
Book 8: Legacy (releases November 5, 2019)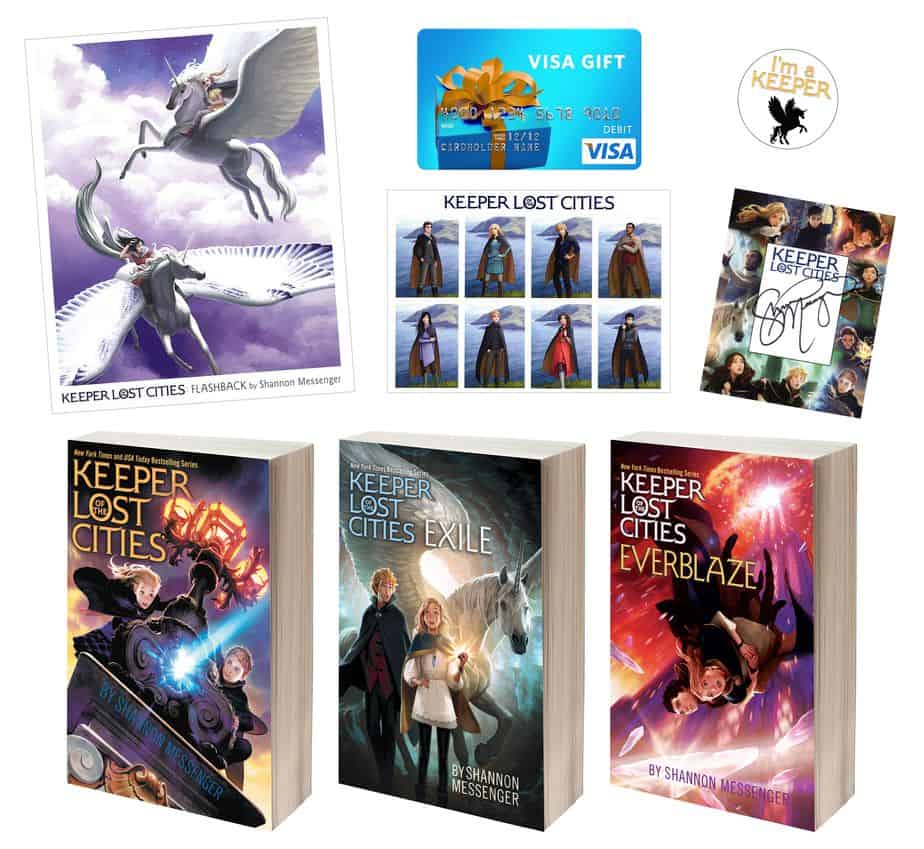 Enter to win Summer of the Lost Cities prize package!
One (1) winner receives:
Books 1-3 in the Keeper of the Lost Cities series,
exclusive branded art prints and pin,
plus a $50 Visa gift card to use for a summer reading reward!
Giveaway open to US addresses only.
Prizing and samples provided by Simon & Schuster.