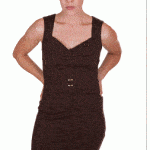 I'm a mom of three very young children who is on a weight loss journey.  I'm down a full size in clothing and the size I'm in, well, some of that is getting to look baggy and unflattering.  Dressing myself to look put together and look nice can be quite the challenge but I'm finding a lot of help in this department the past few weeks from my new pink Kymaro Cardi-Wrap.  Just yesterday I had a MOPS meeting and right before I went to drop my middle child at preschool, the baby spilled strawberry on my shirt.  Just great. I didn't really have other options to change into (laundry day) so I got brave- and tried the cardi-wrap a new way.  I'm not sure they intended this to be such an awesome thing for moms of young children or folks like me who seem to have a habit of spilling things on their clothing in very noticeable places, but with the versatility and options that this cardi-wrap provides, I can promise you that almost any spill or stain is HIDEABLE.  Coverable.  Unnoticeable.  WHILE looking nicely put together.  It was a bit cool when we left the house anyway – I just grabbed the flower pin that came in the accessory set with the wrap I received and kind of pinned the wrap together in a place that made the spill disappear- at least to others.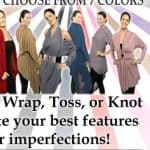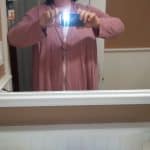 This wrap comes with a booklet.  More like a book.  In this book you will find 50+ ways to wear the cardi-wrap.  50.  That's a lot.  That's a lot of bang for your buck in these crummy economic times, and its also a lot of versatility especially if you travel!  Depending which way you wear the wrap, you can hide figure flaws, slim your hips, accentuate your bust…mask a belly bump…show off your toned shoulders…wraps, ties, twists and knots are the keys to all of the versatility of the wrap.  It also comes in 7 different colors so if you bought basic black and a color, you really could work with just about anything in your wardrobe (maybe not sweatpants but that's, once again, another post).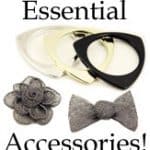 With the wrap, you can purchase an accessory set for $9.95 (and it is right now FREE with your wrap order!!) which comes with three triangular bangles, a bow tie shaped pin nad a flower pin.  These help to create even more looks and further the versatility of the wrap.  I think if you have 2 sets of the wrap and accessories it would also be fun to wear a pink flower pin  on the black wrap, or vice versa.  It kind of seems like the possibilities are endless with this accessory and I feel like it would have more value to me, Queen B, than the "little black dress" that I've never ever owned (shocking gasps abound, I know.  But I'm not a dress girl).
The folks at Kymaro offer their wrap in 2 sizes so that if you are like me and have a full figure, you're still able to rock the wrap.  I actually got several compliments on my outfit yesterday (which was awesome, my birthday and everything) while wearing my wrap!  That felt great!
This is also a great great piece to keep in mind for pregnancy and nursing- the versatility can offer modesty and privacy without having to carry something separate!
All in all I think this wrap is a great find and an absolute STEAL at $39.95.
I received a sample of this product through my affiliation with Family Review Network from Kymaro.  All opinions expressed within are my own.
0