If you have seen my previous posts, you know how much I love Kidorable products! Not only are their products made with quality in mind, I just love the designs. Nowadays it is so hard to find products for toddlers and little boys (and girls) that isn't overly character themed or age inappropriate. All of the kidorable products are so sweet and matchy!!!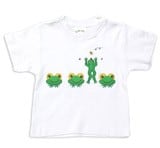 Their product line include the following (and they all coordinate of course): Umbrellas, Rain Coats, Rain Boots, Backpacks, Knit Hats, Knit Scarves, Knit Gloves, Towels, Sun Hats, Embroidered Shirts (cute!), Hanger Sets and Bookends. Phew, did I get them all! If that embroiderd frog shirt isn't adorable I don't know what is!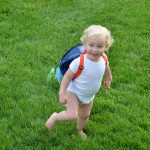 Today we are talking backpacks. Take a look at all the styles Kidorable has to offer. I know that it is the end of the schoolyear, but it is never too early to look for a great deal on something cute and useful. Kidorable carries a line of backpacks that are just the right size for toddlers and preschoolers. I chose the rocket backpack (of course I had to match our Kidorable rain boots and rain coat!) My little guy, who is 2 years old, just loves this thing! As you can see from the pictures, he took off with it before I could even get the tags off. He uses his backpack primarily for
imaginative play, but it could also work as a small preschool backpack. I have other plans in mind for this item though. Because the backpack is made of PVC it is durable and can withstand outdoor play. I plan on using our backpack as part of our picnic adventures this summer. The little ones will be able to pack up their own little picnic lunch and carry it with them.
How fun is that going to be!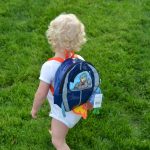 I imagine that we will be using this backpack for all sorts of outdoor space adventures outdoors this summer. I think that this backpack is up for the challenge. Constructed from PVC and with durable zippers, this thing is practically indestructable. My kids love that there is a small front pocket to put all their "treasures", and they particularly love the dangling alien figure.
Here are some other ideas I came up with for this cute little backpack:
1. Summer Camp. It is just the right size for a snack, a drink and some sunscreen.
2. Library Time. My kids feel so special when then can carry their own books too and from the library. This would be a cute and convenient way for the little ones to tote their books.
3. Outdoor Play. Coordinate a scavenger hunt, where the kids can collect their "finds" along the way.
The possibilities are endless. Come up with a fun activity to do with your kids this summer!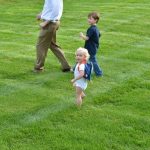 Kidorable has so many cute designs to choose from. Check out their boy and girl designs today and let the summer adventures begin!
From May 16 through May 31 you can purchase Kidorable backpacks for 20% off by using code SUMMER33 at checkout.
I received a sample of this product to facilitate my review. All opinions expressed are my own.