I've long loved canvas totes from Land's End.  I saw a few weeks ago that they now have Easter Basket Totes, I needed to have them for the kids.  Thankfully, Land's End was agreeable to send us one for each of the kids for review- one Flower Easter Basket Tote ($25), plus two of the Bunny Easter Basket Totes ($25). We had some personalized baskets for the kids from a few years ago but 2 of the 3 fell apart the first year and the other fell apart last year.  Too many egg hunts, perhaps.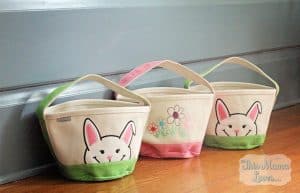 But I don't like buying and rebuying things.  It's a waste of money, time, and resources.  I'd rather buy something that is going to last and last.  That's why I wanted Land's End.  My parents  always had Land's End canvas totes- my dad still has a tool tote for his boat tools that has been around at least 25 years.    Very durable 100% cotton canvas fabric, with super-tough stitching and reinforced seams makes for a basket-shaped tote that will last and last, and then last some more.   It's a great size so it'll hold all of the candy, the eggs, the treats that that beloved bunny leaves. Dimentions: 7″Hx9 ½″W, with 8″ base; 7″ handle drop
I need a bigger basket for my kids.  We do very little candy and treats instead.  They do LOVE egg hunts, so we have dozens and dozens of eggs.  That calls for a basket large enough to hold many eggs! In fact, they are already asking for "practice" hunts so they can work on their techniques.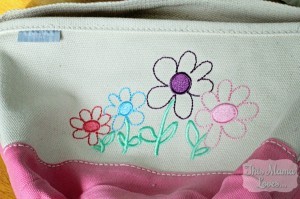 The appliques on these totes are adorable- and not too "young" so that the kids can enjoy their baskets for many years to come.  You can get their names monogrammed on the back for an additional $6- which I did opt to do. I chose to do their favorite colors for the monograms so they aren't "matching" their totes but they'll love them all the same.
There are some other variations of the Easter Basket Tote on the Land's End site if you don't want appliques- each of those is priced at $20. Right now through March 23, when you buy 3 or more Easter Totes, you can save $3 off each.  Monogramming on home items is 50% off.  That means you can get these adorable totes for even less.  Monogramming does add a day or two to your processing so keep that in mind when you place your order!   (Don't forget to go through Ebates first and get 6% cash back on your order!
Thanks to Land's End for sending the baskets.  Opinions are my