Tell me I'm not the only one who still needs to find a few more gifts for the family.  I always realize at the last minute that I'm missing some fun games that we can all enjoy together.  Here are some of my favorite picks for the family….fun for all ages, parents, kids and in between! (Disclosure: Some items were received in exchange for inclusion in this post.  Others have affiliate links that support this site.  Opinions are my own).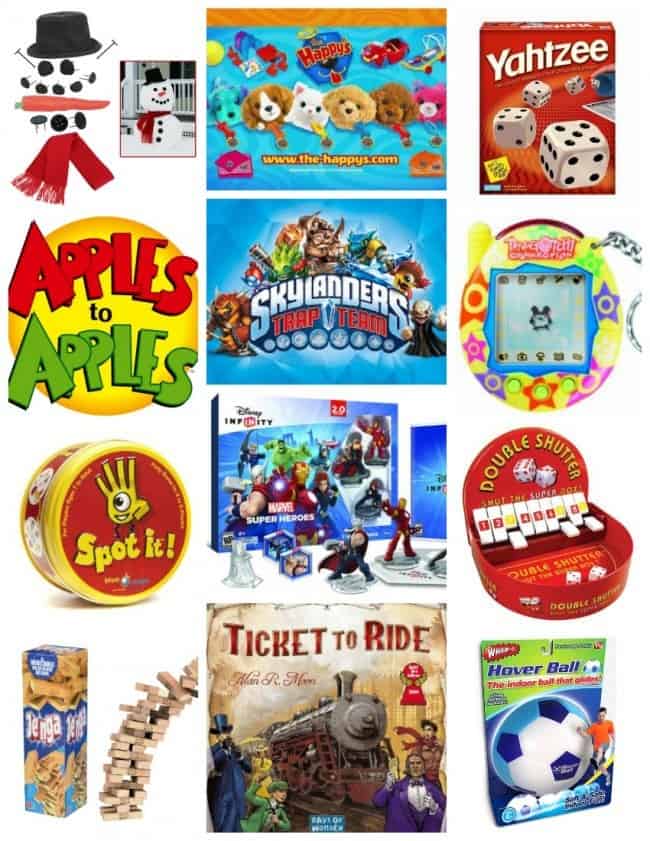 Last Minute Family Friendly Gift Ideas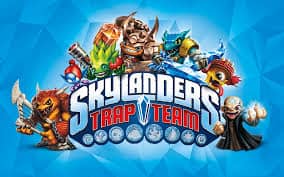 Skylanders Trap Team – Yes, all of my family has played this.  Even the 5 year old likes to help!
The latest entry into the Skylanders series of games and toys is the Trap Team.  Kaos has broken into the dreaded Cloudcracker Prison and freed the Skyland's most feared villans.  Using weapons made from Traptanium, it's up to you and the Skylanders to trap the villains and return them to the Skylands, where they can fight for you!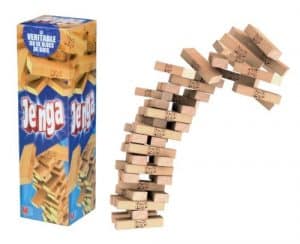 Jenga – A classic game of coordination and steady hands with a shot of engineering built in.  Jenga is played by removing rectangular blocks from a stack and placing them on top of the stack without knocking the stack over.  Simple sounding but lots of fun, this game is great for most ages and you can add to the fun by putting challenges on the blocks that have to be done after placing the block on top.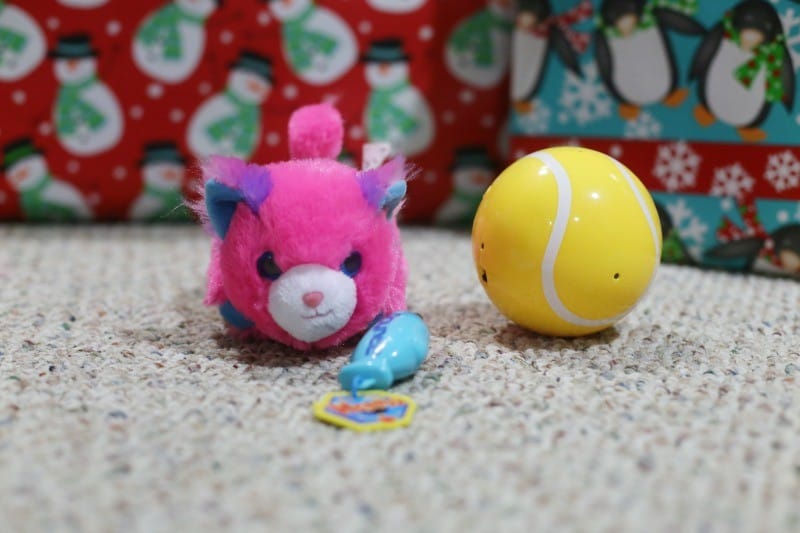 The Happy's –This is a line of adorable and lifelike plush toys that really play with you.  The kitten will stalk and pounce, the puppies fetch and more.  They play other games and will keep your kids entertained for hours….and probably your pets, too!!  They have a lot of fun accessories you can get to make that interactive play even more fun for the family.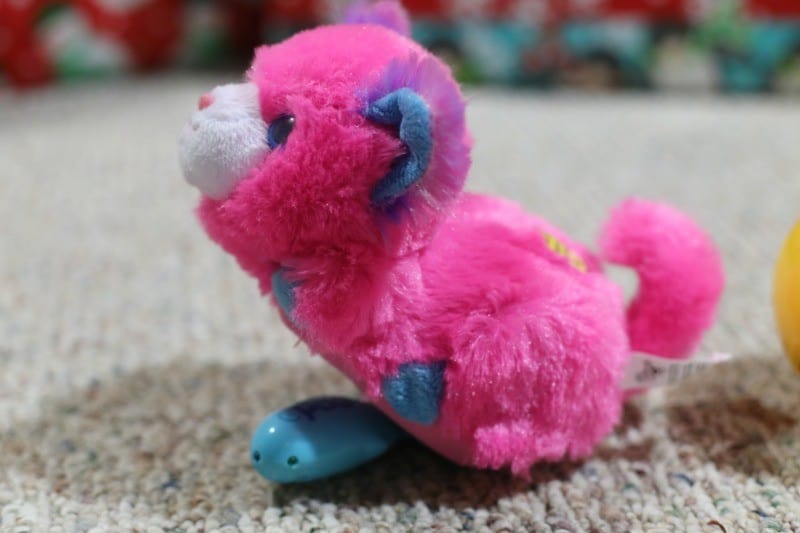 Thank you to Cepia and Mom Select for letting us experience The Happy's here in our home!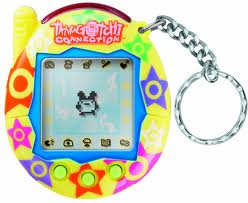 Tamagotchi – This pet on a keychain has been around for years, but is still very popular.  There are a lot of variants, but basically it is a small egg on a keychain with a few buttons for different functions.  After you child activates the toy, it will hatch and grow up.  Your child has to feed and play with the pet, as well as clean up after and discipline it.  How the pet grows up depends on how your child cares for the pet.  They were originally targeted at teenage girls, but are appropriate for all ages. The new "age" Tamagotchi's interact with other Tamas for interactive play.  This is a BIG hit with the tweens and grade schoolers in our area (note: as of writing this post, these are on sale at Toys R Us for $14.96).  Grab a few so the family can play Tamagotchis together!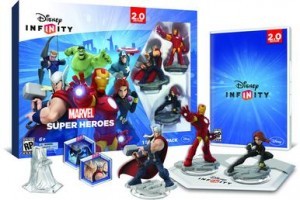 Disney Infinity 2.0 – Calling all Disney lovers!!  This is a "sandbox" style video game, meaning the player is free to explore and play the game in many different ways following a number of different story lines.   There are 2 versions for the 2.0, the Toy Box and Marvel Super Heroes.  With either version, you can get it most current gaming systems.  Add more fun by adding other Disney Infinity characters (many are hard to find so if you see one you like, GRAB IT!) — this is a great family game that everyone can enjoy together!   It is rated E for Everyone.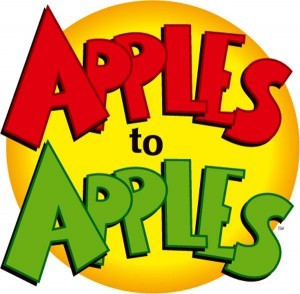 Apples to Apples – This award winning party card game is fun and flexible, with many different variations in rule play. The main game involves two sets of cards, red and green apples, and involves trying to match a green apple card with an adjective on it with a red noun card out of the players hand.  The most fun, creative or interesting match as judged by another player is the winning card. It encourages fun and creative thinking and is appropriate for ages 12 and up.  Is your family not quite ready for the 12 and up version? Don't worry- there are many other versions including one for the 7 and up crowd that are just as fun and include everyone.  There's a Biblical version, a Sour version, Disney version, party box, big pictures, and you can EVEN used to be able to find Apples to Apples in the teeniest form over at AmericanGirl.com in one of the playsets (Check eBay for it now!).  This is truly a favorite across my extended family.  A favorite gift to give!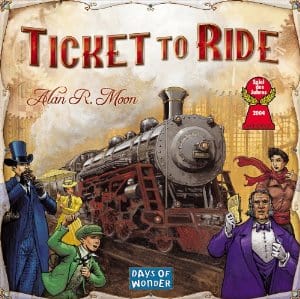 Ticket to Ride – This is an award winning board game, although there are also iPad, XBoX and computer versions of it.  Each player is dealt train car cards and destination ticket cards, which the players secretly try to connect.  It's for ages 8 and up. I'd actually not heard of it before Black Friday and since then? I see it and hear about it everywhere. It's pretty awesome to see an historic board game so popular as a holiday gift, isn't it? There are also other versions and expansion packs available.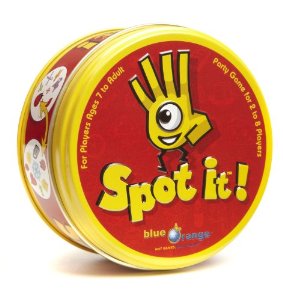 Spot It – This is a pattern recognition game where players try to find an image shown on two cards.  There are many different versions available with sports, language, Disney and other themes.  Appropriate for ages 7 and up for most versions. There are some popular character versions for the preschool crowd as well. The tins are small and portable so these are awesome to pack for family trips.  Great for 2-8 players!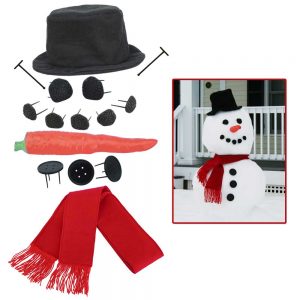 Snowman Kit – There are a lot of different variants available from a lot of different sources, ranging from a few dollars to hundreds of dollars.  They come with everything you'll need to make a snowman, except the snow! Next time the kids start asking "Do you wanna build a snowman?" you can surprise them with this!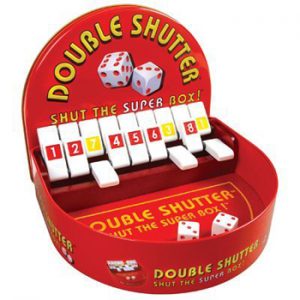 Double Shutter – This fun strategy game involves a good bit of chance as well as strategy.  It's a math based game where you roll two dice and turn down tiles to match the number you roll with the object of getting as many tiles down as possible for the lowest score.  It can be played solo or with friends and is great if you have only a few minutes to kill or if you want to do a marathon.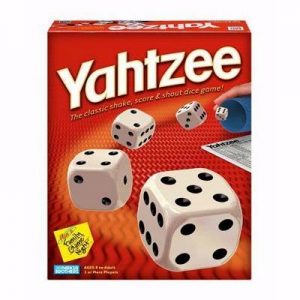 Yahtzee – This classic dice game requires you to roll certain combinations on 5 dice in 3 tries.  Each combination is worth a certain number of points and the player with the highest point total at the end of the game wins.  This is a fun game that sneaks in some educational value by practicing math and strategy. You can find themed versions in different places- and there are also Jr. Versions around as well.  (If anyone has the Yahtzee Jr. Disney and has a spare Goofy, let me know! Ours went missing right around the time we got kittens…)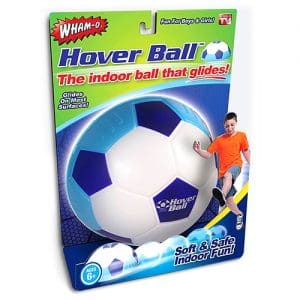 Hover Ball – Hover Ball is designed with a flat surface underneath that allows it to glide across any floor surface, appearing to "magically hover." It is really just gliding but that's okay, it's still fun! The soft material of the Hover Ball is safe and is less likely than regular balls to damage your home. This indoor soccer ball will not scratch up the surface of any floor, furniture or walls. Sometimes mom DOES let you play ball in the house!!  This is great for gross motor on yucky gross days 🙂
What's left on your holiday shopping list? Do you do family-friendly games that everyone can enjoy?