I realized today, in a panic, when my friend Bri posted on Facebook that Christmas is, indeed, NOT a week from tomorrow, but a week from TODAY…I realized that I lost a full day.  Um, I can't lose a day. I have a billion things TO DO!  We have some parties and get togethers and the kids only have 2 more days of school before the break and ohmygoodness!!  I lost a day!  So now here I am scrambling to think of last minute gift ideas they will love.
I like to do a little something for each of the teachers who spend time with  my kids.  This year, my son's teacher very suddenly retired, and a sub filled in who – well, she filled in.  They did find a permanent replacement who started today, in fact (yay!) but there's been a lot of issues with my little first grader and I've been a frequent flier in the school office with questions and concerns. As if the women who work in our front office don't have enough to deal with, they've had extra Brett time.  Bless their hearts…and their bellies.  Since I don't have a lot of time, but I really want to do something to say "Hey THANK YOU for caring so so much about our little ones every single day!" I thought perhaps I could bring a tray of goodies for everyone in the office to enjoy.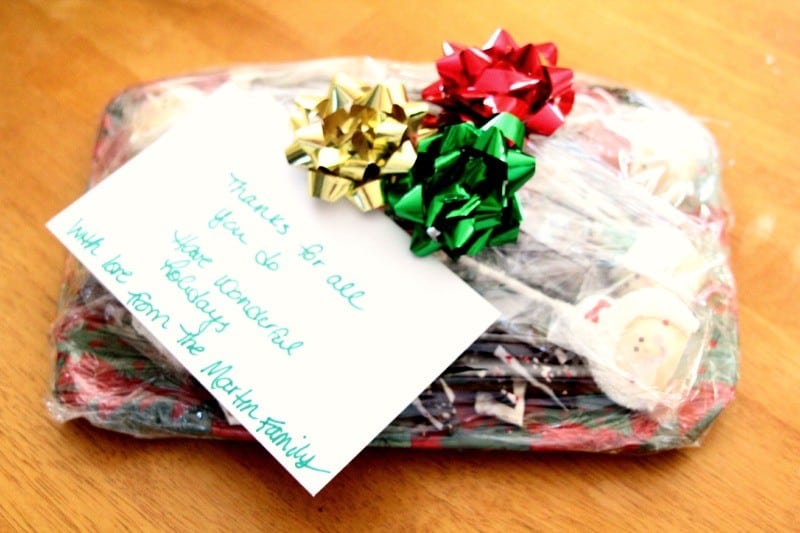 And that's where Shari's Berries come in. They were so super nice and sent a whole array of goodies here to the house to help me create a platter of holiday AWESOME for those wonderful folks who run our little school.  Last minute gift ideas they will love?  CHECK!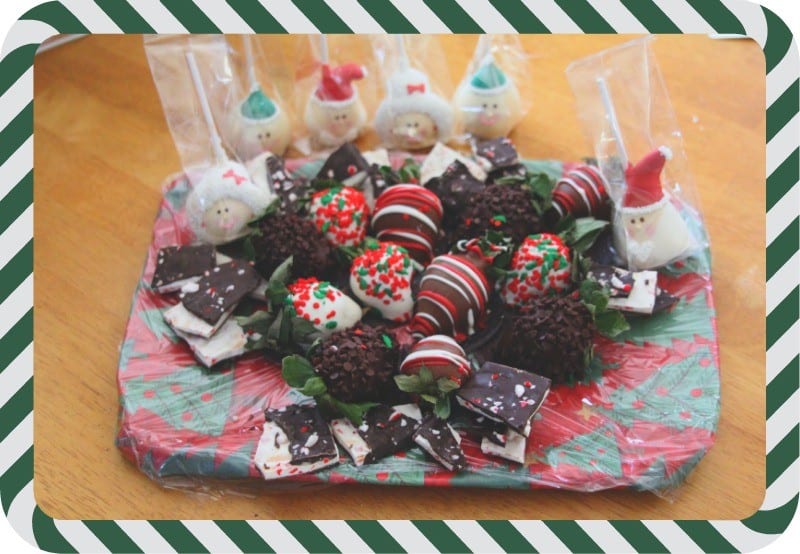 One of the ways we celebrate holidays is with food.  In most cultures, there are traditional foods we prepare and enjoy and share with friends and family.  So it seems like food would be a last minute gift idea they'd love, right?  Shari's Berries has that food…like many…but they have the presentation down to a science and make those foods look simply gorgeous and almost too good to eat!  (Almost)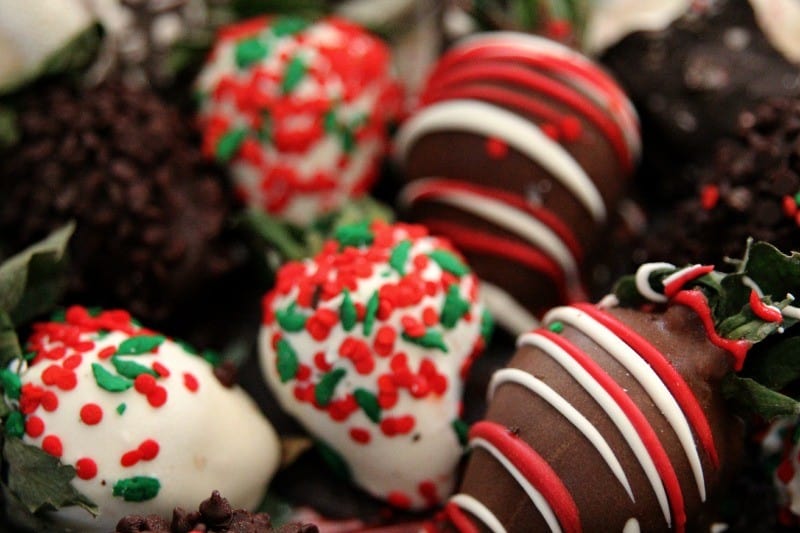 It's kind of hard to say "no" to those, right?  Plus they are strawberries!  Big plump strawberries!
We've taken our world famous strawberries and dressed them up for Christmas. First, we pick only the freshest, juiciest and biggest strawberries we can find, and dip them in milk, dark or white. To make them fancy enough for a Christmas gift, we top the milk off with red & white swizzles, the dark with chocolate chips and the white with Christmas sprinkles.
Your Gift Includes
4 Strawberries Dipped in Milk with Red & White Swizzles
4 Strawberries Dipped in Dark with Chocolate Chips
4 Strawberries Dipped in White with Christmas Sprinkles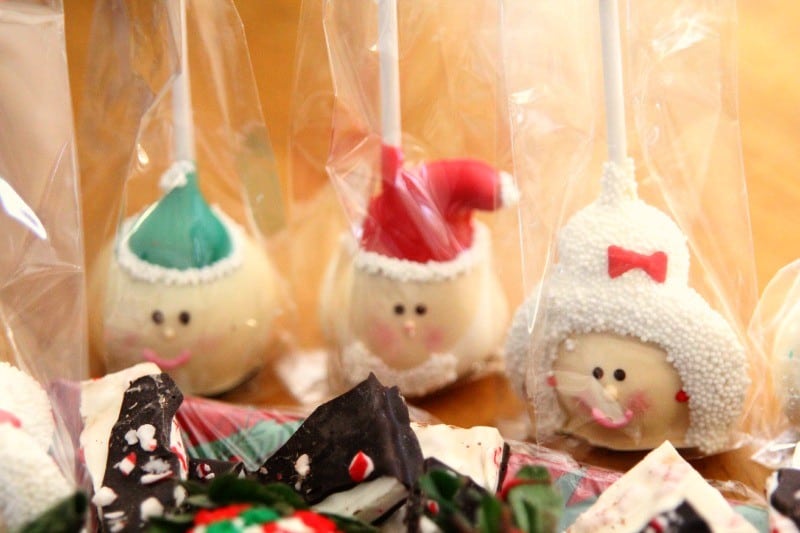 These festive chocolate cake pops are perfect to celebrate Christmas. Each fudgy chocolate cake pop is the perfect combination of gooey fudgy chocolate interior with a crisp chocolaty exterior. Decorated with characters like Santa Claus, Mrs. Claus and even an Elf they're perfect for any chocolate lover.
Your Gift Includes
Handmade Santa Claus Chocolate Cake Pops
Handmade Mrs. Claus Chocolate Cake Pops
Handmade Elf Chocolate Cake Pop
Item #30080711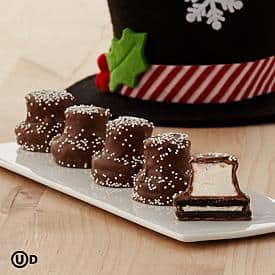 Our gourmet Oreo® cookies are topped with marshmallows, covered in chocolate and sprinkled with white "snow" nonpareils to create a delicious "snowman hat". Gift includes 16 handmade chocolate covered snowman hats that arrive in a winter top hat keepsake box.
Your Gift Includes
16 Handmade Chocolate Covered Snowman Hats
Keepsake Snowman Hat
Certified Kosher Dairy by Orthodox Union
Item #30010311
 Now, if you aren't a Christmas person, or really don't like doing the holiday themed stuff, there are TONS of other options available.  There are cookies and cake pops, chocolate dipped strawberries and Buche de Noel cakes and oh so much more just for the holidays- but also, for any occasion.  Picnic spreads, chocolate themed baskets, fruit baskets, wine pairings and more.  You can satisfy your sweet tooth and your savory cravings with a beautifully packaged purchase from Shari's Berries.  
When your order from Shari's Berries arrives, it's very well bundled up so it won't get damaged nor affected by the weather. Each box is a signature Shari's Berries box and is beautiful in and of itself.  You can find get well gifts to send, hostess gifts, thinking of you and more.  There's a Wine Country Picnic for the Holidays that would be a wonderful surprise for that newly engaged couple (like my niece Sam and her new fiance Jeff!), fruits, fruits with cheeses and so much more.  The possibilities are many. You can even find sugar free chocolate dipped berries – and many items are also Kosher on the site….organic…
Once again I put my money where my mouth is- we've been stressing and fretting about what to get my husband's parents and uncle for Christmas since they don't need a thing — I found the PERFECT treats for his mom, his dad and his uncle on Shari's Berries last night and they'll be delivered Monday morning just in time for Christmas.  They get a little spoiled with some of their favorite treats and we can get them something they won't return or give away!
One thing I LOVE about Shari's Berries is that the pricing is quite fair and reasonable.  Right now, we can all get free shipping through Christmas Day, too! 
Get 20% today Shari's Berries with the code SWIZZLE #HolidayBerries & Get FREE SHIPPING on December 18th #merryberries #spon

— Brett Martin (@brettbmartin) December 19, 2013

Thanks to Shari's Berries for sponsoring this post and sending the goodies!!