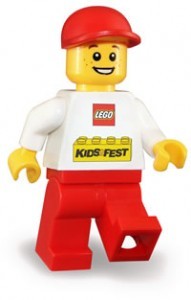 Last night we headed over to LEGO KidsFest in Hartford.  I took my two boys, the 7 year old and the 40 year old.  We all had a really great time.  There was so much to do and the staff at all the areas were super nice and helpful.  With over 3 acres of LEGO family fun there was plenty of room for everyone to create, build and enjoy.
We started at the LEGO Model Museum.  There we many favorites such as SpongeBob, a huge Lightening McQueen, Batman, Buzz Lightyear, Indiana Jones,  and several interactive models such as a lion and shark that you can crawl in and this Pharaoh.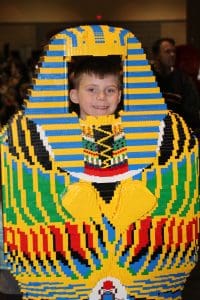 After that my son jumped right into a bridge building challenge.
They encouraged the kids to work as a team and all participants
received a mini figure set.   There were other challenges through out the event such as a relay and building a figure.  There were smiles everywhere from all the kids and adults.
There are over 20 areas in all at the LEGO KidsFest.  Some that we really enjoyed were the lime green monochromatic building area where my son learned how to build a LEGO pyramid, Race Ramps, LEGO Games, and the Adult Fans of LEGOS.  Through out the convention center floor there were amazing displays of LEGOS with entire underwater scenes, farms and more.  There were multiple opportunities for the kids to put their creations on display.  The largest display is called Creation Nation.  It starts with a large white outline of the United States. As people build they can drop them off outside Creation Nation and staff then place them within the large outline.  We were there on the first night of the event and there was already so much to look at.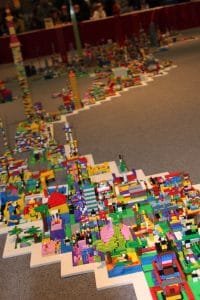 This is what the East Coast looked like at the end of Friday.   There was also a massive LEGO brick pile with thousands of bricks that the kids could climb onto and sit and build. They also had many Duplo activities for the younger crowd.   Santa was there and master builders were all around to encourage the young builders.
LEGO KidsFest is a very positive and fun event for all ages.  Check out their website HERE to see when they are coming to your area.
I received tickets to facilitate this review.  Opinions are my own.