If you have a Lego fan in your house I am sure that you have heard about THE LEGO MOVIE premiering February 7th. Jenni was lucky enough to have the opportunity to take her two little guys to a screening of the movie this past weekend. Here's what she had to say about this awesome movie!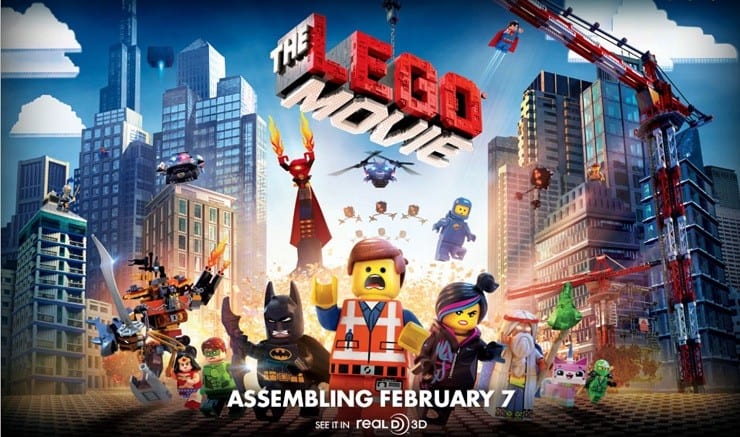 We watched the 3d version of the movie which was cool, but I think the movie would be just as enjoyable without the 3d effects. This animated Lego film features all of your favorite Lego figures. Lord Business is the villain who steals the secret weapon the KRAGLE (which we later learn is actually Krazy Glue). The good doers are looking for The Special, who is foretold to be a master Lego builder who can save the Lego world from Mr. Business and the destructive Kragle. The story line is interesting and the cast of characters are fun. There is a lot of humor that both kids and parents will enjoy. The movie was great for ages 5 and up. My favorite part of the movie was the underlying theme . Don't restrict yourself or your children when it comes to creativity. Moms , don't glue those Lego creations together! Let the kids build their set, tear it down and make their own creations. That's what Legos are for after all!! The length of the movie was just perfect for engaging my 5 year old, without losing him at the end. I won't give away any spoilers here, but there was a nice twist at the end of the movie, with a touching lesson for both kids and adults . I dare say I had a tear in my eye ! Oh, and a word of warning. You WILL come out of this movie singing the theme song! As a side note, if you are taking young children to this movie be aware that there was a preview with some not-for-little-kids language.

Now, Fandango has these awesome new THE LEGO® MOVIE themed gift cards. Aren't they so cool?
I want one of each! We are big LEGO fans here!!
At retail, THE LEGO MOVIE Fandango gift cards are available only at Target stores and can be found in the Toys & Games section amongst the cool THE LEGO MOVIE toys, also exclusive to Target. The featured toys include 17 different building sets that enable children to bring THE LEGO MOVIE to life, helping Emmet and the Master Builders save the LEGO world from Lord Business. Imagination and creativity will run wild with these sets, which represent the most exciting and memorable scenes from the film. Four different LEGO MOVIE-themed gift cards (including a Valentine's Day card) are also available for purchase on Fandango at www.fandango.com/lego-movie-gift-cards THE LEGO MOVIE, from Warner Bros. Pictures, Village Roadshow Pictures and LEGO System A/S, stars Chris Pratt, Will Ferrell, Elizabeth Banks, Will Arnett, Nick Offerman, Alison Brie and Charlie Day, with Liam Neeson and Morgan Freeman. The original 3D computer animated story follows Emmet, an ordinary, rules-following, perfectly average LEGO minifigure who is mistakenly identified as the most extraordinary person and the key to saving the world. Emmet is drafted into a fellowship of strangers on an epic quest to stop an evil tyrant, a journey for which he is hopelessly and hilariously underprepared. For more information on THE LEGO MOVIE and other family movies, along with the latest trailers, age-specific movie recommendations and ticketing options, check out Fandango's "Family Room" at www.fandango.com/familyroom.
Thanks to The LEGO MOVIE and Fandango for sponsoring today's post!!