This is a sponsored post about bathroom habits written by me on behalf of Cottonelle.
And no, I'm not talking about brushing our teeth, friends.  Little um…*ahem* lower.
You know, down there.
I realized recently I've clearly failed in the teaching of all the bathroom habits in this house. Not for everyone, but trust me when I tell you that the whole notion of having clean tissue sightings after a bowel movement has evaded multiple people who reside in this house.
And that's not good. Really, it's sad.  And bad. And leaves me feeling less than glad.
Because what happens in the bathroom needs to stay in the bathroom.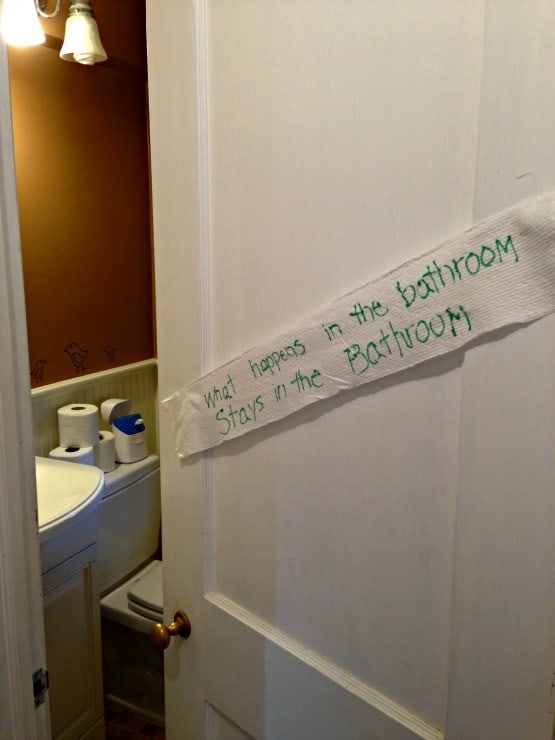 And here you were, thinking ERMAGHERD she's totally not going to talk about the wiping of the bum and poo, not Brett, not on the internet?!
But I am.
Because….as that book tells us,
Everyone Poops.


Which means everyone wipes. Or should.
But they don't always excel at wiping. I mean, you really have to be thorough when you wipe.
Plus there's always those "out of the ordinary" situations that leave you wondering if things will ever be cleaned up down there, and what to do with all the tissue.
Deep breaths.
I'm done talking about poo.   Today we're going to focus on the removal of the evidence from all parts of your person.
Many families who have small children have baby wipes around.  That's all nice, and we are in that cloud, but come ON.  I'm 39 years old.  I think I can handle a little something more than a baby wipe.  Besides- I keep those in the car to wipe hands and to get coffee spills of my shirt.  (No joke.  A few brands of wipes are equally effective at removing minor stains from shirts. Try them). In my bathroom?  I need a little something more.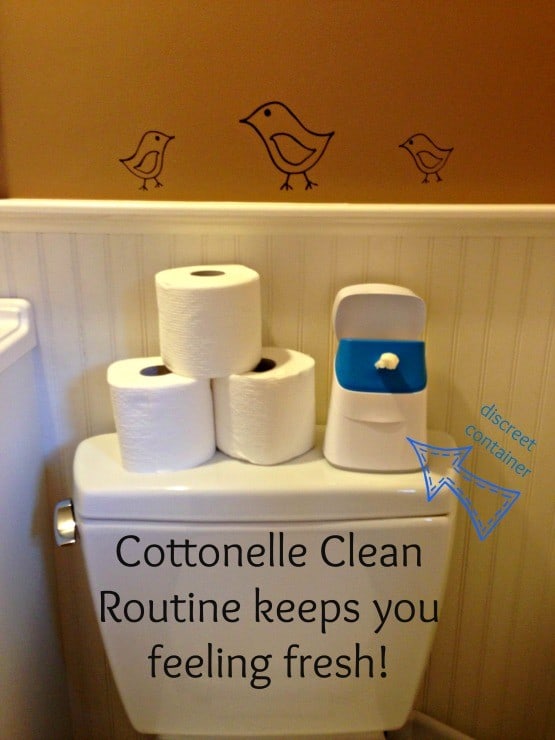 We've grown accustomed to having wet wipes available for so many things in our lives nowadays.  It's only logical that we'd have them to use in the bathroom- and really, isn't that one of the areas we want to be as clean as clean can be?  With Cottonelle's Cleansing Cloths, we can have a clean, happy bottom every time we use the loo.  The Cleansing Cloths come in a nice discreet container that will blend in any decor scheme.  I'm finding I want to actually get some fun fabric and mod podge and have some fun making it look awesome!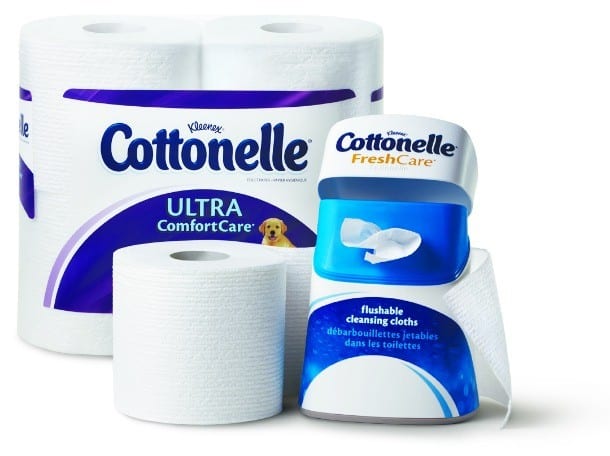 Speaking of the "loo," you may have noticed Cherry Healey, a journalist from the UK.  She's funny and she's come "across the pond" to talk about bums with us.  Yes, she's here in the USA to talk about our bathroom routines and why we should be using cleansing cloths.  I find her hilarious- but I'm partial to British humor anyway.  Keep an eye out, or search around the internet for the #LetsTalkAboutBums hashtag- you'll see lots and lots of Cherry's wisdom and humor!  More importantly- you'll also see a little bit more about the WHY we need to revamp our bathroom habits and start using wipes and cleansing cloths.
Cottonelle wants to get you talking about your bum and on a better way to clean "down there" by using the Cottonelle Clean Routine. By combining the use of Cottonelle Toilet Paper and Cottonelle Flushable Cleansing Cloths, the Cottonelle Clean Routine is a revolutionary way to keep your bum cleaner.
Are you ready? Don't be shy! Visit http://www.facebook.com/cottonelle to learn more about the Cottonelle Clean Routine and join the clean routine conversation.
This is a sponsored post written by me on behalf of Cottonelle.