The publishers at DaCapo sent me a copy of Vegan for Her, written by Virginia Messina with JL Fields, to review.  The subtitle is The Woman's Guide to Being Healthy and Fit on a Plant-Based Diet.  One thing that jumped right out at me is that the author states that the book does not need to be read cover to cover but rather stick to the sections that are relevant to your needs.  Most chapters are written so that if you read them alone, they have all the information you need on that topic. The book covers topics like, Healthy Eating for All Times Of A Woman's Life and Fighting Pain with Plants.  The book also emphasizes that eating a plant-based diet should not cause stress and anxiety. The book includes over 50 recipes including Breakfast, Lunch, Dinner AND Dessert!  I really enjoyed reading this book and I know I will refer back to it often.  At the top of my list of recipes to try are the Coconut-Gingered Black Bean Brownies.  Yum!!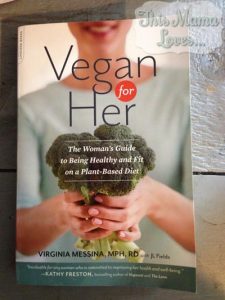 Vegan for Her is a guide to meeting the unique needs of vegan women, with recipes and practical information for optimal health at every stage of a woman's life.  In Vegan for Her, dietitian Virginia Messina tackles the issues most pertinent to women who follow or who are considering a vegan diet, and JL Fields provides health-supportive recipes and tips for taking your veganism beyond the plate. With specific guidance on meeting women's unique nutritional needs throughout the lifecycle and information about food choices that relate to many health concerns, Vegan for Her is a practical and realistic guide to making sure your plant-based diet is as healthy as it can be.
MEET THE CO-AUTHORS
Ginny Messina, MPH, RD is a registered dietitian with a master's degree in public health from the University of Michigan. Vegan for Her is her second book on vegan nutrition. She co-authored Vegan for Life: Everything You Need to Know to be Healthy and Fit on a Plant-Based Diet in 2011. Her blog is TheVeganRD.com.
Ginny also produces vegetarian educational materials for health professionals. She has written papers on vegetarian, vegan and soy nutrition in peer-reviewed journals and co-authored a vegetarian textbook for health professionals. She regularly consults for organizations producing vegetarian materials and speaks at scientific events for both health professionals and the public. She serves on the board of directors of Vegfund, and is on the advisory board of the Vegetarian Resource Group.
Ginny taught nutrition to dietetics students at Central Michigan University, was a dietitian for the Physicians Committee for Responsible Medicine, and was director of nutrition services for the George Washington University Medical Center in Washington, DC.
She lives in Port Townsend, Washington with her husband and an ever-changing population of rescued cats. When she's not researching and writing about vegan nutrition, she volunteers for her local animal shelter and spay/neuter group, practices piano, gardens, collects vintage kitchen linens, and is learning to knit with vegan fibers.
JL Fields, M.S. is a vegan cook, lifestyle coach and educator.  A devoted culinary student, JL has studied at the Natural Gourmet Institute and completed the Intensive Study Program at The Christina Pirello School of Natural Cooking and Integrative Health Studies.
You can find Vegan for Her online and in stores for a suggested price of $16.99.
A copy of the books was provided to facilitate this review.  All opinions are my own.