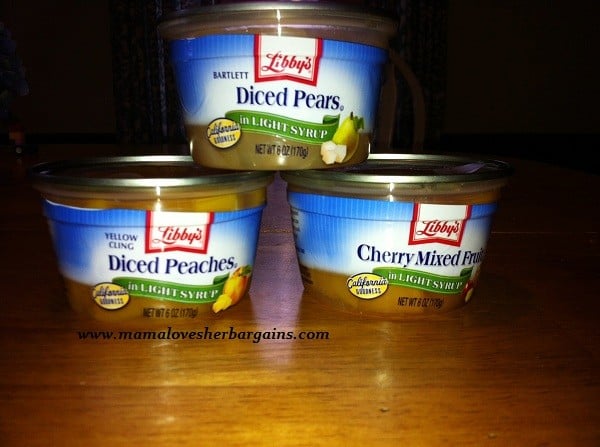 I'm pretty lucky that my kids are not really picky eaters (like me).  They will sing and shout with joy when I bring home a new fruit just as loudly as when I bring home a beloved dessert treat.  It makes my life a lot easier, knowing they'll be happy with what I stick into their lunchboxes for snack and lunch.  One thing they all three love to have in their lunchbox is fruit cups- and lately, they have been loving their Libby's Single-Serve Fruit Cups for snack.  They are getting a sweet treat, and I know they are getting a full serving of fruit and 100% of their daily Vitamin C.
These cups are made a little differently than most we've tried, and I really, really can't tell you enough how much I love the metal rim that seems to have stopped our fruit cups from smashing (ours always seem to break at the rim).  My older 2 can open them without help.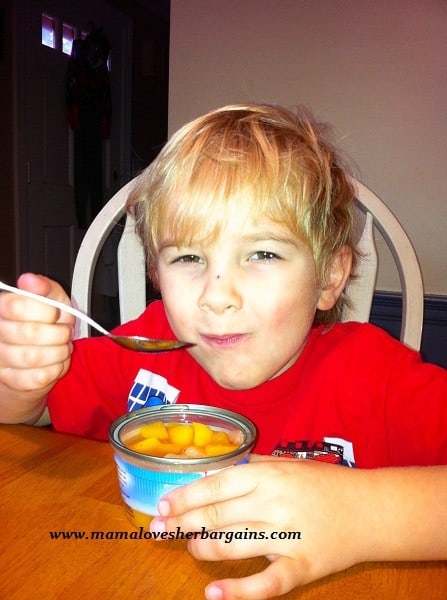 While we prefer fresh fruit when possible, these single-serve fruit cups are an awesome convenience food to have around.  I'm always partial to pears, but my kids love them all.  We do send them for snacks for lunch, but they are great to bring with us on picnics, when traveling, etc.  No need for refrigeration and the cups can easily be tucked into a bag to bring home for recycling (yes, I do this).
My children are still at the age where sports are on the weekends, and not necessarily right after school. But they do play sports like soccer, and t-ball…and I know they are H-U-N-G-R-Y after a good soccer practice and game.  We've found that more times than not, we're on the go after my son's soccer, and I'm finding the need to bring some portable snacks with me to keep his energy up.  Tomorrow, for instance, we're leaving his soccer game and heading to East Hartford, CT, to meet the ultimate soccer mom- the amazing Brandi Chastain, to watch her present a donation to a local youth soccer organization and to chat with her.  He'll need a snack on the way.  He's requested a Libby's Single-Serve Fruit Cup for the road. Hard to say no to that!
Check out some of Brandi Chastain's tips for healthy kids: 

Hydrate to perform great. Kids should drink water before, during AND after exercise. While exercise generates heat and increases the body's core temperature, water works to bring body temperature back to the normal 98.6 degrees Fahrenheit. Let your child pick out a colorful water bottle to make drinking water fun!
Always make time for healthy meals. The USDA says that half our plates should be filled with colorful fruits and veggies, but when your children are constantly running from school to practice and back, it can be tough to get them to eat that perfect meal. Add Libby's® Single Fruit Cups, which contain one complete serving of fruit, to your children's bags for an easy and nutritious snack.
Sleep is important! Children should receive an average of eight hours of sleep each night. Without enough sleep children get cranky and lazy, and will not perform to their full potential during school, practice or games. Help your children stick to a regular sleep schedule by making bedtime fun – read them a story or sing a song while they fall asleep.
Turn exercise into a family affair. When exercising is a solo act, it can sometimes feel like a chore. Bring the whole family on-board and make exercising fun, family time! Join your kids in a game of soccer, Double Dutch or kickball.
Lead by example. When you set a good example, your kids are more likely to follow. Although it's easy to stop at the drive-thru on the way home from practice, make an effort to eat well and live a healthy lifestyle. Become a role model by exercising regularly and eating healthy foods, like Libby's Canned Fruits and Vegetables, with your children. It's easier when you make it a team effort!
This is a sponsored conversation with Libby's Single Serve Fruit Cups and The Motherhood. Opinions are my own.