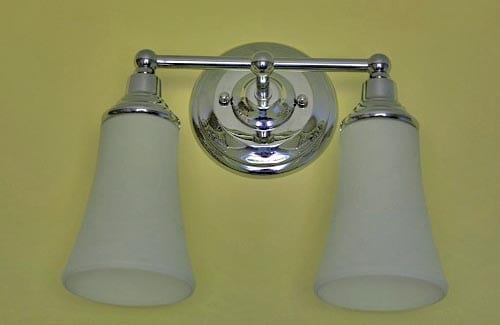 Rothbury Bath Lighting in Chrome
We chose this bathroom lighting for it's sleek design, timeless finish and we felt like it was the perfect size for our bathroom- not too big and not too small, but offers great lighting for the mirror and vanity area, which was desperately needed.  I also like that it easy fits more "green" lightbulbs!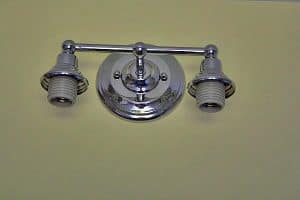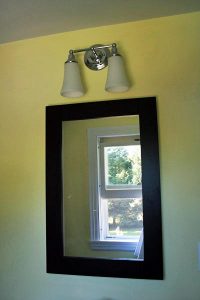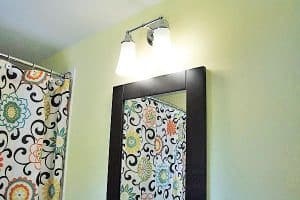 The Rothbury™ line offers a relaxed blend of vintage design and traditional elements that coordinates perfectly with both casual and luxurious decorating styles. Complete the look of a perfectly matched bath with an elegant and stylish lighting fixture

chrome finish to create a bright, highly reflective, cool grey metallic look
supports up to 100 watt max bulbs
two globes
UL® listed
replacement globes available
fixtures can be mounted with globes facing either up or down
glazed sockets ensure the socket rings install with ease
quick connect wiring allows you to pre–wire the light fixture to the junction box
standard 120 voltage
limited lifetime warranty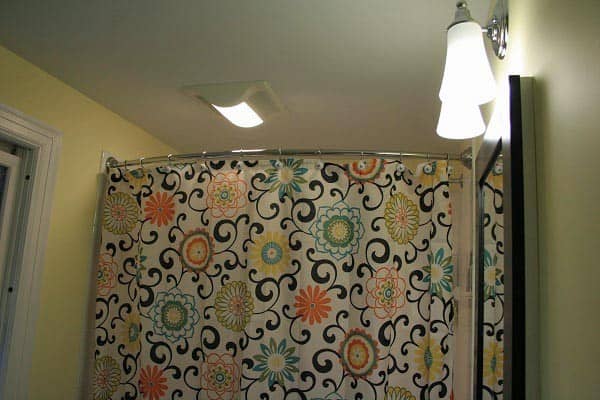 Chrome Curved Shower Rod We had a curved shower rod at our old house and have planned to get one for this bathroom when we remodeled it.  They just give you so much more space in the shower without sacrificing wall or floor space.  I don't know about you but I can't stand touching the shower curtain liner with my arms when I'm washing my hair and thanks to the Moen curved rod, I once again don't have to.  I love the look of it too- simple, clean, classic.
Installation was straightforward- we had to drill through tile to install, so that was a bit more complicated, but nothing about the install or instructions themselves was confusing or hard to follow.  I'm so happy with this curtain rod.  Very durable, very sturdy, and I know it'll last for years and years.
From finishes that are guaranteed to last a lifetime, to faucets that perfectly balance your water pressure, Moen sets the standard for exceptional beauty and reliable, innovative design. Add an elegant and luxurious look while also creating a more comfortable experience in the bath with Curved Shower Rods

chrome finish to create a bright, highly reflective, cool grey metallic look
fits standard 72″ x 72″ shower curtains
adjusts to fit 5′ and 6′ tub surrounds
corrosion resistant
provides extra elbow room in the shower
features decorative covers that provide a stylish element while also helping to conceal the mounting hardware
features 180? pivoting mounting flanges for an easy and flexible installation
pivoting flanges provide an easy, secure installation on inconsistent or uneven wall surfaces
superior weight load capacity
no cutting required
works with standard shower curtains
limited lifetime warranty