With spring in full gear my kids are more active than ever.  My 6 year old is particularly active with sports and various outdoor adventures.  I have been looking for some sporty eye protection for a while and recently discovered Liberty Sport.  They offer a great line of eyewear, but I was particularly interested in their protective eyewear.  They were generous enough to send me a sample of their F8 glasses.  They have a ton of great features:

•Unisex Shape.
•Meets or exceeds ASTM F803 impact resistance for several sports.
•Patent Pending Rimless F803 concept.
•6-base design allows for a wide range of prescription lens powers.
•Open endpiece provides venting to help minimize fogging.
•Sizing allows for teen to adults fitting.
•New dramatic look and treatment.
•Bridge comes with soft padding.
•Comes with semi-rigid case, cleaning cloth and adjustable strap.
These glasses are suitable for Basketball, Handball, Paddleball, Racquetball, Soccer, Squash, Tennis.
Sized for Teens/Adults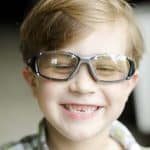 I tried these glasses out on my 6 year old son (he has an especially large head).  They fit great and he LOVES them!  In fact, I can't get him to take them off.  He wears them to T-Ball, Basketball, while working on his "inventions" and while playing outside.  He particularly likes that "nobody can poke him in the eye".  Apparently this is a big problem with the 6 year old crowd.  Who knew?  Anyway, we love the durability and comfortable fit of these glasses, and as far as protective eyewear goes, it doesn't get funkier than this!  They look super cool on my guy and they come in a really nice zippered protective case along with a cleaning cloth.  I expect that these glasses will last him many years.  And because bad eyesight runs in my family, I am excited that these glasses can be later glazed for a prescription.  All the components of these glasses are extremely durable and should withstand any beating we can deliver to them!  I highly recommend these glasses for any teen/adult or large headed 6 year old looking for eye protection this summer!
"A sample of this product was provided to facilitate my review.  All opinions expressed are my own."
0