These are a few of my 4 1/2 year old son's very favorite toys right now.  He's all about Star Wars, and wants to know everything about anything relating to Star Wars.  Mind you, he's not seen the movie, nor a television show, nor read a book about them, but he's full of questions and somehow knows most of the characters anyway.  So, today I'm going to share with you some of his most favorite Star Wars toys!
Up first:  Star Wars Fighter Pods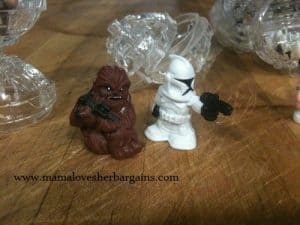 These little dudes are cool.  They are cute.  They fit in your pocket.   You can "fight" battles with them, using pods to knock over bad guys (or good guys, I won't judge).  You can combine your pods for more power.  There are little vehicles that you can launch pods from the air with.  All this, and they are affordable.  The Fighter Pods come in a whole array of packages ranging from a few dollars to about $15.  NOT expensive.  Very collectible.  Very cool.  And very cute, but please don't tell my 4 year old I used that word.  He gets all fired up when I do.  He prefers "cool" or "awesome" but never cute.  (They are cute.  They are like little shrunken little Star Wars guys.  Especially Yoda.  He's always been my favorite).   Plus, toys that fit in your pocket are just fun.  Trade-able. Swap-able.  Share-able. (As a mom, they are also affordable. Sweet!)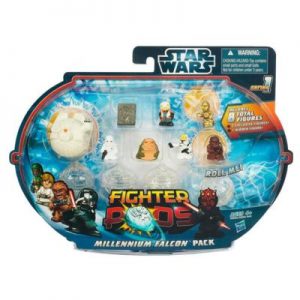 Then there are the Star Wars Jedi Force toys from Playskool.  We have amassed quite the collection of these toys.  I don't mind.  I love them too.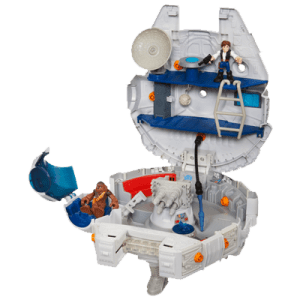 We've had the Millenium Falcon playset, and a Barc Speeder Bike, which Santa left for my son at my sister's house, and the entire extended family thought was cool (he's napping or I'd grab a picture of his own set)….and it's seen many hours of playtime.  We've been adding more figures and Starfighters as we go, and I've already tucked a Tie Fighter away for his birthday.  The Starfighters add to the fun of the Millenium Falcon- it means friends (or mom) can play along too, and fight the battles, act out scenes…just tons of fun. The Starfighters aren't just vehicles, though, they also have cool features like being able to launch!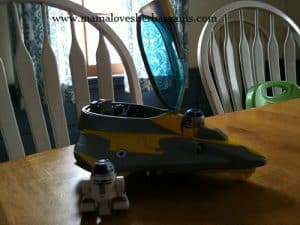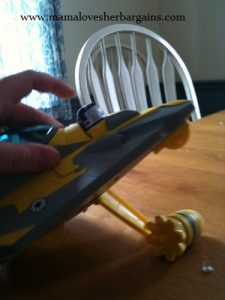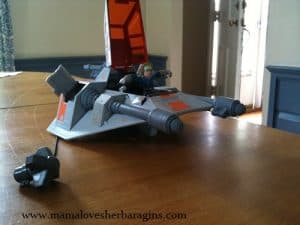 The Starfighters (and Tie Fighter) each come with 2 figures.  The Millenium Falcon set comes with 2 figures. I am always glad when toys come ready to be played with and not requiring extra purchasing to make them fun.  Sure, it's fun to have the whole set, but it's also nice to have smaller, less expensive options that can be played with fully as-is.
Star Wars Jedi Force Toys range in price from about $6.99 to $39.99 (for the Millenium Falcon).  They are well made and stand up to play quite well.
Of course, I have a mad love for these cute little action figures, so we have just about all of the little "guys" here at the house now.  I can't help it.  They are small and easy for littler hands to manipulate.  And they are little kid versions of the big kid toys so I can feel like my little guy is indeed still my little guy for a little while longer!
Do you have a Star Wars fan in your life?  Do they have any of these toys? 
Some items were received to facilitate my review.  Some were already ours.  Opinions are my own!