My kids leave a trail of toys from their bedroom through the living room and yes even in the kitchen. Does this sound familiar to you? Tell me I am not alone on this one please. I have tried threatening to throw toys away, hiding the toys, living with it, and just about every other trick.  Nothing worked very well but then I noticed something my children always did whether they were in their room or the living room. Instead of playing on bare floor they gravitated toward the rug, not even so much to sit on it but to use as a play mat for their toys.  I thought I could harness that and use it to my advantage to create a play mat that they can play on and then pick up all their toys to return to their room. I can sew…a little… I mean I have a machine and I can mostly sew straight lines so I figured I could do it.

We got a chance to try out some of the new Little Charmers toys, my daughter is a huge fan of the show so of course these are her very favorite toys right now. This means they live in my living room.  While they are adorable-just check out this sweet little Hazel Doll with a disappearing cape. My daughter  went a little nuts when the package came- she just loves everything about her from the magical cape to her cute little hat. The soft plush sweet Flare, sidekick to Lavender. The final item we received was Posie's magical wand, perfect for my Little Charmer in training!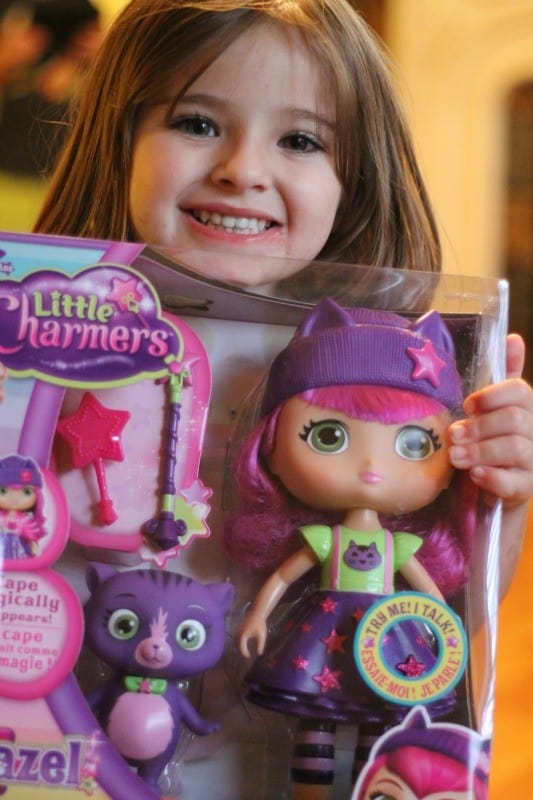 What I love about Little Charmers is the positive themes that runs throughout the show like "the magic of friendship" and that "the most important power is true friendship". The show encourages teamwork, self confidence, and that anything is possible when you work together. Something all little girls can benefit from learning in multiple ways.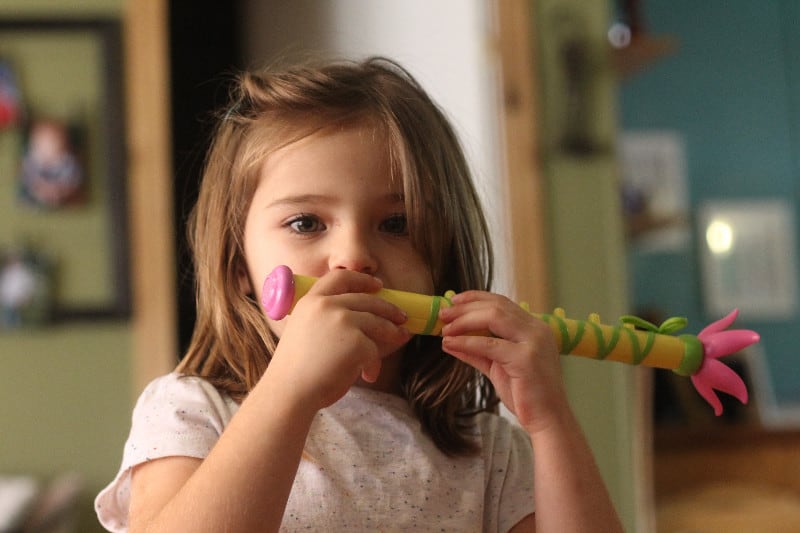 So here is how I sewed this super easy play mat/ carry bag that she can use around the house or on the go to visit a friend.
Supplies Needed:
24″x 24″ piece of thick felt by the yard
3/4″ grosgrain ribbon
scissors/ rotary cutter
sewing machine
Directions:
Cut ribbon into 10″ lengths.
Wrap ribbon an inch below one  corner so that the ends touch.
Fold over 1″ of corner to cover ribbon and pin.
Run through sewing machine 2-3 times to secure.
Repeat on all 4 corners.
I chose felt as my fabric because you don' t have to sew it all the way around and it washes well if needed. You can use another fabric or  combo of two sewn together if you prefer.
Spread out the play mat for play, to pick it up-simply gather all four ribbons and pull up, hang on a hook or doorknob for storage.

Little Charmers are the perfect holiday gift! Visit the Little Charmer's website to make this holiday season magical!
I was selected for this opportunity as a member of Clever Girls and the content and opinions expressed here are all my own.