This post brought to you by New York Life. All opinions are 100% mine.
Did your mom have little bits of wisdom that seemed so small when she said them, but later in life you realized were just profound truths?
My mom did.
Be the friend you want to have.
A smile can make a BIG difference.
There's always a way to help someone.
Don't move the mess.
You have two choices in this situation. You can choose to be happy or you can choose to be unhappy. (This was maybe not so "minor" but it's a biggie!)
Choose to see the bad or choose to see the good. Only you can make that choice for yourself.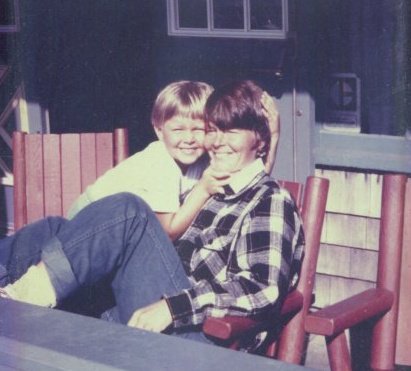 I wish my mom was still alive. I wish I could hear her imparting her wisdom to her grandchildren. But she's not.
I used to roll my eyes at my mom's little bits of wisdom she'd share. Life lessons, in teeny tiny doses. I'm sure a lot of the stuff she said to us growing up was from what her parents said to her as she grew up….just like it's started to come out of my own mouth with my own children.
I've talked with my kids a lot about choices, and choosing happiness. About being thankful for all that you have instead of what you don't have. I don't know if it's sinking in with my kids yet. Probably not. But someday, hopefully, when they are older, maybe not even until they have little ones of their own, they'll realize just how much meaning was behind the small words I spoke to them all these years ago. How I shared ways to Keep Good Going with them, and how my mom had shared those ways with me. Celebrating Good sure is a lot more fun than wishing our lives away, don't you think?
Little things I've shared with my kids?
Hold the door for others.
Ask questions. Listen to the answers.
Be the kind of friend you want someone to be to you.
Be thankful for what you have. It's always a blessing.
Make the best of it all. It makes a difference.
Help others. Hold that door, let them go ahead in line. Smile at them. Offer help. Bring them dinner. Pick up that prescription.
Be kind.
Be polite.
Be courteous.
Really, when you get right down to it, most of the life lessons my mom shared with me and I share with my kids can almost boil down to one theme. Keep good going.
Being thankful= good
Choosing to help others= good
Being a good friend= Good
Ask questions, listen to answers= good
Keep good going.
The "The Happiest Daughter" video tells the story of how all families experience unexpected challenges, but what's important is making the most of it. We can learn a lot from how little kids react and respond to challenges in life. They still find joy and things to laugh, smile and giggle at.
Learn more about how New York Life can help you and your family Keep Good GoingThe Happiest DaughterCelebrating Good