These super cute and simple butterfly give away treats are perfect for a class Valentine exchange!  Smarties products are free of milk, egg, fish, crustacean shellfish, tree nuts, peanuts, wheat and soy. Smarties® products are safe to eat for kids with peanut allergies. They are also Vegan and Gluten free!  I've been searching around because I *think* Wrigley's Big Red gum (that we used) is Gluten Free and Peanut free, but please check ingredients. I'm going to reach out to the company to find out for certain. You can always swap for something you are 100% certain is safe for you or your little ones to consume. If you want to send in SAFE and allergy safe candy Valentine treats, you will want to check these out!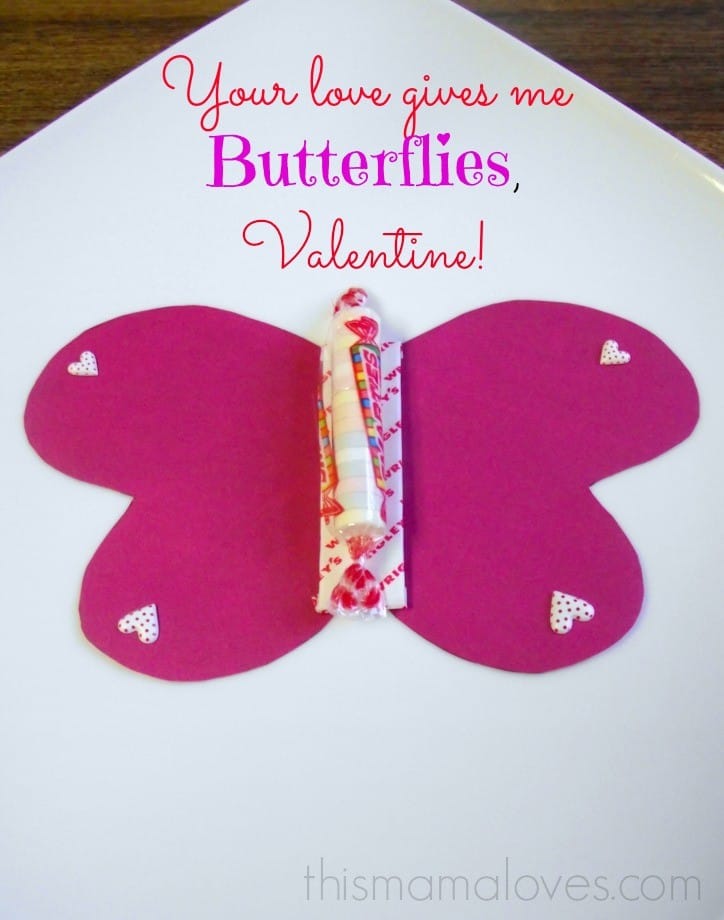 Supplies:
Paper in your choice of colors
Smarties candy
Sticks of chewing gum
heart or flower stickers (optional)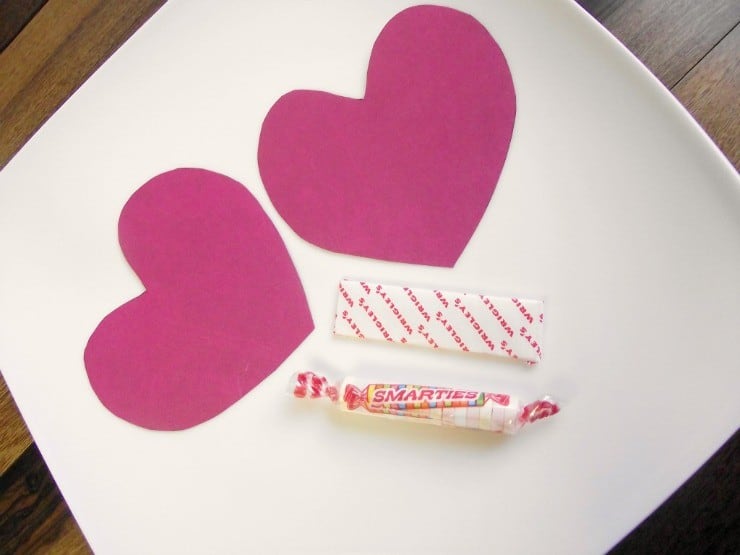 Step 1
Cut 2 equal size, matching hearts for each butterfly you plan to make.  Overlap the hearts at the point and slightly angle the hearts so one end of your "wings" will be closer together than the other and glue together (or use 2 sided tape).  This is also when I added the heart stickers to the corners of the "wings" but this is optional.  You can decorate the wings however you like or not at all.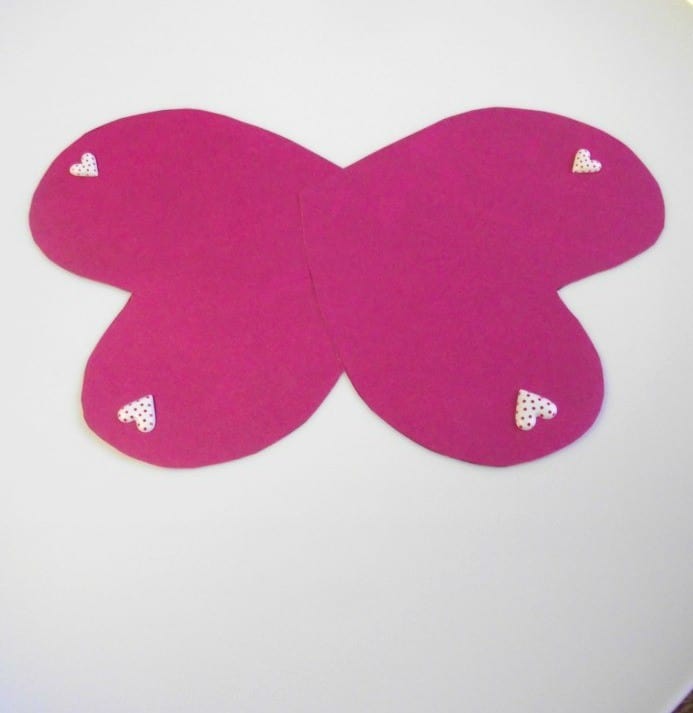 Step 2
Attach a stick of chewing gum down the center of the hearts to create the "body" of the butterfly.  Again, you can do so with glue or two sided tape.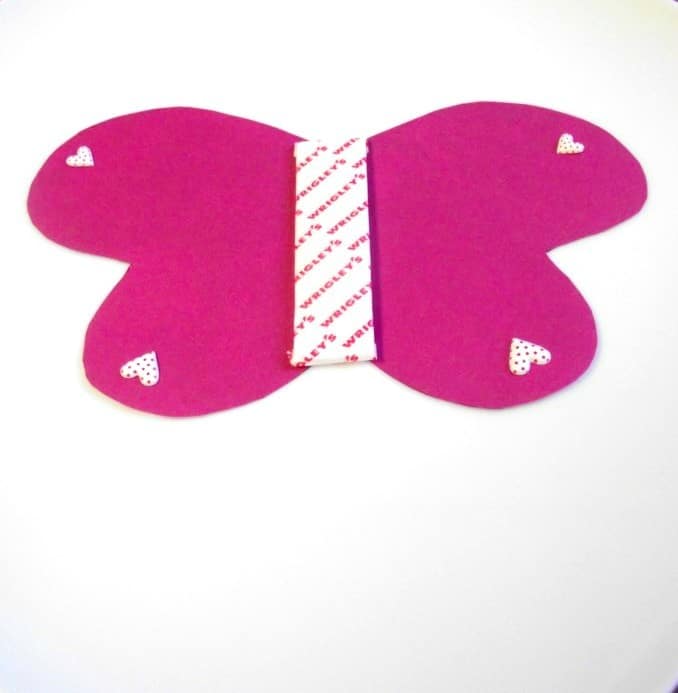 Step 3
Attach the Smarties to the chewing gum using a bit heavier glue.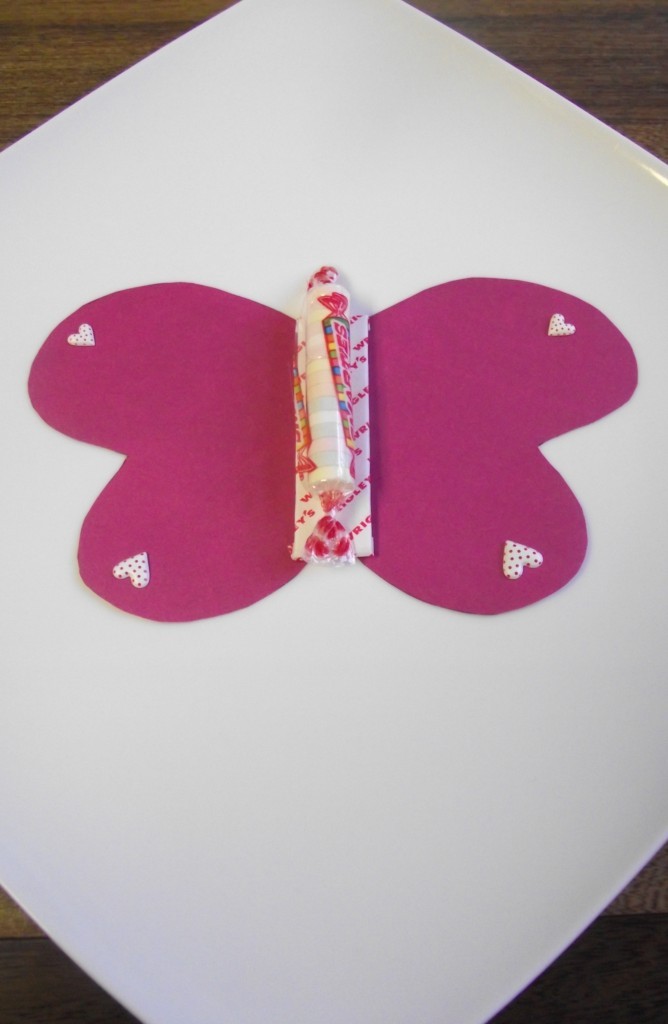 The kids can write a personal message on the back of the butterfly for passing out to classmates or you could attach a string and tag to each.
Check out our adorable Valentine Plane treats too!
What kind of Valentine's Day treats do you like to make or send in for your child's class?