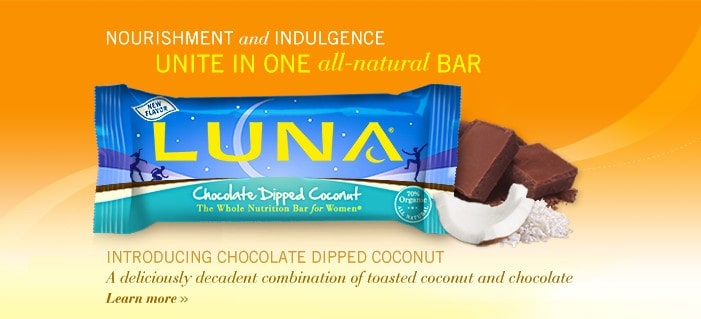 As a pregnant woman (or heck, anytime really!) I am constantly looking for a healthy snack that I can easily reach for or stick in my bag. For me, a LUNA bar is the perfect choice. Since the LUNA bar is designed for women it contains nutrients like folic acid and calcium. I also like that these bars are entirely natural and organic.
I was given the opportunity to try two new flavors that have recently been introduced to their product line. Chocolate Chunk and Chocolate Dipped Coconut. The Chocolate Chunk is inspired by the classic chocolate chip cookie, with dark chocolate chunks. I loved the flavor, which reminded or a chewy chocolate chip granola bar. The Chocolate Dipped Coconut has toasted coconut and chocolate flavors. This bar was my personal favorite. It tasted similar to an Almond Joy. It was slightly higher in fat (7 grams), but not a bad choice for a midday snack.
These bars retail for $1.39 and are available at most major stores. Grab a couple to stick in your purse. You never know when you might have a chocolate craving!
[ad#glam between posts][ad#glam between posts]