Wednesday morning of this week, Julie from A Year with Mom and Dad and I were the co-hosts of a very special storytime held at a local library on behalf of The UPS Store to raise money, donations and awareness for the Toys for Tots Literacy Campaign.  Until this opportunity arose, I was 100% unaware that Toys for Tots had other drives aside from the holidays, but once I heard what this was about I jumped at the chance to take part!
The UPS Store network and the Marine Toys for Tots Foundation have teamed up to provide books to less fortunate children through the Toys for Tots Literacy Program. Launched in March 2008, the Toys for Tots Literacy Program is the first year-round initiative of the Marine Toys for Tots Foundation. So far more than $1.6 Million has been contributed to the program since 2008! The program offers the nation's most economically disadvantaged children the ability to compete academically and to succeed in life by providing them direct access to books and educational resources that enhance their ability to read and to communicate effectively.

Mail Boxes Etc., Inc. and its brands, The UPS Store and Mail Boxes Etc., are the exclusive sponsors of the Toys for Tots Literacy Program.
To get started, we made up some flyers to put up around town in our community (and in a few others since my community itself is very small).  I decided to have my 5.5 year old do the artwork for the flyer and this is what she came up with (if you cannot tell, it is an adult reading to a group of children) (I have a pic of her showing it but its lost somewhere, so this is the best I can share right now)!  We took the flyer to a local The UPS Store and made some copies so that we could put flyers up in local establishments, churches, preschools, community boards, etc.
We invited an amazingly talented local author, P.W. Catanese, who is the author of eight fantasy adventure novels for readers age nine and up, all published by Simon and Schuster. He has over half a million books in print. His critically acclaimed trilogy, The Books of Umber, has been nominated for children's book awards in four states, is being read around the world in foreign translations, and is also available as audio books. You can learn more about his books at pwcatanese.com and facebook.com/pwcatanese.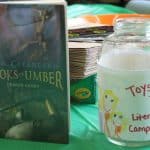 While Mr. Catanese writes for children a bit older than those attending our Storytime, you can see from these photos that he was quite comfortable with his younger audience and the children adored the two stories he shared- Wild About Books, and Don't Let the Pigeon Stay Up Late  (the former of which I wasn't familiar with but the latter is a family favorite).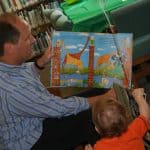 After Mr. Catanese left, my Busy girl wanted to share one more story with the children and read Knuffle Bunny (huge family favorite!)aloud. She was quite proud of herself to sit just as Mr. Catanese did and read to all of the boys and girls!!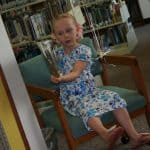 Before Mr. Catanese arrived, Julie and I, along with my 3 kids and her little guy, spent time blowing up balloons donated by Balloon Time, setting up a granola "bar" and bags to decorate with crayons and stickers to put the granola in for the children.  We also set up a donation basket which had a generous start thanks to a box of books sent to us for Toys for Tots Literacy from Workman Publishing!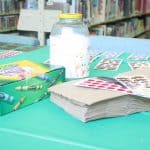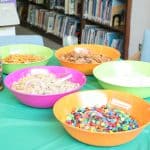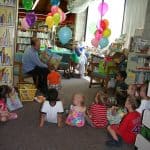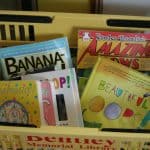 After the stories were done, the children were able to decorate brown paper bags with stickers and crayons (and their names!!) and then fill their bags with the granola bar fixin's.  They had fun doing this, and I especially enjoyed when one of the kids referred to the mini marshmallows as the mushrooms…
As the children were filling their bags, we passed around a donation jar that my kids designed by themselves
And the kids all REALLY enjoyed donating the coins we brought to share and they brought to share!!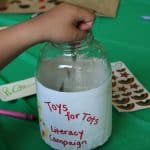 Look at the monies we raised!! Not bad for a group of kids ages 5 and under!! (OK a few moms helped too)
My daughter wrote a journal entry to sum up our experience (which would have been a far shorter post but you know me!!)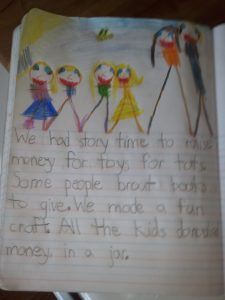 I had such a good time doing this campaign- showing kids something so important like doing things for others, being able to do for others, and spreading the word about such a wonderful cause!!
This project has been compensated as part of a social shopper insights study for Collective Bias #ToyforTotsLiteracy.All opinions expressed within are my own."[ad#glam between posts]
0