This post is sponsored by Snack Pack®.
We are BACK TO SCHOOL!! Another summer is in the books, and a new year of learning has begun. So many times my kids, who all love school, miss the "fun" of summer- when there's more time to do silly shaped sandwiches, or we have time to sit and tell jokes at lunch… so many times, they tell me how they miss those things about summer. Since I can't bring summer back during the fall, winter and spring, I thought that perhaps we could bring a little summer to their lunches, and find a new way to share those fun memories in their lunchboxes. When Snack Pack® puddings asked me to do something fun for back to school, I knew just what to do.
We made cute little printables with jokes on them that you can stick right to the lid of the Snack Pack- 30 seconds to print, and a fun way to both surprise your kids at lunch AND give them the silly jokes they enjoyed at lunch with you over the summer months.

Lunchbox Snack Printables
What you need:
Snack Packs® (your flavor preference of course!)
Your printer
tape
This Lunch-snack-printables sheet (or click the image below to print)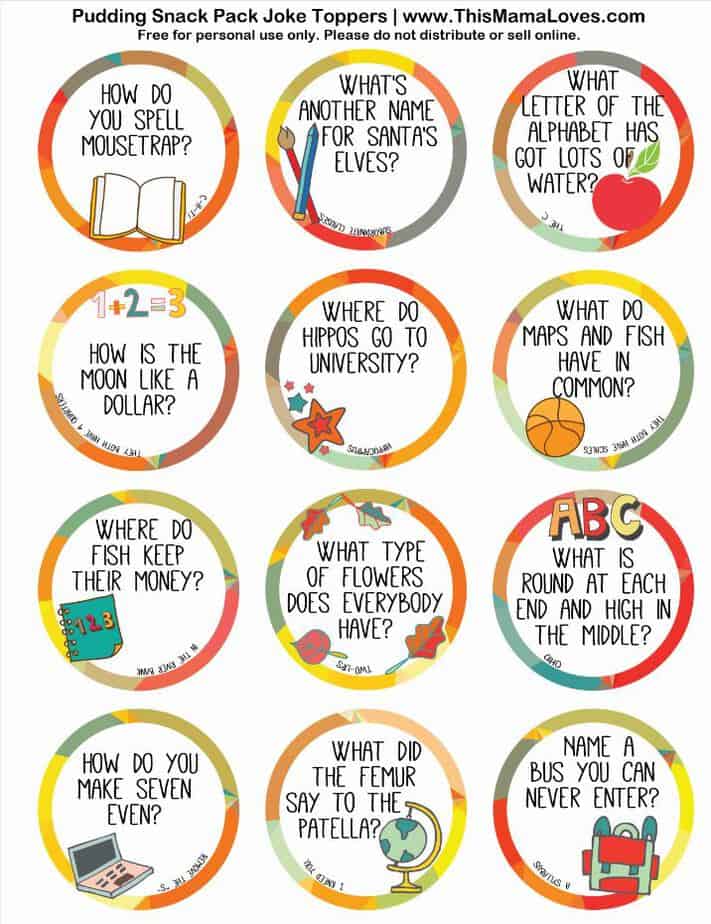 What to do:
Print the lunch box jokes, cut them out, affix to Snack Pack® top. Easy, peasy. Have a little extra fun and surprise your little one with some fun mix-ins for their pudding- graham crackers, fruit, marshmallows, etc.