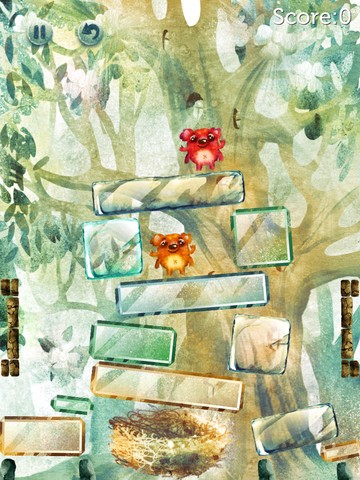 I have found a really, really cute physics based app from Ola Games that 4 of us in my family cannot get enough of.  Magic Forest.  It's cute, it has animals, there's no voilence, no  questionable language, and has just enough challenge to keep you interested (at least until level 16, none of us can seem to get past that so I don't know what comes next?!)  There are animals and fairies and creatures who need us to tap blocks out of the way to help get the animals home.  Very simple, and yet very tricky.  If you aren't a logical thinker all of the time (me) this can be a big struggle for you.  I actually had a hard time with this game until I watched my 7 year old play for a while.  She kind of laughed at me when I had my A HA! moment.
One thing I have noticed about this game is how almost muted and earthy the graphics and colors are.  Not super flashy, not super bright- but still very easy to see and follow.  It's a nice refreshing view in comparison to many apps we've played!
This game is definitely great for ALL ages.  It encourages both the use of physics concepts and logic- which means it'll help kids to develop and hone these skills, but also help those of us who are maybe getting a little rusty to sharpen those same skills a bit.  I can't help but think how much my dad would have loved a game like this even 2 years ago. He knew his memory was failing and tried a lot of different games to keep his memory and brain sharp.
Be warned now, because Magic Forest is addictive.  You'll probably have to share your iPad or iPhone with the rest of your family if they don't have their own device to play it on.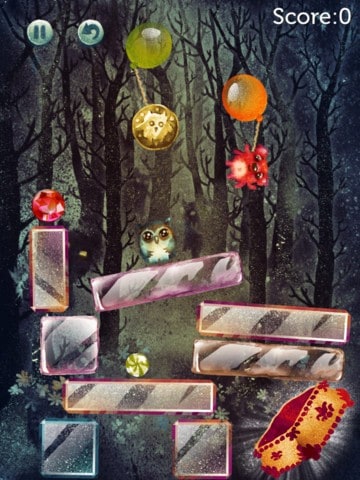 Adorable pets need you help to get home! Only you can rescue them! Spring into action: destroy glass blocks, cages, and gel balloons to thrust pets' way through the obstacles. Guide them towards the teleports and remove logs. Try to improve the total score by collecting additional items: gems, coins, sweets. Use your logic to unlock new levels with deeper, more sophisticated gameplay.
This app is available for FREE in iTunes but you will want to upgrade to the full game if you want to access all the unique 80 levels.
– physics-based gameplay
– 80 levels with unique environments to unlock
– lovely pets to take care of
– a variety of extra items to increase the score
– Leaderboards and Achievements
– improve logic skills