Dinner in a Pumpkin
1 small to medium sugar pumpkin
4 C. meatloaf mix
1/4 C soy sauce
2-4T brown sugar (to taste, I generally add 4 T)
1 can cream of chicken soup
1 C browned/sauteed mushrooms (optional-but gives a great flavor)
2 C cooked Rice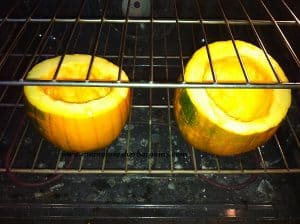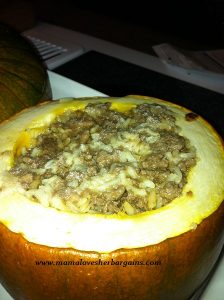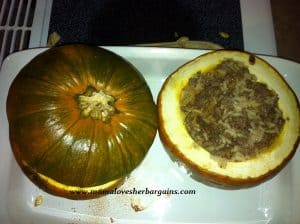 Cut top off of pumpkin and scoop out insides. Place in oven 375 degrees for 30-40 minutes (until cooked through). Meanwhile, brown meatloaf mix and combine in bowl with remaining ingredients. Place mixture in pumpkin and replace top of pumpkin. Cook for an additional 30 minutes to heat through. Serve pumpkin at table. My kids love scooping out the pumpkin for dinner!
An added bonus?  Roasted pumpkin seeds to munch on!
Do you have any fun, seasonal recipes like this Dinner in a Pumpkin?