Are you looking to host an unforgettable dinner party? If so, then you've come to the right place! Throwing a successful dinner party is all about creating the perfect atmosphere that will make your guests feel special and have a great time. It requires careful planning and attention to detail. From picking out delicious recipes to finding creative ways of decorating your home, there are some essential tips for throwing the perfect dinner party. The following blog post will discuss 7 of those essential tips in order for you to create an amazing event from start to finish!
1) Start Planning Early
Starting to plan your dinner party early is crucial for the event's overall success. Doing so can ensure that all your guests feel relaxed and comfortable in the environment you've created. It gives you plenty of time to think through different aspects, including the invite list, menu, decorations, and other activities. Furthermore, planning early allows you to identify any potential issues before they become too problematic. You'll have time to source ingredients or guest list additions without feeling rushed or stressed as the date draws closer.
Early planning also provides an opportunity to properly budget for all expenses associated with the dinner party. It will help keep costs down by allowing you to purchase cheaper items earlier in advance that may be more expensive if purchased at a later date due to high demand or unexpected events like natural disasters or pandemics. Finally, it also gives you enough time to come up with creative solutions in case something goes wrong on the day of the event, such as last-minute cancellations or bad weather!
2) Pick Out Delicious Recipes
Picking out delicious recipes is essential for a successful dinner party. It's important to consider your guests' dietary requirements and any special food allergies that need to be accounted for when creating a menu. If you're feeling adventurous and want to try something new, then why not work on some interesting dishes or appetizers that are different from the usual dinner fare? You can find lots of great recipes online or in cookbooks, with plenty of options to suit all tastes and occasions.
When it comes to selecting the perfect dish, there are a few things worth considering. Firstly, you'll want to ensure that each component of your meal works well together – this means selecting ingredients that complement each other in terms of flavor and texture. Secondly, think about how long each recipe will take to prepare, and ensure you have enough time on the day of the event to complete everything before your guests arrive. Lastly, experiment with various spices and herbs for added depth of flavor! With careful thought put into your selection process, you can create an unforgettable culinary experience for everyone attending your dinner party!
3) Get Creative With The Decorations
When it comes to getting creative with the decorations, take your time to think of ways that will make your dinner party stand out. Consider the theme of your event and tailor decorations accordingly. For example, if you are having a movie-themed dinner party, consider putting up some famous movie quotes from Everyday Power on the wall or purchasing some items with movie-themed designs. You could even build a temporary bar or photo booth to keep your guests entertained throughout the night!
Don't be afraid to add personal touches to your decor. For example, if you're throwing a birthday party, putting up photos of the person whose day it is can help create an intimate atmosphere that they'll cherish forever. Simply putting up fairy lights or adding some greenery may also do wonders in transforming your home into an inviting venue for all of your guests. Ultimately, getting creative with decorations means going above and beyond what would normally be expected – use this opportunity to show off your individual style and make sure everyone has a great time at your dinner party!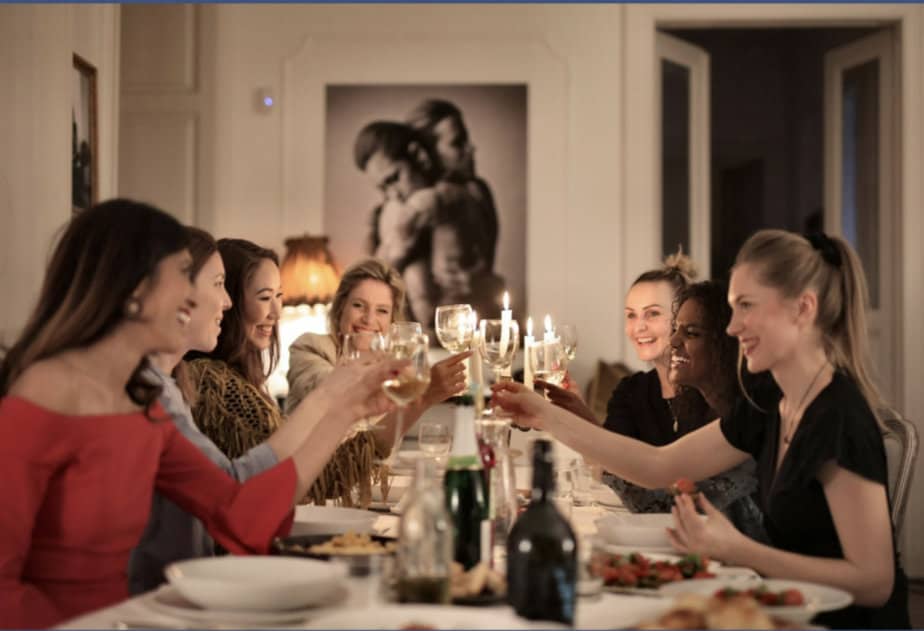 4) Create The Perfect Atmosphere
Creating the perfect atmosphere for your dinner party is essential to ensure your guests are comfortable and having a great time. Consider the mood you want to create – if it's an intimate, romantic dinner, dimmed lighting and candles can help set a sultry ambiance. Alternatively, if you're having a more upbeat gathering, then bright colors and lively music will help keep everyone in high spirits.
When it comes to the music selection, make sure that it fits the overall theme of the dinner party. You could even opt for some classic tunes from different eras or create a personalized playlist featuring your guests' favorite songs! This way, you can be sure that everyone is able to enjoy themselves and have an unforgettable evening. When thinking about creating the ultimate atmosphere, don't forget to consider temperature control as well. Make sure that all areas of your home are adequately heated or cooled depending on weather conditions and personal preferences. This way, everyone will be relaxed and comfortable throughout the night!
5) Choose The Right Seating Arrangement
Choosing the right seating arrangement for your dinner party can make a huge difference in how comfortable and engaging your guests feel. Start by considering the size and shape of your table or dining area. If you don't have enough space to accommodate everyone, think about setting up two separate tables or arranging chairs in an alternate pattern. Additionally, it's essential to take into account the interaction level between all of your guests – try to mix up seating arrangements so that no one is left out of conversations!
With careful thought put into how you arrange your seating, you can ensure everyone has a pleasant and memorable experience at your dinner party! When placing each chair, consider any special needs you might need to accommodate different guests. This may include providing extra chairs for those who cannot comfortably sit on regular-sized chairs or creating separate areas for people with mobility issues. Make sure there's plenty of room between each person, so they don't feel crowded or uncomfortable during their meal.
6) Bring In Natural Elements Such As Flowers And Greenery
Adding a few touches of nature to your dinner party decorations can help create a warm and inviting atmosphere for your guests. For example, incorporating flowers in different colors and sizes is an easy way to bring life into any dining space. Whether you choose jam jar arrangements or larger bouquets, this simple gesture can elevate the overall aesthetic of your dinner party. You can also consider adding some greenery to brighten up the area – plants such as succulents, ferns, and succulents require minimal maintenance and look great when placed around tables or mantles.
Try using herbs or spices as part of your decor for an extra special touch! Not only do they give off a pleasant aroma, but they can also add color and texture to any table setting. You could even organize them into small vases or pots for that added bit of rustic charm. Additionally, if you've got a green thumb in your household, make use of it by growing vegetables or fruits indoors! This makes for a beautiful display and allows you to enjoy delicious produce at your dinner parties.
7) Make Sure You Have Enough Supplies For All Your Guests
Making sure you have enough supplies to serve all your guests is essential to throwing a successful dinner party. Be sure to plan ahead and buy enough plates, silverware, glasses, and napkins for every guest. This way, you won't have to worry about running out during the middle of the meal or having to make multiple trips to the store during your event. You should also consider purchasing extra items such as tablecloths, cutlery trays, and serving platters in case of any unexpected guests.
Furthermore, to facilitate a smooth and successful dinner party preparation process, it is essential to organize all supplies before the party starts. To do this, lay out all necessary equipment on either side of the dining area so that you are able to easily access them when needed. For example, keeping extra cutlery close by will allow you to quickly refill used dishes should they run low throughout the evening. Similarly, having garbage cans placed near exits will enable easy disposal of waste after meals are finished. Above all else, make sure that you have enough seating for everyone – no one likes standing around awkwardly while waiting for someone else's chair!
Throwing the perfect dinner party requires a lot of careful planning and attention to detail. From choosing unique recipes and decorating your space with natural elements to making sure you have enough supplies on hand, there's something in this blog post for everyone. So don't wait any longer- start planning your dinner party today and make it one for the books! By following these tips and tricks, you can ensure that your guests have an enjoyable evening that they'll remember for years to come.