One of my least favorite things to do is change sheets on beds.  If you know me at all, you know that when the kids were in the crib, I layered a mattress pad, then sheet, mattress pad, sheet, about 7 or 8 times.  That way, if there was a spitup or diaper leak, or just time to change the sheets, I could just pull the top layer off and not have to change the mattress.  Changing regular beds isn't any more appealing to me.  When I learned that StayMade was looking for bloggers to write sponsored posts in order to help them to secure KickStarter funding to launch their product that helps make making beds easier, I had to jump at the chance.  I mean, there has to be a billion folks across the world who are as lazy about  hate making beds as much as I do, right?  So why not tell them about a new way to make beds that is easier?!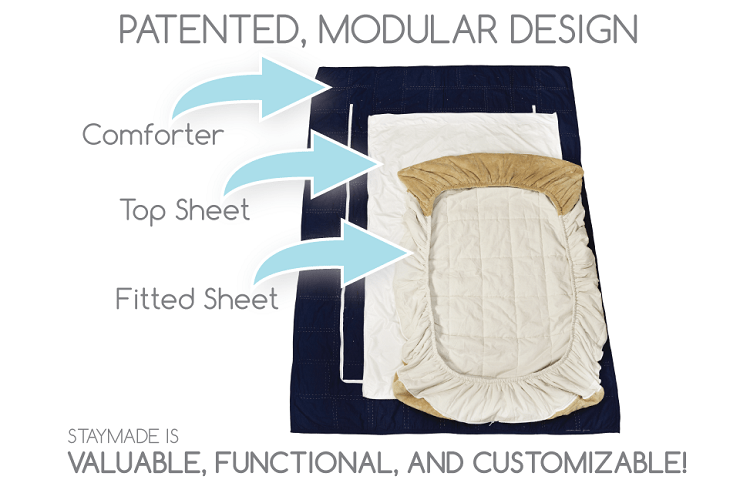 The StayMade is truly the world's most functional, remarkable, and lovable bedding solution for kids. The best way to describe it is like an old-school sleeping bag that fits onto a child's bed. The fitted sheet, the top sheet, and the comforter are all connected by thick, high-quality zippers. The comforter is made to hang over the zipper so that when everything is completely zipped up, it looks like a well-made bed.  You can check out video footage to see how it works and learn about the product more. I would like this for all 3 of my kids' beds!  My oldest sleeps on a top bunk and my son is in a loft bed.  Neither is fun to make.  Ever.  Also, they never have a top sheet.  They kick it to the foot of their bed and then wake me up asking where it is.  Sounds fun, right?  Thankfully, they "find" the sheets magically each morning when they grudgingly make their beds neat before the day begins.
Of course, this product isn't just for making beds easier. It also helps keep the covers where they need to be.  For us, living in New England in a small rural town, most of the areas here have above ground utility poles.  That means when storms hit (and it's been big storms Labor Day and then again before Halloween) and knock power out, we're out for days on end, sometimes a week or more.  It's hard to feel confident when the nights are cold that my kids are going to be warm enough when we don't have heat in the house, so StayMade would at least reassure us that the kids had a sheet and blanket on them.  I would imagine on super cold nights, a blanket tucked between the sheet and comforter would stay put as well.  Take that, Superstorm Sandy!  We lose power a lot. It may not seem like a big thing to some but living in an area where we've had snow in October, losing power for a week in that time frame can be kind of uncomfortable.
This product makes it super easy for kids of all ages to make their bed in the morning and have it look amazing.  One zip, that's it!  The fit of the sheets is loose and comfortable. Getting into the bed is as easy for kids as unzipping the blankets and climbing into bed.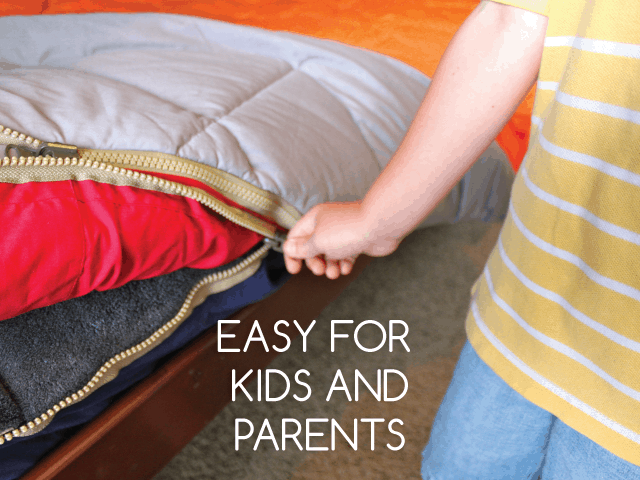 The StayMade also helps parents have peace of mind during cold nights when their kids often kick off the blankets or sheets as they sleep. With the StayMade, the blankets and sheets stay comfortably on children, all night long, keeping them warm and keeping Mom and Dad worry-free. (I would officially like to add this to my holiday wish list for ME- because, like so many couples, there seems to be a constant battle over covers in this house and once in a while, I'd like to actually have  at least a sheet to cover up with when it's the middle of winter!! King size, please!

The different layers of the bed can be zipped off completely so that you can mix and match different comforters with sheets, or zip in a thicker sheet during the wintertime, or a thinner comforter during the summer time.
The StayMade will be sold as a kit, with one fitted sheet, zipped to one top sheet, zipped to one comforter. It will be available in twin and full size, at least for now.  
The first accessory for the StayMade is called the PeaPod. To use it, simply zip out the top sheet and zip in the PeaPod. The PeaPod is like a giant pillowcase that a kid climbs into to sleep. (I can't even believe we are actually out of the stage in life where we need a PeaPod but I think my kids would have loved this.  Especially my youngest- she really likes to be tucked in really well and I think the pod would make her feel tucked all night long…and would have saved us many "MOM! I not tucked" shouts a 2, 3, 4 and 5 am)

This accessory is designed for children who are going through a phase of wetting the bed. The PeaPod is made of special material that is fully breathable and comfortable, but is also 100% waterproof. To clean up an accident, the parent can simply unzip the PeaPod and throw it into the washer, without the mattress or any of the other sheets being affected by the accident.

The PeaPod is sold in a two-pack so that when the soiled one gets zipped out and put into the washer, the second one can be zipped in and the child (and parent) can quickly and easily go back to sleep.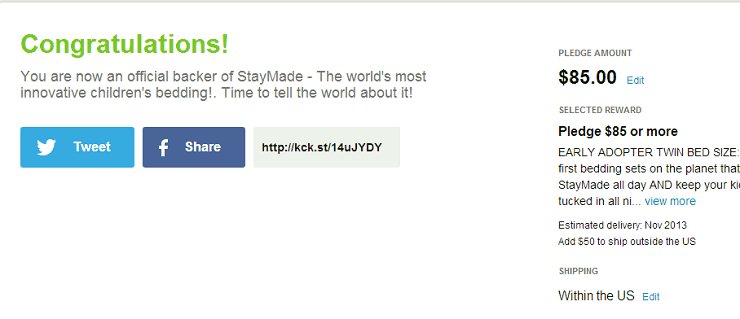 PLEASE NOTE: StayMade will be offering the product as a pre-sale on KickStarter for $85 (regular retail is $130).  By pre-ordering, you are also helping to ensure that this product reaches consumers by backing it.  I just backed them- will you?  I'm putting my money where my mouth is, because I really think this product is amazing. I was asked to share about the StayMade product and the KickStarter campaign for this post- my decision to back this product was mine and mine alone.  (I hope they let me order blue, though, because I didn't see a place to request which color and this will be in my son's room).
So, what do you think? Do you agree this is an awesome product?  Would you order?  Did you go support the KickStarter campaign yet?