This is a sponsored post about tips for choosing the right baby crib.  Opinions are my own. Hey, congrats! You are expecting a little bundle of joy to arrive in your home!  Now what? Well, you're going to need lots of things for baby, and it can be really hard to figure out what you need and what to buy.  There are countless lists and books and recommendations in stores and online, although most merchants will clearly recommend the products they make and/or sell, so how do you know that's truly what you need or will work best in your family home?
Photo Credit: Bunnell Photography
You are going to need a place for baby to sleep.  I think it's safe to say that the vast majority of parents have a crib in their home.  But with so so so many choices for a crib, how do you narrow it down?  Safety standards are really strict so when buying a crib what do you look for? I have tried to narrow things down to 5 basic things to look for to help make this process a little bit easier for you.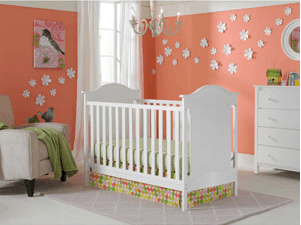 Photo Credit: Fisher Price
Style- There are so many
different kinds of cribs
available now.  From color to design to shape, even, there are options sure to fit with any design scheme. Obviously you don't want an ultra sleek, modern crib if your home is decorated in country style.  That round crib may look adorable in the store but will it work with your decor scheme?   Maybe you do want it to stand out and make a statement.  It's kind of fun that
Color- Black, white, brown, natural, there are many color options available.
Size- Most of us are able to use a traditional crib size in our home.  If you are, you'll probably find there are countless more options available than in other sizes. If you are a city dweller, you may not want nor have space for a full sized crib.  There are many options available- once you know the color and style you prefer, you can start looking for what size crib will work.
Budget- This is the big one.  You want your little one(s) safe where they sleep.  That goes without saying.  But you also don't want to go into debt to buy a top of the line crib because of the brand name- you want to get a crib that your family can afford.  Safety standards on baby gear and furniture are strict and you can feel confident that any pieces you purchase here in the US are going to meet those standards, or they'd not be on store shelves.  So figure out what you can afford BEFORE you go to make that purchase.
Functionality- How long do you plan to use the crib for?  Will you be like us and use the same crib for all of your children?  Or are you wanting to have a crib that can transition with your child as they get older into a toddler bed, and then down the road, into a day bed or regular bed?  Once you know what kind of crib you want ("just" a crib,
**Even families who cosleep that I have met use a crib, bassinet or Moses basket for baby to nap at times, like during the day when no adults are in bed with them. I haven't yet met a family that hasn't had a dedicated spot for a baby to sleep!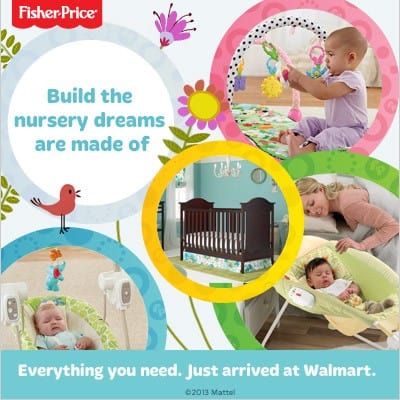 Fisher Price is helping to ease the mom-and-dad-to-be's worries by showing her/him that Fisher-Price is there to help ready the "nest" with quality products as s/he counts down the days until baby comes home.
Fisher-Price Convertible Cribs are a delightful addition to any nursery. Each crib works is incredibly versatile and the sturdy design easily transitions to a toddler bed and daybed. With a variety of styles a colors, you can find the perfect fit for your new little one.
What was YOUR biggest deciding factor when selecting a baby crib?
Disclaimer: This post is sponsored by Lunchbox. All opinions are my own.