This article about prioritizing family self-care was developed via a partnership with BetterHelp.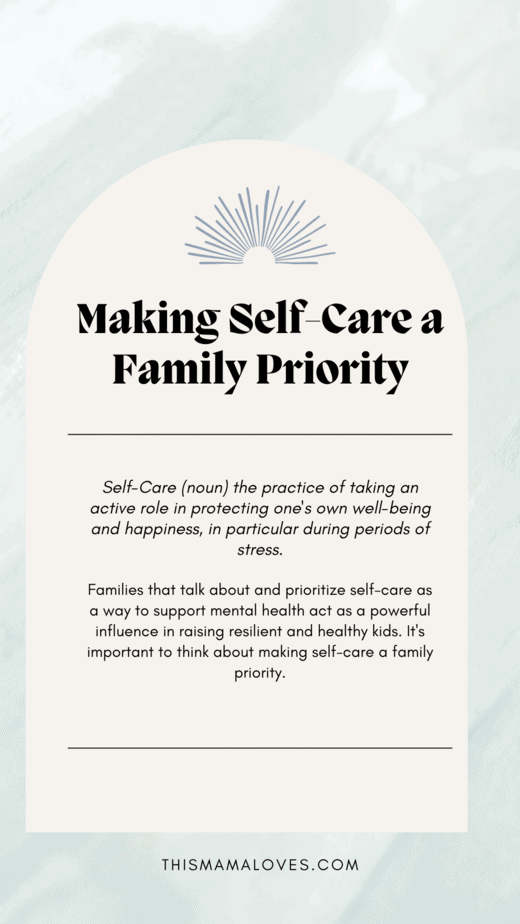 Most parents are interested in how they teach their kids to be resilient, adaptable, and healthy in every possible way. But maybe more important than what you teach your kids is what you model for them. If you want your kids to grow into mentally healthy adults who know how to prioritize their own self-care, it's important to begin that talk, along with walking the walk, as early as possible. Let's talk about how to make self-care a priority for your whole family.
Making Self-Care a Family Priority
What is Self-Care?
Self-care is basically any activity or behavior that helps us feel like we're living well – like we're connected with what's most important to us and our value systems and caring for our own individual overall health. Self-care supports our overall sense of well-being and optimism – our confidence that we can meet the challenges life throws at us. Self-care can look like many different things – it ranges from getting sufficient exercise and eating nutritious foods to connecting with friends, engaging in talk therapy, including online therapy, and spending time in communities of faith. When practiced regularly, self-care is a powerful tool that supports both our physical and mental health. So it's understandable that parents are interested in how to foster this practice in their kids.
Why Is Self-Care Important for Kids?
One of the most important lessons for any child is how to safeguard their own physical and mental health. Teaching the concept of self-care as essential for overall well-being gives your kids a toolbox full of resources they can use to manage stress, embrace gratitude and build a life based on meaning, purpose, and healthy relationships. Creating these habits early builds confidence, grows resilience, and empowers your kids to take ownership of their own health. If you really think about it, it's an amazing gift to give your children, and making self-care a family priority can be a tremendous bonding and growth experience for your family.
And if you think childhood is a carefree time that isn't stressful, research shows otherwise. In fact, the National Institutes of Health has stated that as many as 35 percent of American children may deal with stress-related health issues. Children ultimately don't have much control over the day-to-day administration of their lives, and changes to routines and expectations, whether large or small, and whether positive or negative, can throw children off balance easier than you might think. And while children are largely resilient, they often don't have the vocabulary to identify stressors in their lives or to ask for help in how they meet those stressors. So teaching your kids early to be observant of how changes in their environment affect them, to name their emotions, and to ask for help when they need it is a healthy coping mechanism that can serve them well into their adulthood. As is practicing self-care.
Why Is Self-Care Important for Your Whole Family?
It's no secret that parenting isn't for the faint of heart. So while your kids are dealing with the stressors in their lives, you have your own separate set of challenges. When you take care of yourself, it not only helps you be a better parent, but also sets a good example for your children of how to practice their own self-care.
Remember that little eyes are always watching – and what you do carries so much more weight than what you say. If you want them to learn healthy coping skills for life, then your kids need to see you modeling healthy coping skills for life. When children experience big feelings and aren't sure how to process them, they will, by default, look to the adults in their life for guidance. That means your kids aren't just listening to what you say about managing stress and practicing self-care, but they're also carefully watching what you do – how you manage your own big emotions and stress. That's why successfully teaching your children to manage their mental health through self-care should be a family effort.
Seven Tips for Getting the Whole Family Involved in Self-Care
Let's take a look now at some of the ways you can engage your whole family in self-care activities.
Make Time for Exercise
We all know that exercise is essential for good physical health, but we're learning more every day about how exercise also boosts our mental health. And when I say, "exercise," I don't mean spending hours at the gym. Maybe family exercise is an afternoon or evening walk through the neighborhood or a light hike in the park. Or maybe it's a daily dance party or a family yoga class. As long as you're moving your bodies together as a family, call it a win. Exercise helps us sleep better, improves our mood, boosts our energy, and provides a ton of other mental health benefits. Plus – it's a fun family activity that you all can enjoy together.
Talk About Feelings
When young children experience overwhelming feelings, they don't even know what to call them – much less how to process them. Make it a point for everyone in the family to practice naming their feelings. Talk with your kids about times when you feel frustrated, tired, sad, scared, joyful, and more. And encourage them to do the same. Modeling this behavior helps your kids learn to recognize and work through big feelings in a healthy way.
Encourage and Model Healthy Social Relationships
One of the key ingredients for resiliency in life is having strong social connections. It's important to show your children that they don't have to handle everything life throws at them all on their own. When you encourage them to foster meaningful friendships, while fostering meaningful friendships yourself, you help them build a powerful support system that can help them process life's difficulties.
Be Careful with Social Media
While authentic social relationships can be a cornerstone of good mental health, the toxicity often displayed on social media can represent exactly the opposite. It's important to insist that your kids put healthy boundaries in place around social media and that you do the same. And fair warning: this might mean taking a good, hard look at your own social media habits and where you can do better – and then talking to your kids about it. Make sure they know you're proactively controlling your use of social media because you know it's the healthy thing to do.
Eat and Drink the Right Things
This sounds so basic, but staying hydrated and taking in the right level of nutrients is one of the simplest ways to practice self-care. Just like exercise, nutrition and water support both physical and mental health. So make your family nutrition conversations about more than just a healthy body – talk to your kids about how good food and plenty of water can improve their mood, help them have more energy, and help them solve problems better.
Appreciate the Power of Breathing
Another simple act, the practice of deep breathing is an essential tool in your children's mental health toolbox. Show your kids how to take a deep, belly breath through their nose, hold it for a few seconds, and then exhale through their mouths. This kind of breathing can help regulate the nervous system and get your kids out of fight-or-flight mode when they're feeling stressed. Bonus: it does the same for you, too!
Prioritize Sleep
Adequate sleep is essential for good mental health and is a powerful form of self-care. Busy parents often view sleep as a luxury, but more and more research indicates how vital it is to our overall well-being. In addition to setting reasonable bedtime boundaries for your children, make sure you're setting them for yourselves as parents, too. Some parents find success by setting bedtime alarms that give them a firm bedtime, just like their kids have!
Conclusion
The bottom line is that self-care isn't selfish – it's important for you to be the best parent you can, and it's also an essential life skill for you to teach your children. And the good news is that self-care can be pursued as a family affair, and embracing self-care also provides some great opportunities to strengthen bonds and relationships within your family. You'll make precious memories while also setting up your kids for lifelong mental health.