A well-designed home office is crucial for productivity, focus, and overall well-being in an increasingly remote work-oriented world. However, creating a space that is both functional and aesthetically pleasing can be a challenge. It's essential to create a space that is not just appealing but functional and inspiring.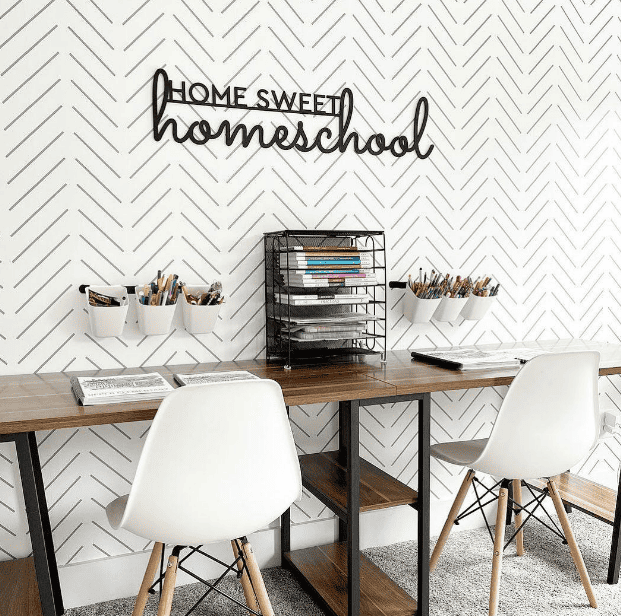 Creating a space that aligns with your taste and promotes productivity is key. Customize your home office decor to reflect your unique style and preferences while ensuring a clutter-free and organized environment. We will explore practical tips and design ideas to transform a home office into a space that inspires creativity, promotes efficiency, and reflects your personal style.
How To Create A Functional And Aesthetically Pleasing Home Office
Define Your Work Needs:
Assessing your work needs is essential before diving into the design process. Consider the nature of your work, the required equipment, and the necessary storage space. This evaluation will guide your decisions on furniture, layout, and organization like the quote from Harvey MacKay "if you fail to plan, then you plan to fail". Creating a good plan on exactly what you really need will help prioritize functionality without compromising on aesthetics.
Selecting the Right Chair:
Investing in ergonomic and versatile furniture is crucial for a productive home office. Opt for an adjustable chair that supports proper posture and reduces strain. Believe it or not, most office chairs are not even rated for an eight-hour workday. So make sure you check each chair's hour rating to make sure it is rated for your type of work day. Your back will appreciate your extra time finding the right chair. 
Desk options:
Choose a desk that suits your working style and provides ample workspace. Depending on the type of work and your style, you could go with a sit-stand desk or meeting with clients in your home. You might need a more oversized desk with ample space for displaying documents.
Lighting and Natural Light:
Proper lighting is essential for productivity and visual comfort. You can do this by incorporating a mix of lighting to create a well-lit environment. Consider using adjustable desk lamps or floor lamps for task lighting. Maximize natural light by positioning your desk near a window or using light-filtering window treatments to prevent glare.  
Color:
Color plays a significant role in creating an appealing and motivating home office. Consider using calming hues like blues and greens for a serene atmosphere or energizing tones like yellows and oranges to boost creativity. Choose colors that align with your personal preferences and work style. 
Statement Wall:
Incorporating a peel and stick wallpaper statement wall in your home office is an excellent idea for those seeking to elevate their workspace's visual appeal and create a unique and inspiring environment. It offers a focal point, enhances the ambiance, expresses personal style, adds depth, and provides versatility. Embrace the opportunity to infuse your home office with creativity and personality by selecting a wallpaper design that reflects your taste and motivates you to excel in your work.
Decor:
Integrate decor elements such as artwork, plants, and motivational quotes to personalize the space and create a pleasant ambiance. Artwork or prints that resonate with your personal style and inspire creativity. Consider pieces that reflect your interests, such as landscapes, abstract art, or motivational quotes. Wall decals or murals can also add visual interest and character to the space. At the same time, indoor plants bring a touch of nature into your office. Plants add aesthetic appeal, improve air quality, and create a sense of tranquility. Choose low-maintenance varieties such as succulents or pothos that thrive in indoor environments. Finally, stylish desk accessories that combine functionality with aesthetic appeal. Choose a desk organizer for pens, paper clips, and other small items. Use a decorative tray to keep essential items like a notepad or sticky notes within reach.
Organization and Storage Solutions:
A clutter-free workspace is essential for maintaining focus and efficiency. Incorporate practical storage solutions that suit your needs. Utilize shelves, filing cabinets, and desk organizers to keep documents, supplies, and other essentials neatly arranged. Implement a system to manage cables and cords to maintain a clean and organized aesthetic. Storage solutions like bookshelves, file cabinets, and drawer units will help organize your workspace.
Technology and Connectivity:
Ensure your home office is equipped with reliable technology and strong connectivity. Invest in a high-speed internet connection if all you are doing is working online. Even getting a backup internet connection from someone like a wireless provider is not a bad idea; when your internet connection is down, you simply can't work. You should also consider cable management solutions to keep cords tidy. Set up equipment like printers, scanners, and a good quality computer or laptop. Organize your cables and keep them out of sight to maintain a clean and professional appearance. If tech is not your strong suit.  There are companies like Best Buy that will do a free in-home tech consultation to make sure you are taken care of.
Comfort and Personalization:
Create a comfortable and inviting atmosphere by incorporating elements that reflect your personality. Add cozy elements like cushions or a rug to your office to make the space feel warm and inviting. Consider incorporating personal mementos, artwork, or photographs that inspire you. Personal touches will enhance the aesthetic appeal and make the space uniquely yours. If you have room, you can add a comfortable couch where you can take a minute to sit and relax or create an area where you can think over problems while not staring at your screen.
Bulletin Board or Whiteboard:
Install a bulletin board or whiteboard to keep track of important tasks, reminders, or inspiring quotes. Pin or write down notes, to-do lists, and inspirational messages to stay organized and motivated. Having a physical space where you can write down ideas is proven to increase productivity and makes you feel good when you can cross something off.
Designing a functional and aesthetically pleasing home office is a balance between practicality and personal style. By carefully selecting furniture, optimizing lighting, incorporating effective storage solutions, and adding personal touches like office wallpaper, you will create a home office that is both efficient and visually pleasing. Remember to assess your work needs, prioritize organization, and promote a comfortable environment. With these helpful tips in mind, you'll be well on your way to transforming your home office into a productive haven that inspires creativity and supports your professional endeavors.