This is a sponsored post about Maple Sugar Toast written by me on behalf of Unilever. Since discovering the different ways you can cook with spreads, I'm finding I'm reaching for this in the fridge when I'm cooking more an more…my kids have even invented their own recipe using a spread! We have a new favorite breakfast around here- it's quick, it's easy, and includes 4 simple ingredients.  Maple Sugar Toast and whatever fruit you want on the side!  What you need: bread (toasted), Brummel & Brown Spread, and some Maple Sugar!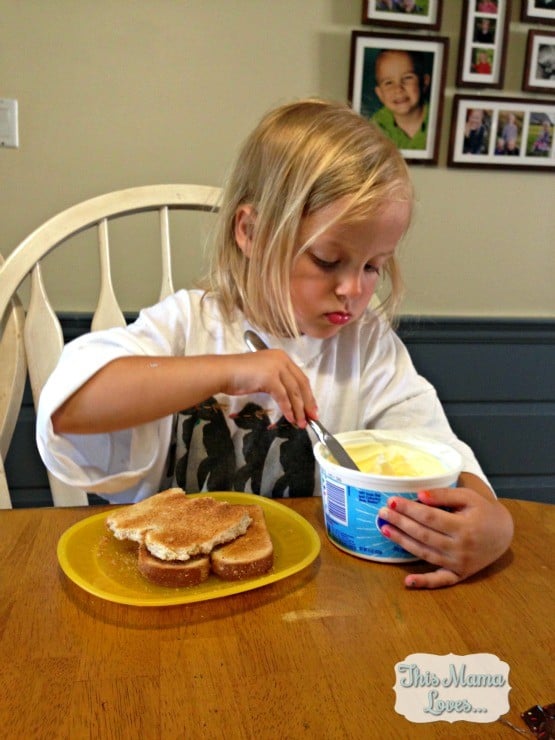 The best part? The kids can do this all on their own (if they are little, you can toast the bread for them) and it's no muss no fuss.  Here's my oldest making some herself!

I haven't cooked with spreads in a long long time prior to this campaign. Since rediscovering them at Walmart, and knowing they have less saturated fat than butter, I've been finding myself looking to see what other varieties we can use in recipes here at home. I'm finding that I do like to saute veggies a lot with a spread, and since the family isn't complaining, I know they must like it too!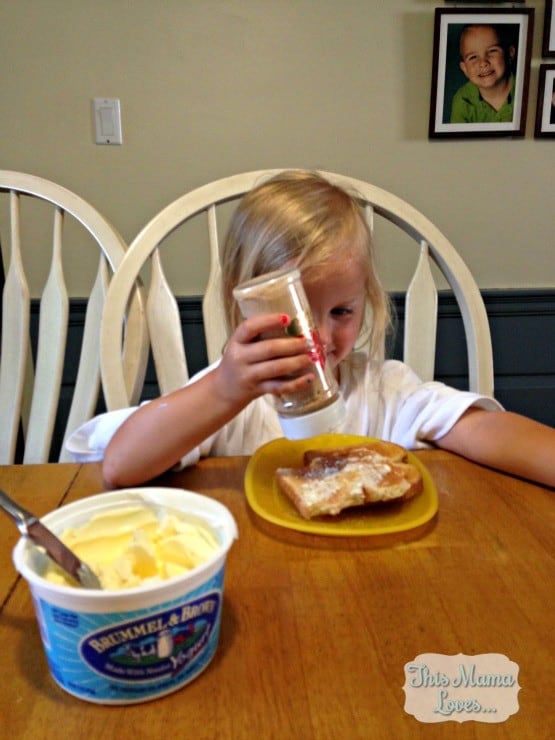 I haven't yet used a spread in my baking so that's next on my list- I'm thinking when we're done with this awful heat wave we're having I may just do some fresh bread with the Brummel & Brown spread. I have a milk loaf I make that calls for melted butter and I'm just going to swap it out for the spread. I think it'll be delicious and with no cholesterol, healthy for our hearts.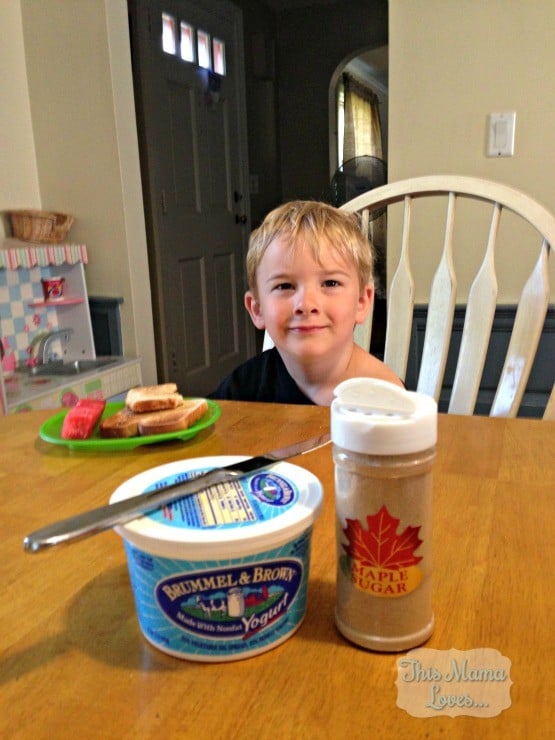 Cooking your favorite recipes using Unilever buttery spreads is a deliciously smart move. With 0g trans fats per serving, less saturated fat and fewer calories than butter, cholesterol-free spreads are a better option.
Visit itisgoodtoknow.com for more information and recipe ideas now!
This is a sponsored post written by me on behalf of Unilever.