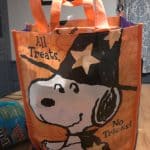 I found out about "Boo-ing" friends and neighbors during the Halloween season before I had kids.  We weren't included because we didn't yet have children, but I knew this was something I wanted to do eventually, and once my oldest was 3 we started Boo-ing friends and neighbors.  Its not about the money spent or how much, but the act in and of itself is sweet, fun and really just kind of silly- but in a nice way.  Who doesn't like free candy?
For this post, I was set to shop at Walmart for Mars Candies– Harvest Mini  Snickers, to be exact, but unfortunately, the three times I headed to our local Walmart they didn't have them, although as you can see from photos they had about 200 options for candy purchasing. 
I decided to have some fun with this shop, because I know that the recipient has two young children and I know that Tropical Storm Irene hit them very, very hard, and I wanted to do something nice for them.  I did get them some candy, but I also got them lots of  fun treats that I really hope they enjoy when their BO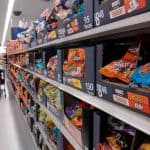 O! box arrives in the mail!!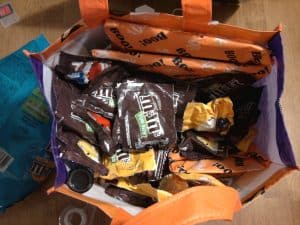 Check out my photos on Google+ from my shopping trip to BOO! a not-yet-named blogging pal who will receive this box of goodies- I am still in disbelief at how much candy is out there- and how many kinds!! I'm a creature of habit, and habit for me= Snickers or M&Ms…so I don't pay a ton of attention to what else is out there.  There's a ton!
I was compensated for this shop by Collective Bias.  Opinions are my own.
0