Your savings act as a financial security net for the future. There is no trick to making lots of money. However, regardless of how much income you make, you can grow your savings if you have the right financial plan. A guest writer shares 9 Top Ways to Maximize Your Savings today!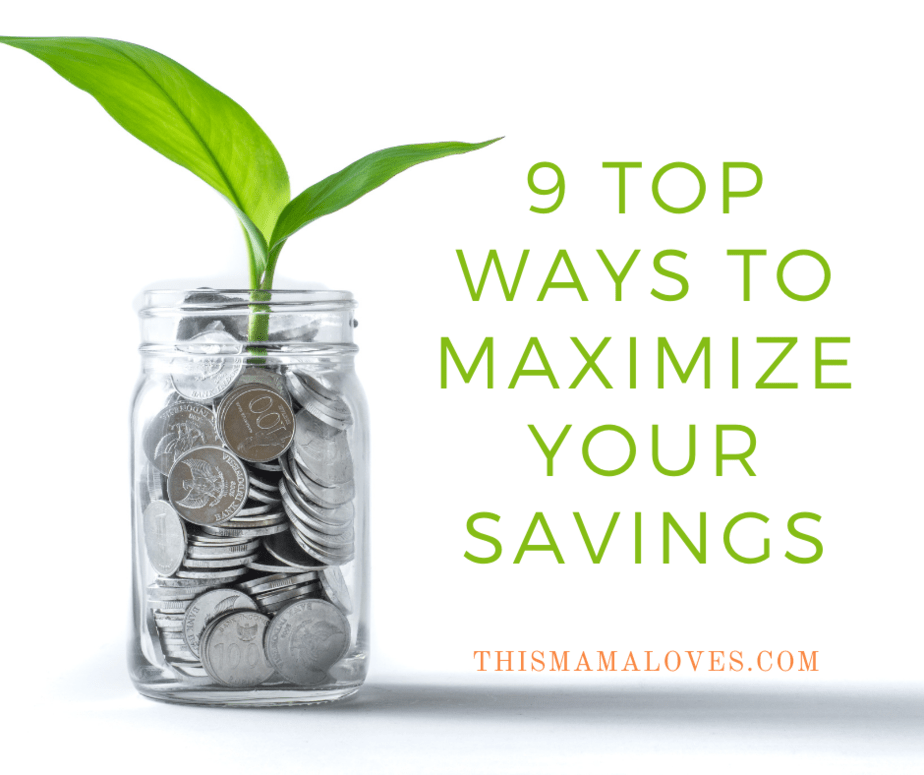 The rate at which you save money has a considerable impact on your wealth than returns from your investments. Luckily, with these nine tips, you can maximize your savings and build a cash cushion without breaking any sweat.
9 Top Ways to Maximize Your Savings
Start Saving Early
Time is an essential factor when it comes to saving. If you are putting money away for retirement, you should start saving and investing as early as possible and allow it to grow. The total amount of money you save if you start saving and investing in your 20s is a lot more than when you begin in your 30s.
Cancel any Non-Essential Recurring Expenses
Recurring expenses are what consume much of your money. If you want to increase your savings, you should thoroughly analyze your budget and identify the recurring expenses that you could do without.
An excellent example of a typical recurring expense that could save you lots of money is cable TV; cable TV's average cost is about $100 per month. However, online streaming platforms such as Netflix and Hulu offer you a similar service for less than $10 per month. You can therefore save more money by getting rid of cable TV and switching to an online streaming service.
If you have a subscription to an online streaming service, do you watch what you pay for? If not, you can still clear it from your expenses.
Increase Your 401k Contribution
Just a small 1 percent increase in your 401k contribution can make a noticeable difference in your savings and retirement. While 1 percent of your annual earnings may be a small amount today, it can still make a considerable difference in growing your wealth.
Since your 401k contributions are pretax, increasing your contribution leads to a decrease in the amount of tax you pay.
Take Advantage of Your Employer Match
Does your employer offer a match to your 401k contribution? If so, you should not leave the free money on the table. Instead, you should contribute just enough to take full advantage of the match. It will help you eliminate some heavy lifting in attaining your saving goals.
Use a Health Savings Account
A health savings account or HSA (also FSA/ flex spending account in places) is your free pass to saving more money for your health care and boosting your retirement savings.
A health savings account is meant to help you pay for qualifying healthcare expenses. However, they can also act as a useful savings tool if you leave the account balance to compound with time. What's more, some health savings accounts also earn interest, which means that your savings will be working for you.
You should, however, note that not everyone can open a health savings account. It only applies if you have a high-deductible health care plan with a low monthly premium.
Sometimes, it may also not apply even with a high deductible health care plan. It makes sense to contribute to a health savings account when you are healthy and do not frequent the hospital. If you have any severe illnesses or are always on medication, it may be costly to have a high-deductible.
Increase Your Credit Card Purchases
Irresponsibly using your credit cards can lead to more debts. However, using credit cards offers you more value than debit cards. Numerous credit cards offer cash back rewards with every amount you spend. (Brett here- we use one particular card for everything we possibly can and pay it off each month. If we need to buy gas and food, why not reap the benefits?!)
Depending on the type of credit card, every amount you spend may result in a cash reward that you may receive directly to your card or as a check to your mail. You can choose to increase your savings by placing every amount you earn to your savings account.
Automate Your Savings
Saving more money and spending less is more of a behavior problem than a math problem. You need to have discipline if you want to save. However, relying on it may not get you to your saving goals. Therefore, if you want to set aside money consistently, you should consider automating your savings. You can allocate the amount you want to save and set up automatic recurring transfers every time you receive a paycheck. Not only will you build your savings but also save time and effort as well. Even just $5 every 2 weeks will start to add up over time.
Start a Side Job
A direct approach you can take to increase your savings is by earning more money. It is the best approach to take if you want to achieve any financial goal. Although a budget is equally important, it only does so much to reduce your expenses and increase your savings by a small percentage.
However, there is no limit to how much you can earn. A side gig not only makes you more money, but it also helps you diversify your income streams. You can start a side business while still operating your regular job, working through your free time.
Some examples of side gigs include taking on a second job during your free hours or starting a freelance business. As your income increases, your main goal should be saving more rather than increasing your spending.
You should avoid succumbing to lifestyle inflation with the increase in income that may leave your saving rate unchanged.
Create a Saving Goal
The process of saving becomes much easier if you have a goal that you want to attain. You should set benchmarks along the way that will give you satisfaction every time you attain them as you pursue your main goal.
Summing up
There is no exact super-fast way to maximize your savings rate. It may also not be easy. However, it is a sure and reliable way to build and grow your wealth.
To increase your savings, you need to take control of your personal finances – reduce your spending, increase your income, automate your savings, and make logical investments. Only by taking these strategies into account can you add momentum to your savings and boost your financial safety net.