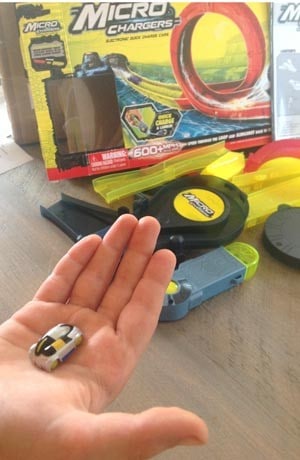 Micro Chargers Loop Stunt Track is a really great new toy for children ages 5 and up.  When ours arrived my son's response was, "WOW, Micro Chargers, I have been wanting this!" We got right to opening the package and in about 5 minutes we had the track assembled and he was playing.  My first observation is that, when not assembled, all the parts and the instructions will fit neatly in a gallon size freezer bag.  I love that the entire set does not take up much room and can be easily stored all together.
Micro Chargers take eight seconds to charge and race at scale speeds of up to 600 miles per hour for a race unlike any other. Using the included handheld, battery-operated charger, kids simply supercharge their micro cars then launch them to race. Featuring over 30 vehicles and two different car models (stunt cars and race cars) to collect and trade, the Micro Chargers line lets kids select the perfect racer to take down their opponent. The Micro Chargers line is available at Toys"R"Us®and other select toy retailers nationwide.
There are several Micro Chargers tracks and there are race cars or stunt cars.  We received the Loop Stunt Track which includes
1  Loop Stunt Track, 1  Quick Charge Stunt Car, 1  Hand Held Charger and Stats Card.
Ready, set, race with the Micro Chargers™ Loop Track! Micro Chargers perform gravity-defying stunts on this track set! Challenge your friends to see whose Stunt Car is the fastest as your Micro Chargers race the stretch, tackle the loop and then slingshot back to take on the loop again. You can check out all of the Micro Charger products on their website.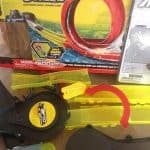 The other Micro Charger sets will be on my son's holiday gift list and I will be thrilled to buy them for him.
This product was provided to facilitate my review, all opinions are my own