Do you ever wake up in the morning and look in the fridge for a quick breakfast, only to see the same old orange juice staring back at you? We love the refreshing flavor of juice to help wake up our taste buds, but we're also looking for a healthier start to day, which means we need to include some protein in our morning breakfast ritual. I was asked to  shake up our wake-up routine with Silk® Fruit & Protein — a new twist on ordinary juice. Silk Fruit&Protein is a delicious fruit juice blend that's an excellent source of calcium and vitamin D.  Each smooth and fruity glass serves up a tangy-sweet blend of juices along with 5 grams of nourishing protein that the entire family will love.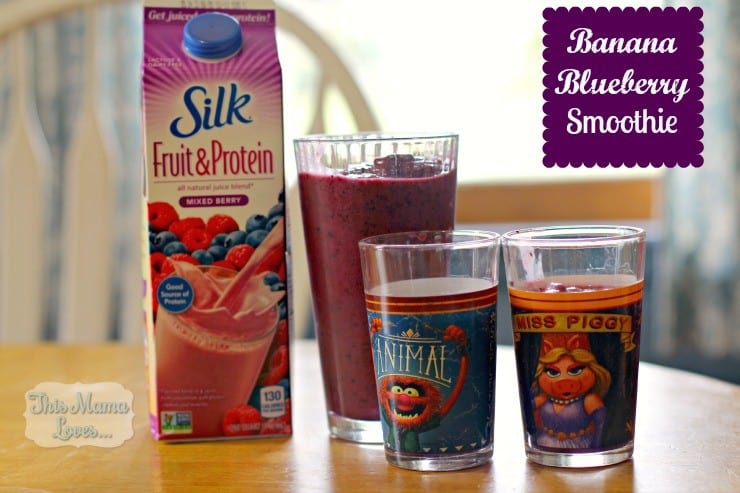 I'm getting really bored of our breakfast routine.  Worse, the KIDS are getting bored of the breakfast routine.  I guess the winter favorites have worn out their welcome and we're all ready for some fresh new foods to start our day.  My kids are big fans of milkshakes, and by default, smoothies.  Silk's Fruit & Protein beverage launched nationally last year as an alternative to juice.  I was thinking that I could combine the kids' love of juice and milkshakes, and bring a little excitement back into breakfast time.
Banana Blueberry Smoothies with Silk Fruit & Protein
2 ripe bananas
1 cup blueberries (we use frozen from the garden, and we do tend to go heavy on the berries…we have a few huge bushes in the yard and have gallons and gallons of them frozen)
1/2 quart-sized container Silk Fruit & Protein Mixed Berry Flavor
1 cup ice
This recipe is SO easy.  Throw all above ingredients (please be sure to peel your banana first) into the blender, place cover on, and press "smoothie" button.  Voila.  A healthy, delicious breakfast that's got the sweet of juice, the frozen "treat" texture, and protein to keep those bellies full.  They'll also be getting a good dose of Vitamin C, Vitamin D and calcium.  Hot summer mornings, watch out.  We may not be so sluggish this year!
You could VERY easily swap out the Mixed Berry flavor with the Strawberry Banana or the Peach Mango.  The fun is in the fruits- and the kids love to help choose.  They've already "voted" on Peach Mango for next week.  I am thinking some coconut and pineapple would be really yummy in the Peach Mango variety!
Don't be confused if you head to the store to look for Silk Fruit &  Protein by the juices- for now, you'll find them over by the dairy and plant-based section.  Silk is out to change our preferred "juice" for breakfast- and with the ability to create easy to make recipes like this, they just may do it! Also, be sure to print this $1 coupon before you go!

"This blog post is part of a paid SocialMoms and Silk blogging program. The opinions and ideas expressed here are my own."