This post brought to you by Disney Baby. The content and opinions expressed below are that of this mama loves.
Before I became mom to all of these boys I was mom to a beautiful baby girl first.  She was the one who made me mom 12 years ago on a perfect spring day in April, just in time for my first Mother's Day.  I love, love, love being a mom to boys, don't get me wrong but there is something really special about a mommy and daughter bond that is just different.  In the blink of an eye it seems the last 12 years have passed and some days it's hard to remember my Ella being a baby even though she'll always be my "baby girl".  I caught up with my friend Miranda this week who is enjoying life with her new baby girl.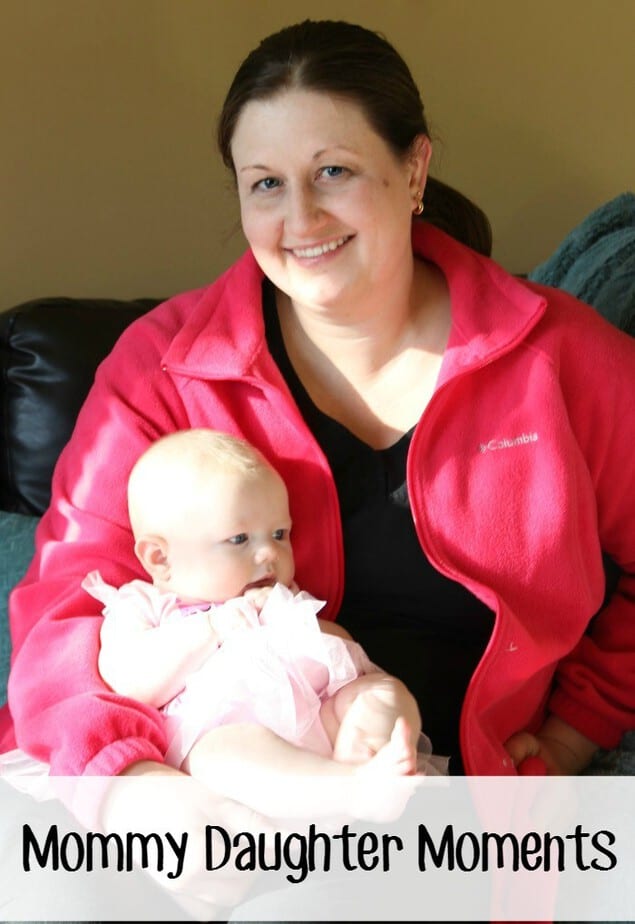 Mommy Daughter Moments
Miranda recently became mommy to beautiful Kenzie.  Her and her husband Kurt aren't first time parents.  They have an adorable son Kainen together that is almost 7.  They've had this parenting thing down for a while now but there's just something different about adding a daughter to the mix.  One of the things that Miranda is loving most about motherhood right now is getting to watch Kenzie with her brother Kainen.  She loves seeing him feel so important – him trying to try to make her laugh, trying to make her happy.  It makes him feel like such a special part of her life.  How fitting it is that one of the first holidays Miranda and Kenzie, all of them, get to spend together was Mother's Day.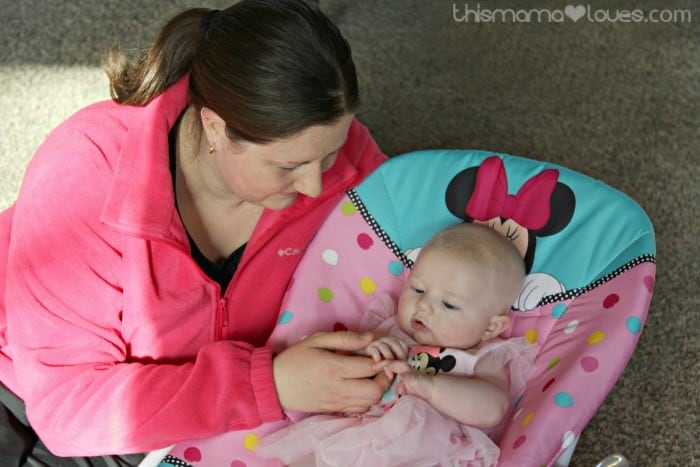 Miranda is a busy, full-time working mommy of two (and wife) and it is impossible to find enough time to do everything that needs to be done and enjoy all of the time you want to with your children.  Little Kenzie will be an almost teenager in the blink of an eye and my wish for them this Mother's Day month is that in the chaos and busyness that fills life they find time to snuggle, play, and just take each other in.  These moments won't last long enough.
I headed to WalMart last week and found a few items I just love that I thought might help Miranda and Kenzie enjoy some mommy/daughter time together.  Walmart and Disney have a great line up of products that feature Minnie Mouse.  Minnie Mouse is timeless and the line is perfect for that beautiful baby girl in your life.  Looking at all of the cute Disney Baby at Walmart items brought back memories of adorable outfits from when Ella was a baby. Kenzie is just 3 months and Miranda is still learning the big differences between being a mom to a boy and girl.  There aren't a ton at this age.  She's loving all the cute clothes and frilly, girly things for Kenzie so the Minnie Mouse collection at WalMart is perfect for Miranda and Kenzie!  Just look at how cute she is surrounded in all that pink and frill!  I loved that about having a baby girl too.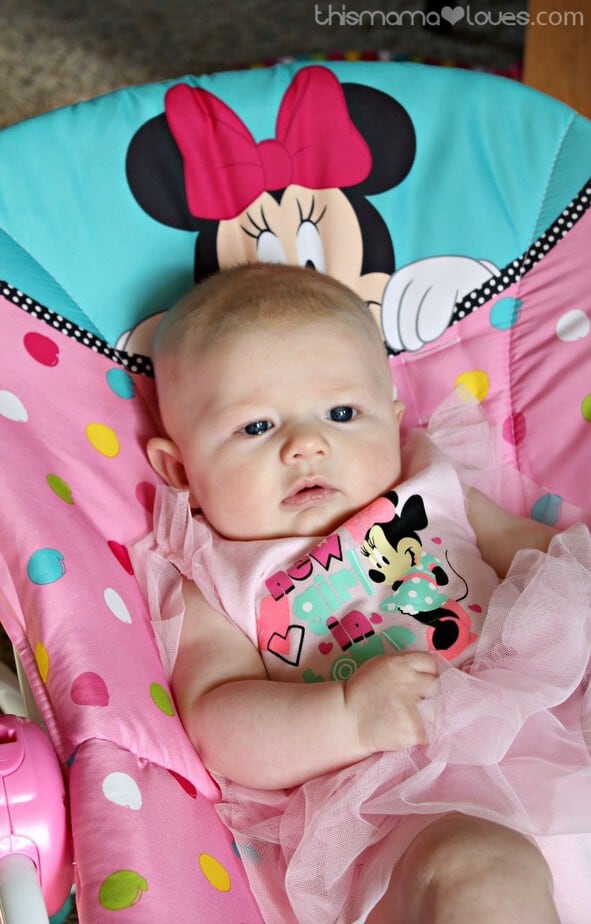 I picked up a Disney Baby Minnie Mouse Plush Blanket for Kenzie that I know will be perfect for those snuggling moments.  It folds up small enough to tuck in the diaper bag and take on the go too.
I also found this Disney Baby Minnie Mouse Rocker.  What I thought was great about this is that it will grow with Kenzie.  It's perfect for right now while she is still tiny.  There are toys and bright colors for her to look at and the infant seat vibrates.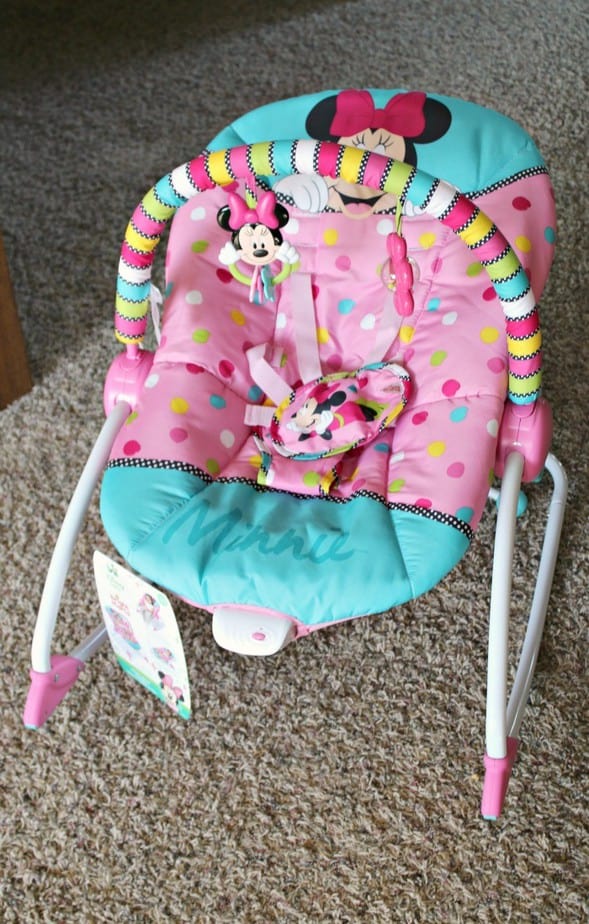 Miranda can spend time with Kenzie while she plays in the seat or Kenzie can play and entertain herself while mommy gets some things done or has some time for herself!  The seat becomes a rocker for Kenzie as she grows and can still be used when she is a toddler.  Unlike many seats that are designed for babies that outgrow them in the first few months, this seat will be useful for years!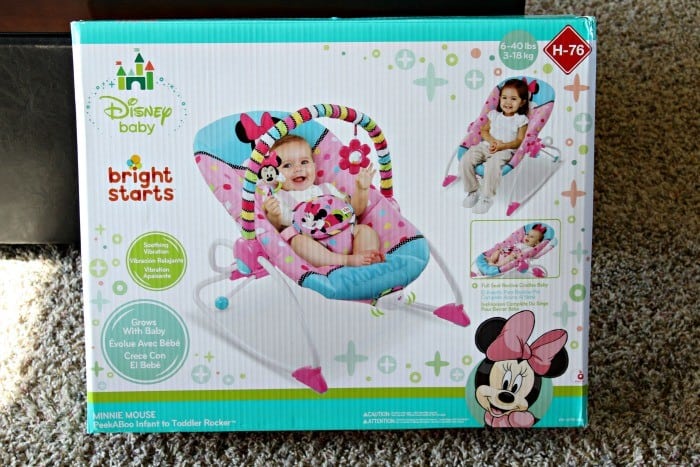 As my girl has grown the frill is gone away most days.  It's been replaced with other mom and daughter connections.  She'll sometimes join me in the bathroom to get ready in the mornings and I catch a glimpse of us both in the mirror and I see so much of me in her.  We'll be shopping and grab something off the shelf or rack and turn to each other and say the same thing.  We'll find the same things funny or silly.  I see a gentleness in her that is different than her brothers.  I see my attitude in her when she is set on something and we clash because we are too much alike sometimes.  We share many interests that are special and different that tie us together and make our hearts one.  She may not be a baby anymore but she is my Minnie Me and that is something I'm quite okay with.  I'll breathe in and try to memorize as much of each phase as I can.  They all pass so fast. Moms of daughters, you know and understand.