There are some new ghouls in town enrolling in Monster High. The ghouls are coming with the new movie set in
Hauntlywood
, called
Frights, Camera, Action
–  and if you have a Monster High fan, she'll be shrieking (with delight) at these new ghoul-friends to play with.  Head over to Walmart's
Monster High
area and check out the new ghouls, see
exclusive
trailers, take a quiz to see which leading ghoul you'd be if you were starring in Hauntlywood, and more!  There's also a store locator that can let you know where the nearest Walmart is, so you can pick up the doll in person. There's a black carpet set and a dressing room set so your ghouls can get ready to walk the black carpet in Hauntlywood.
This Monster High post is brought to you by our friends at Lunchbox.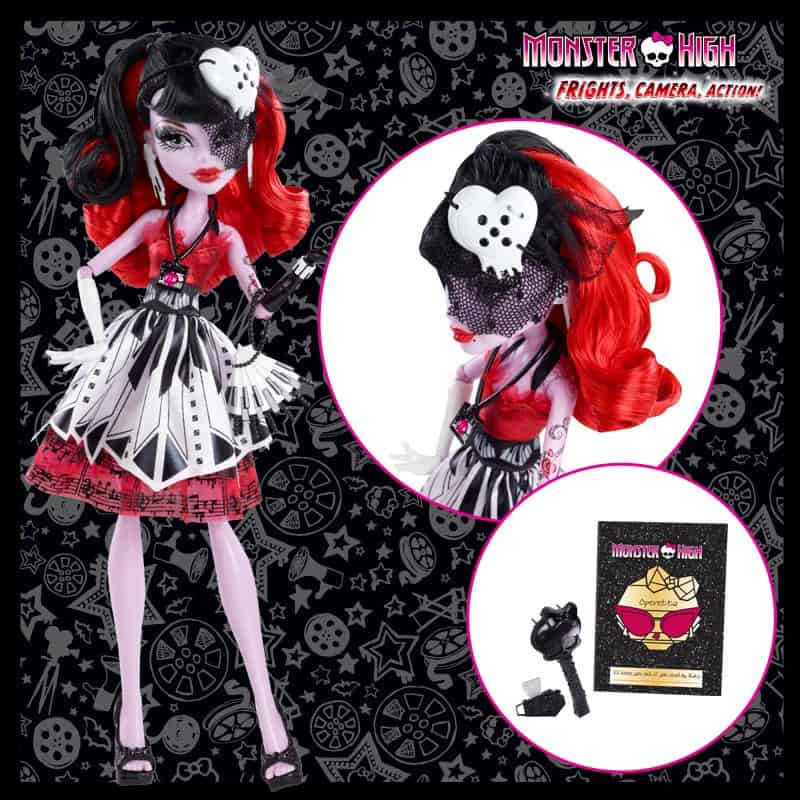 Check out the fun new
Operetta 
doll along with the rest of the new Monster High Dolls available. Operetta is the daughter of the Phantom of the Opera and she's sure to be sharing her musical talents as well as her fab fashion sense with her new ghoul-friends!  Her wardrobe nods to her musical family and she is decked out in red, black and white. She's a country girl, loves to sing, and promises to be a great friend once you get to know her.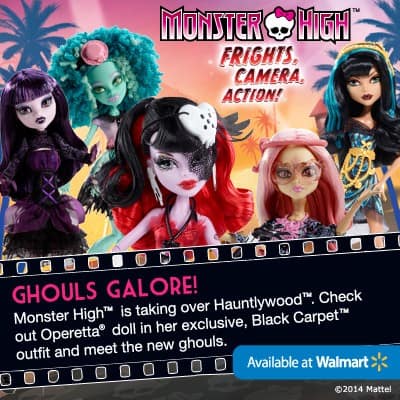 "Frights, Camera, Action!" is the new boo-vie adventure the ghouls have in trying to find Elissabat, the missing vampire queen, and the Vampire Heart that is used to decide who is the true queen of the vampires. The adventure will have the ghouls visit Londoom, New Gorleans, and Hauntlywood as they follow Elissabat's trail.  There's also rumored to be a guest appearance from boovie star Veronica Von Vamp!
So which of the ghouls would you want to play on the black carpet?