This is a sponsored post about finding a way to motivate myself.  Opinions are my own. So here's the thing.  You know the "wagon" that I fall OFF of a lot?  Well, I've been off it so long I'm not sure I could find it again.  I actually kind of started a new one.  But it's time, and I need to figure out some kind of something so I can MOTIVATE ME and kick my rear into gear.  Push my derriere into the air.  Move my feet to some kind of beat. I have been eating better.  MUCH better.  That's helping. I have more energy.  But it's time for me to look into some weight loss programs again.  Or have a personal someone come over and scream in my face and make me do the loathed 8 letter word E-X-E-R-C-I-S-E.  I have to.
So here's where you come in.  And you.  And you and you and you and your cousin….neighbor…whoever.  I need the help.  I need real life, dragging through the mud stories of people like you and me who don't have a trainer but who have honest-to-goodness real life before and after weight loss/weight loss success stories.  My friend A recently lost 53 lbs in just a few months and she's looking- and feeling- downright fabulous.  And I am so so so SO proud of her!!  I don't know how I feel about doing "shakes" and stuff.  I have a hard time with food textures.
Summer will be trickier for finding time to get things done, I have all three kids all day long right with me… Quite honestly, I have been moving a lot more- I'm in almost constant motion walking kids to and from things at the swim club and swimming a lot there and here in our pool at home. .  If I could get my littlest one to remove her tentacles I could maybe swim laps.  Or figure out how to swim for a few laps with her on my back (I have tried this, I'm not sure that's a great idea…). The motion and having to snack on and drink only what we've brought with us for the day has also cut way back on caloric intake so I've definitely started moving the scale in the right direction but I want to FEEL better.  All around.   There are water aerobics classes 2 afternoons a week at the club for adults, I'm hoping to find a way to keep the kids busy and still let me participate.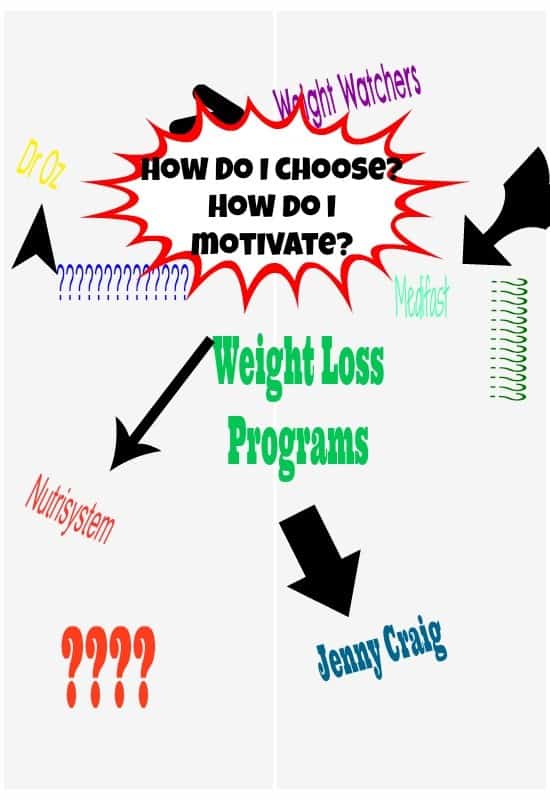 I've done the Couch to 5k program successfully in the past and will do it again-I just don't actually like the running part.  (Truthfully, I'm more a perky walker, and I think I've admitted that before….slow and steady is my pace!)  So maybe that.  Weight loss programs aren't my favorite thing.  Not always my cup of tea.  Plus, there are so many to choose from.  SO Many. How do you know what to choose?
Really, I'm just tired. I am tired of hating how I feel.  Tired of hating how I look.  Tired of feeling "blech" more often than not and tired of my own damned excuses.  So let's play a motivate game.  Please? Thank you? Let's motivate me to find the right from the many weight loss programs out there that may WORK for me!!!