This is a sponsored post about how to make potty training more fun written by me on behalf of Huggies Pull-Ups. I'm cursing myself by even contemplating putting these words to a post but I think we're done potty training.  There's been dry Pull-Ups for a month straight in my house.  It's an emotional time for me, which is kind of surprising because I HATE POTTY TRAINING with a fiery passion, but now that I'm realizing I may be done I'm really quite sad about it.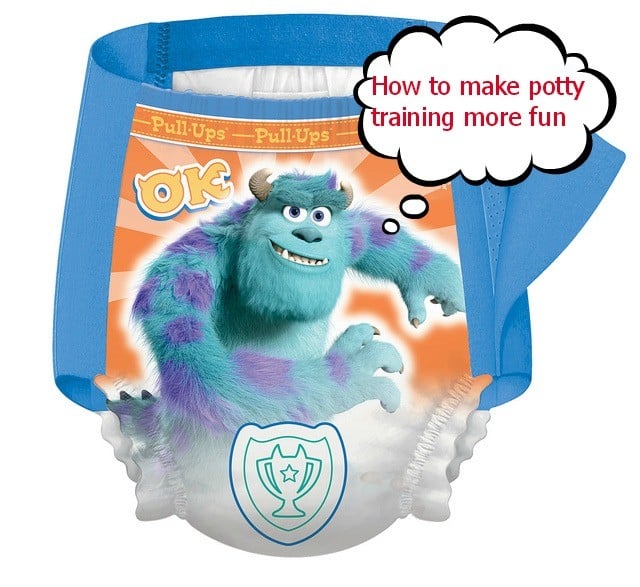 Naturally, now that I'm finished with the potty training thing, I'm a self-proclaimed expert on all things PT.  Right? I mean, isn't that the next step?   Bow down before me, people of earth. I have lived to walk the land of no diapers.

Um, not quite. I got off almost scot-free with kid 1.  And kid 2?  Not much was needed by me.  The third time's a charm and my little one, as per her style, kept us on our toes.  I've heard rumors she's a lot like someone I used to be a few decades ago who waited wayyyyyyyyyy too long and would stomp though houses to make that potty!!
I'm not an expert. I'm not pretending to be.  What I CAN share with you are some tips that might actually make potty training more FUN for all the people in your house.  Which might make it less stressful for you and the one who's expected to be training for the potty and if it's less stressful, maybe it might be a little more fun? Go more smoothly?
1. Make it FUN.  Smile.  Make up a song.  If I'm feeling it, I may just record myself singing our family pee-pee-on-the-potty song.  If it goes viral on YouTube, well, it won't be for my angelic voice.
2. Laugh. Listen, I may be 39, but inside, I'm a 9 year old kid.  When someone sits on the potty and they toot, it echos.  It's funny.  Kids are going to think it's funny. Laugh with them.  Keep the tradition alive, let the next generation know that yes, others find that just as funny as they do.
3. You are going to need extra underpants.  I don't care what potty training method you are using, you aren't going to get through this particular life experience with a 3 pack of Hanes- not on a wing nor a prayer.  So have fun.  Get the cute unders.  Got a little guy?  Boxer briefs are about the cutest thing EVER on your little guy.  Don't be afraid.  Shop around!! Let them choose what they like.  Listen, (and my apologies to Dora and Nickelodeon) I don't like Dora the Explorer.  Never have.  But when my little one wanted Dora underwear?  It was like a teeny tiny fist bump moment for me….and then that glorious day when she peed in her Dora undies and I was all "take THAT, who's exploring now, Dora??" (because again, I'm 9 years old…).  But for real, you guys.  It's all cute.  Teeny little unders in colors, sizes, shapes, prints, characters.  Have fun with it.
4. Some kids don't like to put their poo in the potty.  True story.  Some even freak out at the very idea.  So…have fun with that too!  Make a poo song.  Do a poo dance with choreographed moves.  (I would strongly advise you not to have video cameras capturing these dances showing anyone but you, but do what you want). If your kid only wants to poo wearing nothing but a winter hat, let them!!  Laugh about it.  Enjoy it.
5. Make a chart.  Doesn't have to be a special  chart, and it doesn't have to be fancy. If they want to keep track of something, let them.  If it helps them have fun and WANT to use the potty, that's what matters!!  So what if they want to keep track of how many times they flush after potty.  Or just like to cover paper with stickers of their character friends?  If it's helping them to be excited and want to potty train, LET THEM.  Seriously.
5. Laugh.  Be silly. Have fun.  Find a way to make it fun.  Life is so much better in almost every way when you can laugh through it.  Potty training isn't fun for the adults.  But guess what? It's probably not very fun for those being trained for the potty.  So make it fun.  Laugh about it.  If silly works, do the silly.  Eighty million times if you have to.  Use the characters, the stickers, the books, the shows- whatever works.  They love the shows and characters because they are fun to watch.  Make the potty training fun too.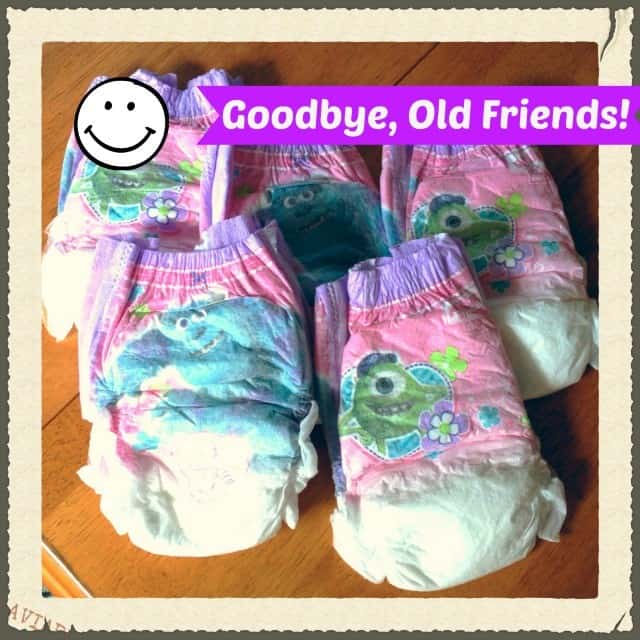 Because one day you'll wake up and realize, it's done.  The littlest one of your brood is no longer in the training phase at any time of day and it might make you sad.  There's not a baby in your house after however many years there was a baby in your house.  So live on the edge.  Sing those potty songs and sing them proud, my friends!!  
Pull-Ups helps take the scare out of potty training by making it fun and easy with new Monsters U character training pants! You can help make potty training easier by staying consistent and using rituals like the potty break. Make it a game and ask your toddler, "What does a little monster take?"…"A Potty Break!"
Visit Pull-Ups.com and "like" Pull-Ups on Facebook for more potty training tips and resources.
This is a sponsored post written by me on behalf of Huggies Pull-Ups. I hope in some way I helped you to think about ways to make potty training FUN!! Got any tips of your own?
0