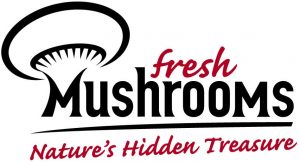 Part of living a healthier lifestyle can be as simple as swapping out one ingredient for another.  With baking, we often use applesauce to replace oils.  Replacing meats with other foods rich in proteins can be another healthy swap that is quite easy to do and doesn't require a lot of extra work.   According to The Mushroom Council, a group of U.S. mushroom growers, National Nutrition Month (March) is the perfect time to "get your plate in shape" with mushrooms…
Though we try to shop healthy, our grocery bill has more than tripled in the past 5 years.  Part of this is obviously due to costs rising, and part is due to having three children who eat table foods at all meals (including a 2 year old who eats an amazing amount of food each day) and some of that is because we eat meat daily at dinnertime.  It's extremely rare to not have meat with dinner in this house!  I'm trying to find more ways to cut our grocery costs and I think that swapping meats even just 1 meal per week will help with that.   Swapping meat for mushrooms may be a simple, nutritious way to accomplish the swap to healthier foods AND save us some money.
Increasing the intake of lower calorie foods, specifically mushrooms, in place of those higher in calories, like ground beef, can be an effective method for reducing calories and fat while still feeling full and satisfied after a meal. This approach of replacing some ground beef, turkey or other meat with mushrooms is known as "swapability." It works because mushrooms' hearty texture and rich flavor allow them to blend seamlessly with meats. The mushroom and meat "swapability" technique is an economical way to make family meals more nutritious and works great in family favorites like lasagna, burgers, tacos or chili.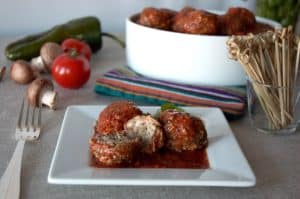 In line with that thought, I'm thinking of making these Cremini and Pork Meatballs one night- they look simple enough to make and delicious, don't they?   We do a lot of meatballs with rice on the side and I think this would be a great pairing!
Ingredients

Meatballs

1 Tablespoon vegetable oil
1 ½ pounds whole cremini mushrooms, quartered
1 cup white onion, small dice
½ cup roasted poblano peppers, small dice
1 pound raw pork
3 tablespoons Lawry's Salt Free Mexican Seasoning
½ teaspoon McCormick Culinary Coarse Mediterranean Sea Salt
1 oz. thinly sliced green onion
1 ½ cups Panko bread crumbs
2 large eggs

Chipotle Tomato Sauce

1 tablespoon vegetable oil
½ cup white onion, minced
½ poblano peppers, minced
1 tablespoon Lawry's Salt Free Mexican Seasoning
½ teaspoon McCormick Culinary Chipotle Pepper
2 cups chicken stock, unsalted
3 cups tomato sauce, no salt added
1 cup crushed tomatoes
2 teaspoons Lawry's Salt Free Lemon pepper
1 teaspoon sugar
¼ cup red wine vinegar
1 tablespoon fresh cilantro, roughly chopped

Directions

To make the sauce: Heat oil in a pot. Saute onion and pepper until onion begins to caramelize. Add seasoning and stir until fragrant. Stir in chicken stock, tomato sauce and crushed tomatoes. Use a hand blender to blend mixture until smooth. Stir in lemon-pepper, sugar, vinegar and cilantro. Taste and adjust seasonings as needed, and refrigerate or warm on low heat until needed.

To make the meatballs: Preheat a convection oven to 350°F. Heat oil in sauté pan and cook mushrooms until browned, approximately 6-8 minutes. Remove mushrooms from pan. Add onions and cook until lightly caramelized, approximately 6-8 minutes.

Combine mushrooms, onions and roasted peppers in a food processor and pulse until mixture is finely minced. Allow mixture to completely cool in fridge.

Combine cooled vegetable mixture with pork, seasoning, salt, panko crumbs and eggs. Mix well to evenly combine. Scoop out 30 meat balls and round by hand. Place meatballs on a sheet pan lined with parchment paper. Bake meatballs for 15 minutes or until an internal temperature of 155°F is reached. Remove from oven and combine with Chipotle Tomato Sauce.
Mushrooms and Meat: The Perfect Partner

·         Replacing some of the ground beef, turkey, or other meat with mushrooms is an easy technique called "swapability"

·         Mushrooms' hearty texture and flavor make them compatible with meats both as a complement or replacement

·         Swapping in mushrooms for a portion of the higher-calorie ingredients, like meat, in a dish reduces calories, fat and sodium without compromising on flavor

·         The "swapability" approach is an economical way to make family meals more nutritious

·         This simple three-step "swapability" strategy is perfect for family favorites like burgers, lasagna, pizza, chili – or any dish that calls for ground meat:

o    Chop up your favorite mushroom variety to match the consistency of the ground beef or turkey;

o    Cook and season mushrooms the same way you would meat;

o    Combine the cooked meat and mushrooms and use the mix to complete your recipe.

Eating Healthy Never Tasted So Good

·         Mushrooms are not only low in calories and fat-free, but their flavorful umami content allows for less salt to be used in a dish, without compromising taste

·         Mushrooms are the only fresh fruit or vegetable with vitamin D

·         Within the produce aisle, mushrooms are a leading source of the antioxidants selenium and ergothioneine; these antioxidants help maintain a healthy immune system

·         Mushrooms provide B vitamins, including riboflavin, niacin, and pantothenic acid; B vitamins help to provide energy by breaking down proteins, fats and carbohydrates

RECIPES:

Crab and Mushroom Cakes with Chipotle Aioli
Join  a  Twitter party on Monday, March 12th at 8:00 PM EST. The event hashtag is #Mushrooms and there will be prizes awarded. (US and Canada, 18+). RSVP is available at: http://resourcefulmommy.com/8634/mushroom-channel-twitter-party/
This post is brought to you by The Mushroom Council.  Opinions are my own.
0