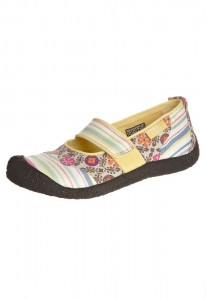 Am I the only person on the planet who feels an uncontrollable urge to get new shoes when spring shows signs of its arrival?  (I think we'd be in big trouble if we lived in a warmer climate…) Today it is 72 outside, I have windows open, birds are chirping, and I can't help but think of fun, cute new shoes for spring.  Perhaps this is not how everyone thinks but hey, I'm not everyone.  I'm me.
I'm kind of at an impasse, however.  I have a love-hate thing with shoes since having children.  My feet got wider (and longer!) with each subsequent pregnancy so after having 3 children in 48.5 months, my feet look more like unwebbed duck feet.  Finding cute, fashionable shoes isn't always an option.  I won't give up without a fight, though.  So finding cute, fashionable shoes that FIT my feet comfortably can be frustrating to the point of tears.  I keep trying.
Aren't the Keens above just darling? A friend pinned them on Pinterest a month or so ago and I fell in love.  I just found them again on zalando.co.uk.  I love them.  I think they'd be ok for my feet and still be cute.  Thoughts?  
There are so many shoes I love the look of, but am fearful for my safety trying to walk in…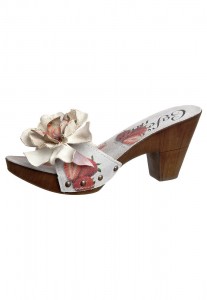 These clogs are fun, pretty and I think would work with a ton of outfit combinations.  Are they wide enough?  Can they keep me comfortable?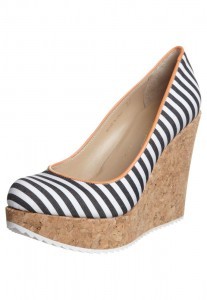 This shoe just makes me smile.  I love it.  I'd be over 5'6 in them, too.  Added bonus!! I just don't know that I could actually do anything but try to stand still….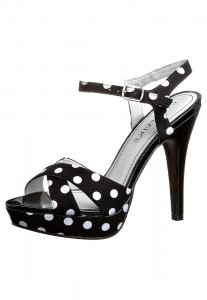 THESE would be so fun and perfect and honestly, I just adore them enough that I could put them on a display just to admire.  They'd be fantastic to wear on the red carpet in April when I am in Orlando.  I have a black dress with white design embroidered….and I'd have almost 5 weeks to learn how to walk in them!
This post is brought to you by Zalando.co.uk.  Opinions are my own.